For all my fellow Game of Thrones watchers out there, how are you doing today? Forty-hours after Episode 9, "The Rains of Castamere" (a.k.a. The Red Wedding), social media seems to corroborate that it took a lot of liquor, fetal rocking in corners and some comfort cuddling not to relive the last 10 minutes of the episode in a PTSD-like haze. (Spoilers ahead!)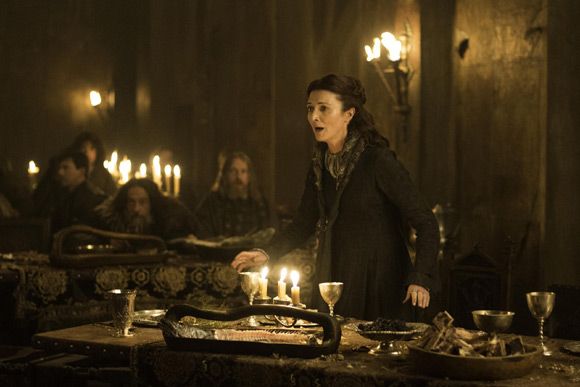 The majority of us knew what was coming on Sunday and we here at TV Geek Army have been scanning the web like most taking in the five stages of grief still potently rolling off the fandom with fascination. No, we're not being smug with our book-knowing "We told you so's." Actually the controversy surrounding George R.R. Martin's now 13-year old shocker translated faithfully to screen by showrunners David Benioff and D.B. Weiss for the HBO series is most interesting for shining a spotlight again on our culture's current trend of masochist TV watching.
To clarify, don't confuse masochist TV watching with the social media-infused trend of hate watching TV. The latter is by definition any current show that is so bad that the mocking of it online has become sport (i.e. Smash, Glee, The Newsroom, any iteration of Real Housewives, etc…) On the other hand, Masochist or Misery TV is when we watch shows that we've been warned are not going to make us happy. The creatives behind these shows do everything but skywrite red flags for us, yet we still choose to invest our time and emotional well-being with blinders until the rug is pulled out from underneath us…or like on Sunday, the honorably naïve Starks are viciously murdered right before our eyes.
Three seasons into Game of Thrones, after we endured the beheading of Ned Stark in Season One, there's no excuse that we didn't see the ugly coming regardless if you read the books or not. Yet there was still genuine shock and awe from audiences (as captured here) and angry twitter reactions with plenty of fans promising to never watch again, cancel their HBO subscriptions and even track down poor G.R.R.M.
Why do we do it to ourselves?
Nihilistic and bleak has been a growing television subgenre since HBO and David Chase gave us The Sopranos. With the recent recession and personal hardships, it's only grown and gotten more refined with hits like Mad Men, Breaking Bad and others. The Game of Thrones reaction is one that was familiar with Lost fans as that show's increasingly challenging and distancing sci-fi conceits rattled many in the mainstream fandom who gave up even before the controversial side-flash final season. Or take AMC, which brought back The Killing last Sunday for a third season even after the murder of Rosie Larsen wasn't solved, as implied it would be by the end of the first season, and then was solved with equally unsatisfying results at the end of Season Two. So many in the audience jumped ship, angrily, that you have to wonder is there anyone but the Misery TV watcher signing up for this third round? Or has The Killing solidly transitioned into the domain of hate watchers now?
Even AMC's The Walking Dead, with its ever growing ratings, offers its audience only the tiniest slivers of hope over 16 seasonal hours with heaping helpings of gore and death. Is it because Rick Grimes is the anchor of the series and we perceive him as "safe" that we return with some semblance of security even with all the heartbreak? Hell Tony Soprano lived, Jack Shephard made his own sacrificial choice to fade out to black, and if Walter White and Dexter Morgan finally get theirs in the end this summer, isn't there some justice in that?
Maybe that lack of justice is what created this uproar over the Red Wedding because Martin, Benioff and Weiss have yanked "safe" utterly out of the equation in their narrative structure. Were the deaths of Ned, Catelyn, Robb, Talisa and everyone else present under the Stark banner, the ultimate disruption of our cumulative understanding of TV show boundaries and thus the reason why the pain has been so potent? Or do we have a silent comfort boundary with our TV viewing that we didn't even know we held sacred until Game of Thrones revealed the line in the sand of too much?
What do you think? Do you only want your TV misery to go so far before you say, "Too much, I'm out?" Is there a fine line of catharsis versus pain and once breached you won't go back? Are you along for the masochistic ride to the very end? And what show made you finally throw in the emotional towel?