Quick Take: Game of Thrones, "Winter Is Coming"
"The things I do for love." – Jaime Lannister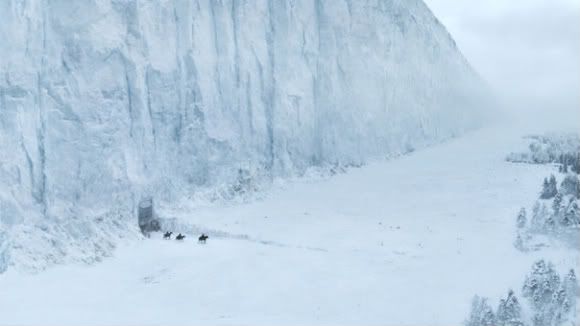 Review: Game of Thrones, "Winter Is Coming"
(S0101) As I talk about in my Game of Thrones preview, I've spent a number of months slowly and enjoyably churning through the massive George R. R. Martin novels that are the source material for this new and ambitious HBO series. Therefore, in approaching how best to review the pilot episode, I reminded myself to be cognizant not just of those many people who are tuning in with a foreknowledge of no more than, "What's this fantasy-type hoopla going on, then?" but also of not tipping off major events and plot developments that will no doubt unfold over the course of multiple seasons.
I had all of this in mind while watching the opening scene, where several medieval-looking men exit a long and frozen tunnel, which reveals an astonishingly massive wall of ice. Using my best objective measure to describe this visual, I thought, "Well, this looks pretty kick ass." Moments later, a man in a black cloak cautiously approaches a dwelling in a snowy forest. As he peeks his head above a log to see what's going on, he slowly realizes that a massacre has taken place, with heads and bodies parts strewn all around. Further, the body parts have been arranged in a crop circle-meets-Blair Witch Project-like pattern as the dead eyes of a little girl stare at the man from behind him. At this point, I've forgotten all about what I already know from the novels and I'm experiencing the story in an entirely new way.
That is to say, I was hooked.
Amidst a huge cast that only gets larger as the series moves on, it makes sense to start with the Starks and Winterfell in the north. Lord Eddard Stark (the great Sean Bean) is the rough equivalent of a powerful regional governor, the Warden of the North, who rules the castle and surrounding areas from Winterfell. Further north still is The Wall, which is meant to protect the Seven Kingdoms of Westeros from wildlings and other nasty creatures that have not been seen in thousands of years… or so they believe. Eddard and his wife Catelyn (Michelle Fairley) have a large family, most of whom will be important to keep an eye on in the episodes ahead. Robb (Richard Madden) is the oldest and we see him helping to look after the others, including schooling young Bran (Isaac Hempsead-Wright) to not look away when their father executes a deserter from the Night's Watch (the very same man in the black cloak who stumbled the massacre in the opening scenes). Daughter Sansa (Sophie Turner) is the refined princess-in-waiting whereas Arya (Maisie Williams, who is terrific in the few scenes she's in) is clearly the tomboy. Meanwhile Jon Snow (Kit Harington) is called out early and often as being a bastard; that is, he's Eddard's son out of wedlock. Jon knows he's out of place in Winterfell and lobbies his visiting Uncle Benjen from the Night's Watch to head back north with him and "take the black."
The news of Hand of the King (roughly chief adviser-meets-second in command) Jon Arryn's death causes a number of things to set in motion and nudges the story toward the political intrigue and conflict that lie ahead. King Robert Baratheon (Mark Addy) heads north from the capital at King's Landing with his full entourage to Winterfell (a journey that takes a month on horseback, a detail that gives us a read on the technology and transportation challenges of this world). I can understand that some viewers not familiar with the material may get a bit lost due to the large number of characters that are thrown at us – particularly as the King and crew arrive at Winterfell – but I feel that it was handled rather well. Robert and Eddard are old friends who have not seen each other in nine years, and the former has traveled north with the express purpose of recruiting Eddard to be his new Hand. We also get a taste of the back story that involves Robert having nearly married Eddard's sister before she was murdered by the Targaryens, who ruled Westeros prior to Robert taking over the so called Iron Throne with Eddard's help.
It's clear from the jump that Robert is not happily married to his Queen Cersei (Lena Headley). Cersei is a Lannister, a powerful family that may well be plotting to take over the throne, we learn late in the episode. Also, on a romantic level, Robert admittedly likes to whore it up a little bit in between bouts of eating and drinking, while Cersei is having a raging affair with her twin brother Jaime (Nikolaj Coster-Waldau, who reminds me in appearance very much of the Prince Charming in the Shrek films). Yes, twin brother, that's right. We also meet Cersei and Jaime's brother Tyrion (Peter Dinklage), who is referred to derisively as the Imp and is in fact a dwarf. Tyrion and Jon Snow spend a little time commiserating over their relative positions at one point. Then there's Prince Joffrey (Jack Gleeson); we don't know a lot about him at this point except that young Sansa is smitten beyond smitten with him.
While all of that's going on, we have a whole other series of characters to get acquainted with who stem from the Targaryens getting booted out of power in Westeros some 17 years back. Viserys (Harry Lloyd), son of the slain king, is a slimy and ruthless character in the early going. Chief example: he literally sells off his sister Daenerys (Emilia Clarke) to marry the barbaric-seeming Khal Drogo (Jason Momoa) in the hope that Drogo's armies of Dothraki horsemen will aid him in taking back the Iron Throne. He also gets to say creepy things like "don't awake the dragon" and tells a frightened Daenerys that he would let 40,000 of Drogo's men have their way with her if it meant he could further his ends. A real sweetheart in other words.
Speaking of sweethearts, the episode ends on an incident that will impact much of what happens next. The playful 10-year old Bran likes to climb the walls of Winterfell. Unfortunately for him he stumbles across Cersei and Jaime going at it in an abandoned section of the castle (note: there's a lot of nudity and sexual situations in just this first episode, so it might not be for everyone and especially young kids). Bran gets caught and after a moment's pause Jaime carelessly decides to shove him out of the window.
And so it begins.
More thoughts on the Game of Thrones series debut:
HBO has put together a tremendously helpful and cool viewer's guide that I highly recommend checking out.
In just about every scene, the production is absolutely gorgeous, the attention to detail extraordinary from costumes to the direction (the pilot is directed by HBO superstar Tim Van Patten) to the cinematography and on and on.
The opening credit sequence is delightful and entertaining (a map of Westeros comes to life in Civilization-like fashion as the camera pans from places such as The Wall down to King's Landing and beyond) and also serves the purpose of helping to frame the geography that Game of Thrones takes place in.
How crazy huge is Eddard Stark's sword? It looks like one would have to spend some serious time at the Winterfell gym and spa just to be able to wield that thing.
Pretty cool to see The Hound ride in to Winterfell with appropriate armor to match his name.
Video: Game of Thrones, "Winter Is Coming"
Check out this video preview, called "Power," from HBO: