The latest entry in Acorn Media's Genius Of series of DVDs is the wonderful five-part Genius Of Britain. The five one-hour episodes are divided up among two DVDs, and a bonus third disc is devoted to the 90-minute film, Stephen Hawking And The Theory Of Everything.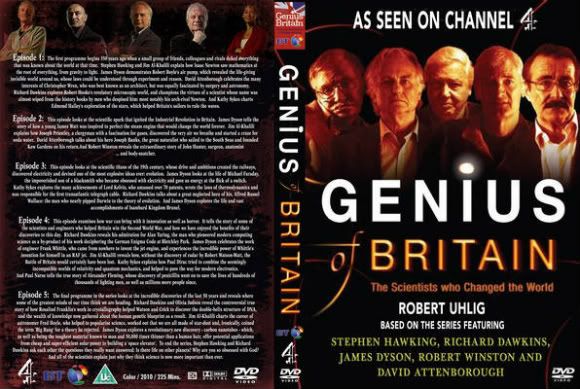 Taken together, this set offers a fascinating glimpse into the minds of men whose theories have fundamentally altered our perceptions of the world. The series is presented chronologically, beginning in 17th century London and "The First Five." There we encounter architect Christopher Wren, the development of the compound microscope by Robert Hooke, and Edmond Halley's star maps, and the comet named for him. Robert Boyle's air pump led to the demonstration of a vacuum in an enclosed space, while Isaac Newton's mathematical formulations and observations about gravity remain a building block of modern science to this day. The second episode is "A Roomful Of Brilliant Minds."
Here we move into the 18th century, and are introduced to botanist Joseph Banks, surgeon John Hunter, and scientist Edward Jenner, among others. Wrapping up Disc One is "The Lights Come On," featuring great minds of the 19th century. With "Out Of The Darkness" 20th century warfare becomes the catalyst for scientific advancement. Radar, code breaking (an early form of computer science), and the jet engine were all developed to aid wartime Britain. On a more personal level, Alexander Fleming's discovery of penicillin has saved countless lives.
The fifth and final program of the series, "Asking Big Questions," looks ahead. The secrets of DNA and nanotechnology are among the topics discussed. As previously mentioned, the bonus disc of the documentary, Stephen Hawking And The Theory Of Everything, is a fascinating film. Additional extras include biographies of the many presenters, including Richard Dawkins, James Dyson, and David Attenborough. There is also a 12-page viewer's guide. Once again, Acorn has packaged a great British series into a winning and affordable set for the U.S. market. Genius Of Britain should appeal to the big-time science fan as well as the casual viewer and is recommended.