Quick Take: Glee, "A Very Glee Christmas"
"Can I be honest? I don't understand the difference between an elf and a slave." - Brittany to a mall elf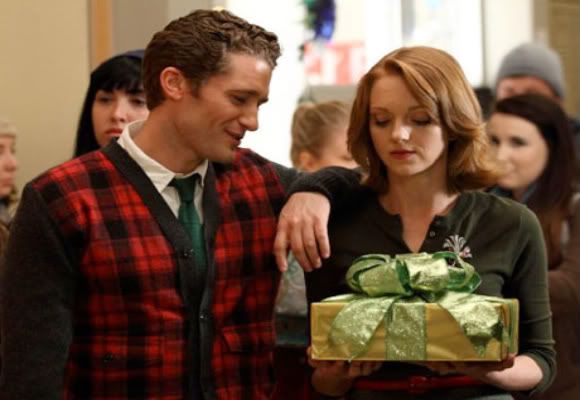 Review: Glee, "A Very Glee Christmas"
(S0210) Right behind "Furt" from a couple of weeks ago, I would have to say this was one of the better episodes of Glee this season. It had all the characters, Sue was at her best and worst and it mixed in a little holiday cheer.
Most of the episode was spent on Brittany and her still believing in Santa. When Artie realized she believed, he got everyone else to play along because he didn't want to spoil Christmas for her. The gang went to the mall to sit on Santa's lap to get into the Santa spirit. Lauren asked for Puck to love her and sweet potato fries, Mike asked for Channing Tatum to stop being in stuff, Tina asked where Asian Santa was and Brittany asked for Artie to walk. Artie realized that they were in trouble after this.
Mr. Schuester tried to get the Glee kids into the Christmas spirit by having them go around the classrooms and sing carols to raise money. Nobody was into it and the kids still got slushies in their faces. They all got depressed because they were still hated by the school.
Rachel tried to get Finn to forgive her, even using Christmas as an excuse since it is Finn's favorite holiday. She tried singing him a song and they went to find the Glee club a Christmas tree, but he was still mad at her. Understandable since now he has had two girls cheat on him. I don't think these two will be apart for too long though.
The teachers decided to do a secret Santa and Mr. Schuester pulled Sue from the bucket. He couldn't figure out whether to get her a robot dog or a soul and ended up going to visit Kurt for help with shopping. My favorite part was when Mr. Schuester tells Kurt he isn't good at gift giving and he flashes back to giving Terri, his ex-wife, some jumper cables. Her look is priceless! It reminded me of a few Christmas' ago when I had that same look on my face after receiving... jumper cables! The thought was there though.
When Mr. Schuester takes his gift to Sue, right behind him is Emma and Coach Beiste. They all realized that Sue rigged secret Santa so only her name was in the bucket. Mr. Schuester decided to take action and took all the gifts from Sue's office. They re-wrapped them and put them under the Glee tree to be given to homeless children.
Sue decided to take action upon herself and dress up as the Grinch with Becky as her sidekick reindeer. Sue slinked around stealing the presents back, smashing all the ornaments, destroying the tree and taking all the candy. Brittany came upon the destruction, but since she thought Sue was Santa, she didn't do anything to stop her. This whole scene was the best of the episode, with "You're A Mean One Mr. Grinch" playing in the background and Sue in full Grinch make-up.
Artie came up with a Plan B and talked Coach Beiste into going to Brittany's house as Santa to help her understand that Artie wasn't going to walk again. Coach Beiste, as Santa, tried the best she could to explain this to Brittany. It made Brittany sad that Santa couldn't fulfill her wish.
Even though everything had been stolen out of the choir room, Mr. Schuester got everyone to realize that Christmas was more than just presents. New Directions decided to sing for the teachers instead and raised money for the local shelter. Sue watched with a compassionate look. When they went back to the choir room they found Artie in a "rewalk" device helping him to walk. They explained that when they went back to Brittany's house they found the device under her tree and don't know who left it there. The scene changed to Coach Beiste looking on, smiling.
When Mr. Schuester went home, he found Sue in his living room with a present for him. She decided to give him a razor to shave off his chia pet of hair. She told him that no one should be alone on Christmas, even him, and the New Directions gang joined them to decorate his tree.
Things didn't change this episode, with Rachel and Finn still broken up and Mr. Schuester still not ready to talk to Emma about her surprise wedding to Carl. Can we get him a new woman to date now that Emma is married? That would certainly stir the pot. There was hardly any Kurt either except a duet with Blaine and admitting to Mr. Schuester that he was in love with Blaine. All the Christmas music was great too, especially Kurt and Blaine's "Baby Its Cold Outside" and Rachel with Finn on "Last Christmas", the Wham classic. That's it for this year fellow Gleeks. The show will be back on February 6 with a post-Superbowl episode.
Video: Glee, "A Very Glee Christmas"
Check out the episode in full from Hulu, while available: