Everybody in my circle of friends knows me as the "fallen Gleek." A couple of years ago, I fell in love with the singing 20-somethings-passing-off-as-teen-somethings as many did.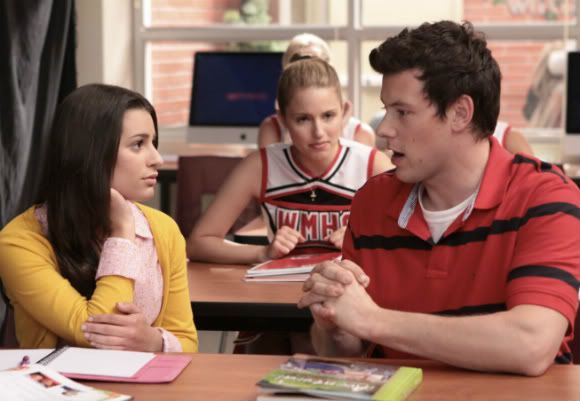 Like most fans (and some critics) I succumbed to the intellectual trap of thinking that Glee was a deconstruction of the musical concept. I also thought it was the High School Musical that never was. Then, the Britney Spears episode aired. Cue your sighs of indifference. I realized then that the show had crossed over into "so bad it's good" territory and very few story arcs satisfied my television needs. Since then, I've evolved into one of Glee's major critics among my TV/film geek circle. Now the series pings between moments of character-driven cake and camp-induced moments of vomit-drool. It's as if Ryan Murphy and crew are confused as to how to handle their stories. "Do we make Chris Colfer the star?" the writer says. No? So let's make Quinn and Finn a couple again. Do we focus on Rachel? No, let's just keep her obnoxious and hand wave all the development we've given her. The show now functions like a schizophrenic and self-aware soap opera.
After watching the Glee kids' adventures in New York, I came away with the same nagging feeling of disappointment. After thinking about the episode, I noticed something. This "something" helped me regain some respect for the show once again, and that has to do with the relationships of the Glee characters. Let's consider the facts. The Finn-Rachel-Quinn love triangle dominated approximately ¾ of the past season and was resurrected because Finn broke up with Rachel. Lauren played with Puck's footballs and Kurt hooked up with Blaine. The two then became the cheesiest gay couple on television since Buffy The Vampire Slayer's Willow and Tara. Artie and Brittany grew into one of the strangest (and well written) couples on the show and Mercedes is on the down low with Sam.
What is all this madness? I know what it is. This character shipping bonanza is wish fulfillment.
Take note of the relationships above. Which ones stand out to you? All but the love triangle, right? Critics say that Glee is changing the face of LGBT awareness and how LGBT issues are portrayed on prime time television. The Kurt and Blaine story arc accomplishes this in bedazzled spades. What is less noticed are the other unconventional relationships that Glee presents. Glee isn't just focusing on the LGBT community; it is focusing on many unconventional relationships within a high school environment. In high school, many people closet themselves in different ways. With a fictional show, we see a heightened and exaggerated version of how people act. In high school, you would never see a deliciously plump diva go out with the Bieber-styled football player, for example. You wouldn't see the gay kid smooching it up with his boyfriend in public. And God forbid a bi-curious cheerleader takes interest in someone who is handicapped.
These kinds of couples simply don't exist in high school. And this is where the genius comes in. With all this weird character "shipping" Glee transforms itself into an escapist show of wish fulfillment. You want to know what's freaky about this genius? It probably wasn't done on purpose.
I'm not claiming to know Ryan Murphy personally, and I'm open to being wrong, but something doesn't ring true with how the second season was structured. Any person with an amateur level of screenwriting ability will tell you that the Sam and Sunshine relationship did not develop as planned. Sam was geared to be Kurt's "fantasy football player" and Charice was planned to be around for many more episodes. Chord Overstreet's unexpected chemistry with Dianna Agron put a major wrench in the planned character dynamics and Charice's busy schedule caused many aborted arcs focused on her character's rivalry with the club.
Through these two happenings, entire scenes and ideas were scrapped. Instead, we got a gay Ken doll named Blaine and a lack of Rachel vs. Sunshine sing-offs. An unavailable Sam meant a new love interest for Kurt and no Sunshine left Rachel without a rival. Without Sunshine, the writer's needed something else for Rachel to "overcome." Cue the love triangle. From this evidence, it can be concluded that these two happenings changed the relationship dodecahedron for the season. I could go on about this theory, but that's for another time. All I know is that these two unfortunate events gave the series some escapist gold to jingle in front of their fans and now we see a whole spectrum of relationships represented that normally would not in this medium. In fact, I would argue that the unconventional relationships are the real focus of the show, and that the love triangle is a self-parody of the trope it represents.
Though Glee initially earned a golden star sticker from me, I'm not convinced the show is living up to its hype anymore. For every good relationship arc, there is a ludicrous (and not quite funny) plot device juxtaposed against it. I'm hoping the Glee writers are able to produce a better product next season. Until then, I will remain in the fiery bowels of "fallen Gleek" hell.