Quick Take: Glee, "Audition"
"A female football coach is as natural as a male nurse. A sin against nature" - Sue Sylvester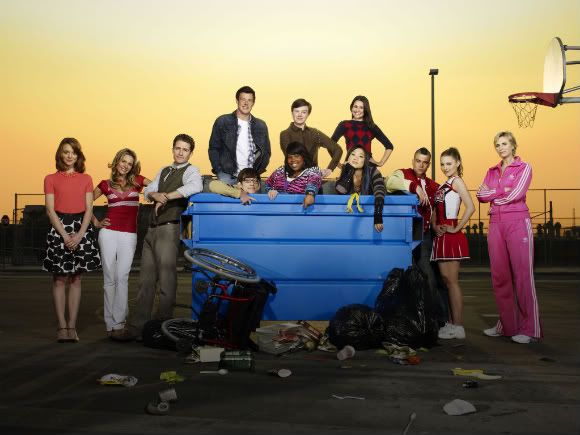 Review: Glee, "Audition"
(S0201) Returning to school after losing the finals, the Glee club finds that their budget as well as Sue's Cheerios budget has been cut in favor of the football team. And, if Sue's character wasn't interesting enough, a new female football coach has been added. Coach Beist (Dot Jones), pronounced Beast, is a classic he-she bringing her own set of odd own liners such as "That's like a steer with 6 teats and no oink." Whatever that means, it means Sue and Will unite to rid McKinley High of the one person responsible for their budget cuts.
Glee club regionals are to be held in New York City this year but new recruits are needed to help them compete against Vocal Adrenaline. Glee tries to make a lunch time impact with their rendition of JayZ and Alicia Key's " New York State of Mind." Finn hears one potential recruit singing in the shower after football practice. Apparently bathrooms are a great place to recruit Glee members such as Rachel and Philippine foreign exchange student Sunshine belt out a duet of Lady Gaga's "Telephone."
Artie (Kevin McHale) convinces Finn (Corey Monteith) to help him try out for the football team, but the coach doesn't believe a wheelchair can be used as a battering ram and tosses Finn off the team. Quinn (Dianna Agron) returns to the Cheerios convincing Sue (Jane Lynch) that a former pregnant teen wearing a cheerleading uniform preaching abstinence would bring in donations to offset the budget cuts. Santana (Naya Rivera) is demoted to the bottom of the pyramid because Sue doesn't like the implants she got over the summer.
Will and Sue are no longer teaming up against the football coach as Will feels Sue went too far by having Brittany accuse the coach of touching her improperly. Sue serves up a plate of dog poo cookies to the coach and Will. While Will is returning to being the good guy, no new members join Glee. The guy figures he is new and doesn't need the added strike of being a Gleek, and he has replaced Finn as the school's quarterback. Rachel, afraid of the competition, sent Sunshine to a crack house address for her audition. After we finally see her real audition, which is a spectacular performance, Sunshine is recruited by Vocal Adrenaline. Sunshine's mother has been promised a green card by the competition and she doesn't trust Rachel. So with no new recruits, Glee is still full of Gleeks, Sue is still Sue, and the performances are not to be missed.
Video: Glee, "Audition"
Check out a Glee Season Two preview: