Quick Take: Glee, "Hold on to Sixteen"
Chord Overstreet returns to Glee to show off his sexy side.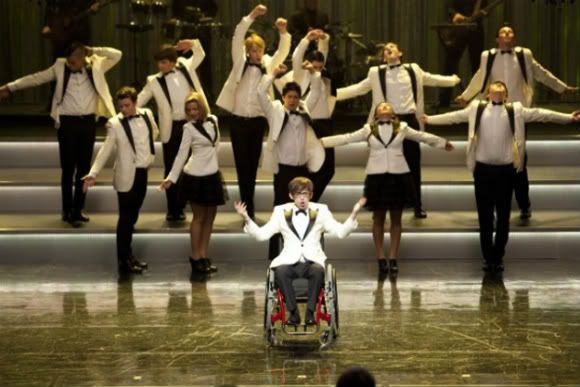 Review: Glee, "Hold on to Sixteen"
(S0308) Yes, random-announcer-guy-at-a-strip-bar, I would like to see some white chocolate in the form of Chord Overstreet's ab-ulous body. Sam (Chord Overtreet) returns to New Directions to sing in Sectionals in place of Rachel (Lea Michele), who was suspended for rigging the student elections. Quinn (Dianna Agron) finally works up to nerve to squeal on Shelby (Idina Menzel) and Puck's (Mark Salling) new relationship. Mike (Harry Shum Jr.) and Tina (Jenna Ushkowitz) confront Mike's father about his dream and the Trouble Tones face New Directions at Sectionals. With all this drama, who can not go insane?
Well, don't. It's good to see many of these plot lines come to a close while also foreshadowing the future ones. Blaine (Darren Criss) and Kurt (Chris Colfer) still have their naughty third wheel in the Warblers to deal with as evidenced by the realization Kurt experiences while performing. Quinn finally accepts that Shelby is the best for her baby while wearing an outfit that looks like it was stolen from a puppet. The entire cast of New Directions look like they were stolen from a ventriloquist's dollhouse during their sectionals performance. But enough about, lets discuss trouty mouth.
Chord Overstreet's return is welcome but him singing "Red Solo Cup" is almost like experiencing cruel punishment. I never can understand Glee's obsession with doing pop culture song fads. Firs they did "Friday" and now they are doing a song that celebrates plastic cups. Chord Overstreet fits back into his character well and the tension between him and Darren Criss is palpable. On the subject of Criss, Blaine and Finn (Cory Monteith) finally resolve their differences; they also lead the team head on in the competition. Musically, this episode works, but I feel there was too much time spent on New Directions performance. However, this choice could have been made to give the episode a more "mid-season finale" feel. Next week, the Gleeks will get their jingle bells rockin' with another episode.