Quick Take: Glee, "On My Way"
Glee not only averts the shark, it bops it on the head.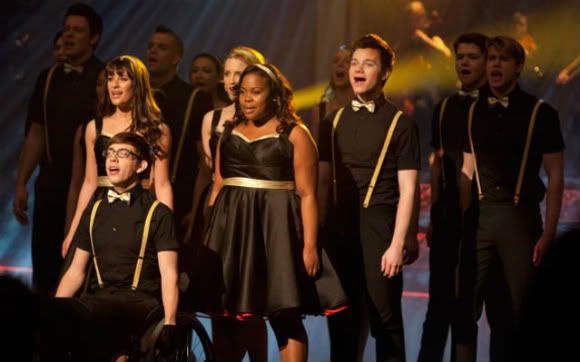 Review: Glee, "On My Way"
(S0313) This episode... just, this episode.
This week's edition of Glee reminded me why I fell in love with the show in the first place. Glee is ultimately about a bunch of teens surviving high school by using singing as an escape. "On My Way" demonstrates this beautifully. The Glee club is preparing for regionals and Sebastian (Grant Gustin) uses his blackmailing powers to harass Rachel (Lea Michele). But before any practice can ensue, Dave Karofsky (Max Adler) attempts to kill himself. What follows is a bunch of introspection and deeply emotional moments.
I've always argued to my friends that Glee should be like Skins but with singing. The first 13 episodes of the series are noted for their dark drama juxtaposed against whimsical musical pieces. Glee was at its most popular during this brief era.
Since then, Glee has been water boarding around the shark with its ludicrous plot ideas. From Sue Sylvester (Jane Lynch) wanting a baby to a psychedelic Britney Spears tribute, Glee has come under fire for some unusual creative choices. This season had some people growing aggravated with the budding series, myself included. The first part of this season started strong but it soon devolved into hackneyed plots that lacked substance. In other words, I'm not entirely positive that Glee has averted "jumping the shark" with this story.
In fact, it probably did jump the shark. However, this week shows Glee on the path to recovery. I admire how one suicide attempt can wrap up so many character arcs in one episode. Sebastian gains a heart, Quinn (Dianna Agron) regains her position as a Cheerio and Kurt (Chris Colfer) resolves his issues with Dave. The writers really sucked this twist for what it was worth and did it as effectively as a farmer milking his cow. Not only did character arcs get resolved, they also hinted at new ones forming. To most people this all may feel a tad rushed but I'm just thankful to see dark Glee again. I want to see reality slap these Glee kids in the face and it's nice to finally see it happen. You know what's also nice? Potential character death. No, it's not Karofsky. Watch the episode and find out who it is. I just hope the writers actually kill the character. I don't hate character, I just think it would be brilliant television.
High five, Glee writers.