Quick Take: Glee, "Prom Queen"
"Prom is like our Oscars." - Santana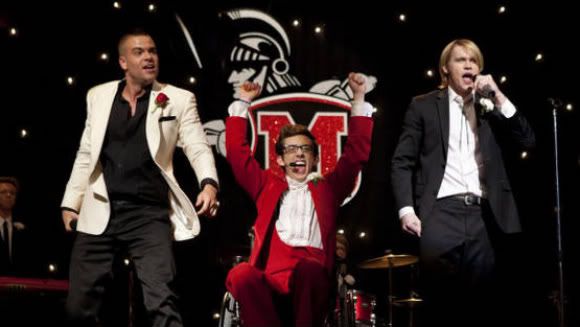 Review: Glee, "Prom Queen"
(S0220) Prom night finally arrived on Glee and we were in for a few surprises along the way. To start things off, Principal Figgins asked Mr. Schuester for glee club to perform at prom since the band they did have scheduled had to cancel. Naturally, Sue was against this being the prom coordinator, but the gig came with four hundred bucks and Mr. Schue couldn't say no since the glee club needed money to get to New York for nationals.
Prom fever was among the students with Quinn still campaigning for prom queen, Lauren worried about finding a dress and Mercedes bummed that she had no one to go with. Rachel didn't have a date either so she talked Mercedes and Sam into going as a threesome (not that kind!). The threesome group didn't last long as Jesse St. James made an appearance at McKinley to see Rachel. I don't necessarily like this character, but Jonathan Groff can sing and I loved their "Rolling in the Deep" duet.
It is hard to forgive this guy, with the whole he threw an egg at Rachel's face thing and broke her heart, but somehow he talked Rachel into giving him another chance and taking him to prom. Finn cornered Rachel in the hall to discuss the rumor that Jesse was her prom date and Rachel told him that it was true and "all I ask is that whomever I choose, that you be as supportive of him as I've been of you and Quinn even though I'm dying every day inside". I think that Rachel made a good point and even though Finn was trying to be nice, it really isn't his business!
Kurt asked Blaine to go to prom and he agreed to go even after his story of how he was beat up at his prom because he went with another boy. Kurt decided he wasn't going to take anymore crap plus had Santana and Karofsky watching his back at school. Kurt and Karofsky had a nice moment as he walked Kurt to class. He actually apologized for what he did and Kurt knew that he meant it.
Meanwhile, Artie was having a tough time getting Brittany back. Before committing to spiking the punch for Puck, he sang a song to Brittany. Although it was a nice gesture, she wasn't ready to forgive him yet for calling her stupid and made a good decision ("I'm going to go to prom by myself and really work on me and dance with other people's dates"). Artie decided to go alone too and help Puck with the punch.
Prom night finally arrived for McKinley High and I have to say that the entire cast looked fabulous. My favorite dress would have to be a tie between Quinn and Rachel. The Glee kids took turns singing songs with "Friday" being the most ridiculous song choice, "Jar of Hearts" sung by Rachel was amazing and "I Am Not Going to Teach Your Boyfriend How to Dance" by Blaine was fun. I was worried how they were going to keep him in the plots without the Warblers, but they have done a nice job.
There were some good prom moments and some bad ones. Sam and Mercedes had a nice moment when he told her she looked beautiful and asked her to dance. Jesse as Rachel's date sent Finn spiraling with jealousy. As Rachel sang her song, Finn stared at her the entire time and then later started a fight with Jesse after seeing him and Rachel being a little too close. Sue threw them both out of the prom and we didn't see them again.
The prom queen and king nominees, except for Finn, lined up for the big announcement. Karofsky was named prom king and in a surprise move Kurt was named prom queen, but only as a cruel joke by the students. Rachel followed an upset Quinn to the bathroom to console her for losing prom queen, but all she got was a slap in the face from Quinn. I would have slapped Quinn right back, but Rachel didn't let it get to her. Quinn did apologize right away, but really there was no need for her to do it in the first place.
After talking to Blaine, Kurt made a bold move by deciding he wasn't going to let everybody else get him down. He walked back into prom, was crowned queen and tried to persuade Karofsky to come out by dancing with him. Karofsky got scared and left, but Blaine was right there to have the first dance with Kurt. Kudos to the writers for this moment for showing that instead of Kurt letting the joke ruin his night, he embraced it and showed everybody he wasn't afraid. The night went from disastrous to cheerful as Brittany proclaimed it the "best prom ever" and everybody went back to dancing the night away.
The previous episode of Glee, "Rumors," was great and this one didn't disappoint either. One thing they need to do by the end of the season though is resolve a few storylines. They are dragging out the Finn/Quinn/Rachel trio and they need to decide if Karofsky will ever come out. It is going to be an interesting last two episodes with a mysterious death and nationals on the horizon.