Quick Take: Glee, "Silly Love Songs"
"Sometimes you have to choose between love and talent." - Mercedes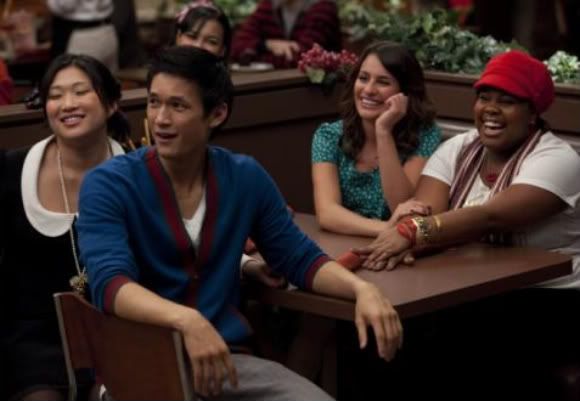 Review: Glee, "Silly Love Songs"
(S0212) I didn't write about Sunday night's Super Bowl episode of Glee. If I had, rest assured that it would have been a mostly negative rant. "The Sue Sylvester Bowl Shuffle" was Glee at its eye-rolling worst, filled with absurd plot contrivances, infantile adult behavior, and underwhelming songs that mostly lacked context (why were the Dalton Warblers singing "Bills Bills Bills"? WHY?). They topped it off with shameless attempts to pander to a male football audience (Bra sparklers! Cannons! Football championship!), all of which seemed forced and childish, and which surely turned away more eyes than they hooked. You want to grab new viewers? Give them a quality hour of television. This was a hot mess.
But amazingly, Glee returned less than 48 hours later with "Silly Love Songs," an episode that showcased almost all of its strengths while tucking away the aspects that often make it so aggravating. Ryan Murphy gets the writing credit for this one, and he gave us multiple stories that were funny, engaging, and at least somewhat realistic depictions of hormonal teenage romance. There was no extravagant, out-of-this-world production, no heavy-handed theme, and no teachers acting like confused adolescents. In fact, the adults were blessedly absent for most of the episode.
It's become clear to seemingly everyone but the show's writers that the kids are what make the show work. They give it its heart, its humor, and its most replayable music. Because they're teenagers, they can make immature mistakes, engage in foolish shenanigans, and experience rousing triumphs, and we can enjoy it without feeling uncomfortable. That the adults are given stories involving anything but their necessary roles as teachers and parents is really an unfortunate burden at this point. Sue Sylvester is an iconic character, and I wouldn't dare suggest she go away, but she should never be the centerpiece that they often make her. Will's stories are almost all nauseating by now, and there are few things in the world I care less about than his love life. My favorite episodes are the ones that leave out the grown-ups, and luckily, this was one of those episodes.
Front and center this week is the surprising duo of Puck (Mark Salling) and Lauren (Ashley Fink), the newest addition to New Directions. The writers have impressively transformed Lauren from a comedic fringe character (a la Jewfro boy Jacob) to a unique new piece of the ensemble. Once again Glee is taking an important social stand, this time by representing an overweight female who is still confident and proud. They've addressed weight insecurities a little bit with Mercedes, but this is another nice opportunity to add some physical diversity to primetime television. Rather than being weakly overjoyed that a handsome popular boy is pursuing her, Lauren fiercely maintains the power position and forces Puck to pull out all the stops to woo her. When Puck serenades her with the catchy but offensive "Fat Bottomed Girls," she bluntly tells him, "That was the first time anyone ever sang me a love song, and it made me feel like crap."
On Puck's end, I was skeptical that someone like him would be so willing to overlook the shallow norms of attractiveness, but the story did a nice job of illustrating how her independent bluntness would actually be quite appealing to his character. All of their scenes together were funny without turning to parody, so I hope this is a story thread that continues to be featured. I'm a Puckleberry fan myself, but since that doesn't seem like it will be a serious option anytime soon, I'll gladly take Puck-Lauren (Pauren? Luck?).
Meanwhile over at Dalton Academy, the Blaine-Kurt relationship finally got a bit of a kick in the pants. This story has been moving at a glacial speed, which is odd since Glee normally burns through storylines rather quickly. Blaine (Darren Criss) singing "When I Get You Alone" to a random Gap employee he's crushing on was probably my least favorite Dalton performance yet, but at least it actually moved the story instead of just being shoehorned to get them in an episode. Blaine's rejection and subsequent heart-to-heart with Kurt (Chris Colfer) finally made Blaine seem like less of a perfect, rainbow-tooting angel, which was much needed. In the end, their relationship is about as ambiguous as ever, but at least something happened.
Something was also happening with Finn (Cory Monteith), who decided to embrace his reclaimed popularity by opening a kissing booth (proceeds go to New Directions, of course). This was a bit jarring after his stint as the saintly unifier in the last episode, but I guess a little hubris isn't totally out of character for him. It is tough to see this as the same character from the episode two days ago, though, which is a recurring problem that the show has with its writing. Anyway, his underlying motivation was to get Quinn (Dianna Argon) to kiss him again, which he is certain will leave her wanting more and draw her away from Sam.
I'm all for seeing Round Two of Finn-Quinn. Rachel (Lea Michele) and Finn as a couple got stale pretty quickly, so a pairing with Quinn, minus the pregnancy hijinks of last season, seems fresh. The problem right now is that Sam (Chord Overstreet) has been so two-dimensional that it's really hard to care about his role in this triangle. I'm still pretty puzzled by what his character adds to the show. Anyway, it'd be nice to see a character decide NOT to cheat for once, but alas, Quinn kisses Finn at his booth and then comes back for more. Rather than relying on emotional expression and chemistry, we are shown a slide of actual fireworks when they kiss, in a rather literal set-up for Rachel's song later (they're sure plowing right through the Katy Perry songbook). After they both get mono (more on that in a second), Quinn decides to hold off on any further trysts with Finn until she decides how much she likes Sam. How very noble of her.
It was the devious Santana (Naya Rivera) who orchestrated the dual mono infection, as revenge for being shunned by the group after yet another insult (in response to Finn's kissing booth, "I would, however, pay $100 to jiggle one of his man boobs." Zing!). I'll go ahead and shrug off the silliness of the mono plot point, but it was nice to see Santana get a bit of comeuppance in the first half of this episode. Her meanness and bullying has generally been ignored (and seemingly rewarded with lots of solos), so the club turning on her, and the epic beatdown by Lauren, were nice moments.
Things ended with on a upbeat note, with most of the club smiling along to a Dalton performance of "Silly Love Song," and a hint at perhaps a Santana-Sam pairing (meh). This episode, while not perfect, was a definite high point for the season. I don't have high hopes that this quality will stick around consistently (from the previews, it looks like we're getting a heavy dose of Sue and Emma next week. Yippee), but individually, this would have been a much better choice for the post-Super Bowl episode, despite its emphasis on love and romance. Here are a few other quick hits:
I'm not one to care much about fashion, but it's really nice to see Quinn, Santana, and Brittany out of their Cheerios uniforms. I never really understood why they had to wear those every day anyway, but it was refreshing to see them show some clothing personality.
What was up with Tina's weird performance, as she broke down into hysterical tears? I guess it was supposed to be funny, while demonstrating her passionate love for Mike, but it needed a better set up or something. That just seemed out of place.
Artie's "PYT," accompanied by a dancing Mike Chang, didn't move any stories, but it was a nice little feature for the two of them. Always nice to let Mike show off his dancing skills, and Artie's good with this style of song.
My favorite scene of the night was the Rachel/Mercedes/Kurt pajama pow-wow. I'm not sure at what point Rachel and Mercedes became good friends, but the dynamic between these three self-proclaimed divas was supportive and fun. More of this please.
What are your thoughts? Did you like this better than the Super Bowl episode? Let me know in the comments!