Quick Take: Glee, "Special Education"
"If we lose, we should throw possums." - Brittany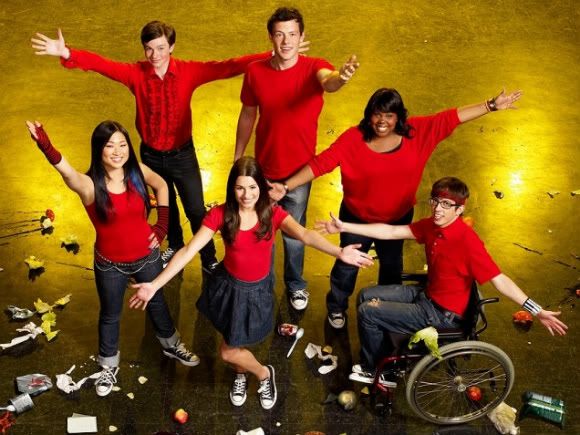 Review: Glee, "Special Education"
(S0209) A break-up, a marriage, and sectionals highlighted Glee this week. As the competition approached for the New Directions gang, Mr. Schuester had his set list all planned out... until Emma gave her opinion. She suggests mixing it up and having other people besides Finn, Rachel, and Mercedes sing solos. He takes her suggestion to heart and decides to put Santana, Sam, and Quinn in the lead with Mike and Brittany as main dancers. Rachel is not happy. As she complained in front of everybody else, Santana decided to spill the beans and tell Rachel she had slept with Finn.
Mr. Schuester gave Puck the job of finding a new member for the Glee Club due to Kurt being gone. He tried asking the football players, but ended up in a port-a-potty instead. Classmate Laura came to save him and he convinces her to join Glee.
Kurt in the meantime was trying to fit in at Dalton Academy. He joined the Glee group called The Warblers and had Blaine to guide him. They gave him a chance to try out for a solo for sectionals, and so Kurt went back to McKinley to Rachel for help. I loved his reason of, "You are as brilliant and talented as you are irritating." Both of them gave an amazing performance of, "Don't Cry for Me Argentina." Kurt doesn't get the solo and Blaine tells him not to try so hard because in time he will fit in.
Brittany was afraid to dance in front of everybody and Artie made her feel better by giving her a "magic comb." As unintelligent as she is, she took the bait and felt more confident. Tina started having suspicions about Brittany and Mike since they were spending a lot of time together. When Artie finally confronted Brittany about her adultery, which she thought meant that she was stupid, she admitted she had been avoiding him because she had lost the magic comb he gave her. He admitted it was not magical and told her she was going to be great without it.
Mr. Schuester decided to invite Emma to sectionals with them, but she declined at the last minute. She didn't want to lie to Carl about going to sectionals. She admitted that Carl had a problem with their friendship and also admitted that they had confessed their love for each other.
At sectionals, Kurt and Rachel had a nice moment together, wishing each other good luck. Performing were The Hipsters (a group of older people), The Warblers, and New Directions. The "Hey Soul Sister" performance by The Warblers was amazing. This group needs to be showcased more often. It was nice to see Sam and Quinn duet this time with, "I've Had the Time of My Life." The show does tend to put Finn and Rachel up front a lot and although it is justified, there are still many talented people in the cast. Santana also did an awesome job singing "Valerie." The Warblers and New Directions tied, so both will head off to regionals.
Finn and Rachel talked things out after Rachel realized she had no reason to be mad since they hadn't been dating when Finn had slept with Santana. Finn wanted no more lies so she admitted to him that while they were fighting she made out with Puck. Finn, after being cheated on by Quinn, was devastated and broke up with Rachel.
Mr. Schuester visited Emma to show her their trophy and she confessed that she and Carl had gotten married over the weekend. He told her he was happy for her and walked away. This development was a little shocking. It seemed out of character for Emma just to do something so quick, but we had seen her changing her OCD habits over the past few months because of Carl. Then again, sometimes people do crazy things for love.
Great performances this week, but I was surprised to see not one moment of Sue Sylvester. Next week looks promising with a Glee Christmas episode.
Video: Glee, "Special Education"
Check out the episode in full from Hulu, while available: