As a card-carrying member of the TV Geek Army, I have often thought about which of the hundreds of '80s TV shows were quintessential to the decade.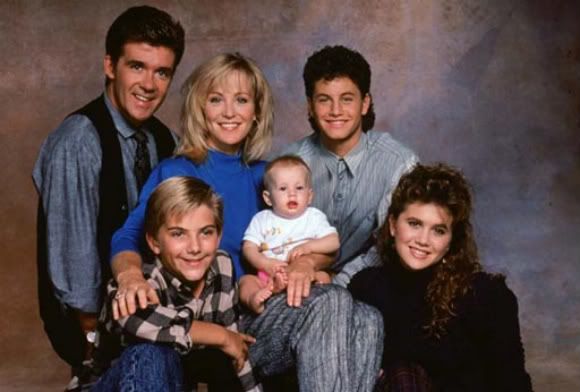 Believe me, there are hundreds of candidates. There are the ground-breakers, such as Hill Street Blues. There are the legendary super-hero cartoons like Teen Age Mutant Ninja Turtles. And there are family sitcoms galore. Many revisionists look at the '80s as a repeat of the '50s, what with conservative values returning and all. It works like this: Eisenhower equals Reagan. The new Elvis is -- oh I don't know, Springsteen I guess? Father Knows Best became The Cosby Show. And the Cleaver clan of Leave It To Beaver were reborn as the Seavers of Growing Pains.
Granted, there were two brothers plus a sister on Growing Pains, rather than the simple two brother format of Beaver. It hardly mattered though, because this was almost exclusively The Kirk Cameron Show. The presence of Carrie Anne Seaver (Tracey Gold) was about as minimal to most plots as could be. The franchise clearly belonged to Cameron's character, Mike Seaver -- much to the dismay of Alan Thicke, who played father Jason Seaver. The show was originally intended as a platform for Thicke, but after Cameron broke out as a teen superstar in Season One, the producers gave the public what they wanted.
The newly released three-DVD set of Growing Pains: The Complete Second Season offers ample examples of this. I must admit that I did not pay a lot of attention to this show when it originally aired, but that was an error I have since rectified.
In a way, all you need to know about Cameron and the whole Growing Pains zeitgeist can be found in Episode 15, "Thank God It's Friday." This is the infamous "cocaine episode," where our hero is offered the drug. Will he take a sniff? Tune in and find out. I could not help but wince at the final 60 seconds, when Cameron breaks the fourth wall to basically repeat Nancy Reagan's "Just Say No" speech. This is truly the last vestiges of irony-free TV. I could not imagine anyone doing something like this today.
Just like Leave It To Beaver or Father Knows Best, Growing Pains was an idealized version of the America of its day. This is television, not reality, after all. And Growing Pains is possibly the single greatest example of who the people of the USA hoped they were 25 years ago. All 22 episodes of this amazing program reinforce family values and the virtues of right thinking and actions.
There were a multitude of current and future guest stars who appeared in the season. My favorite is Gordon Jump, who played Ed Malone. Ed is the father of Maggie Seaver, the matriarch of the family. It was reassuring to know that Jump had escaped those hooligans of WKRP in the '70s. Other notable guest stars in the second season include Olivia d'Abo, Dawn Wells, Dan Lauria, and a very young Candace Cameron. Growing Pains: The Complete Second Season presents 22 very well-written shows that perfectly encapsulated the hopes, (if not the realities) of 1986 America. It is as family friendly as TV has ever been, and a gentle reminder of just how different our world is today from that of yesteryear.