Quick Take: Happy Town, "In This Home On Ice"
Harper's Island is a show about… oh wait.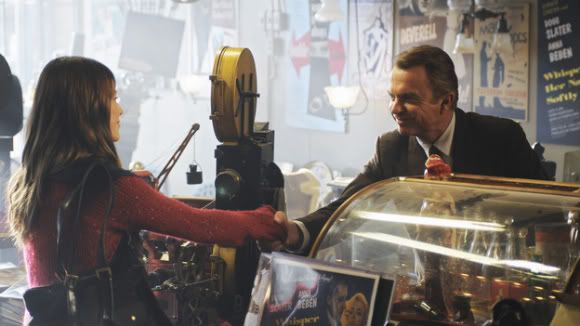 Review: Happy Town, "In This Home On Ice"
(S0101) I'm going to talk a little bit about some other shows before I get into Happy Town. I think it makes sense to do it this way, since Happy Town is as derivative a B horror movie-as-made-for-TV as they come, but let's get into that in a little bit.
The first thing I noticed about Happy Town is that there's a bunch of actors on the show that I know from elsewhere. And as the hour wound on, I found myself both missing those other shows and feeling badly for the actors that have wound up here (maybe they're getting paid a good chunk of coin, one hopes?). First of all, we have Geoff Stults, who plays Tommy Conroy, and Jay Paulson, who plays Eli Rogers (or Root Beer, as he's known), both of whom migrated from a sadly short lived show called October Road. October Road was a uniquely sweet, funny, and earnest little drama that never quite found an audience and was cancelled before its time.
Happy Town tries to incorporate that same small northern town warmy/fuzzy feeling (Haplan, Minnesota and thus the "happy town" in this case) and juxtapose it with a coming menace of suspense and violence. As I mentioned, it's a derivative show, and one of the shows it reminds me most of is Harper's Island. I think I'm probably one of the few people that sat all the way through that "seasonal event." In any event, Harper's Island, which I liked to call Hackzor's Island, did the same kind of sugary sweet-to-maniac killing on people jump. Hackzor's did have a quirky and almost zany slasher-y energy to it, at the least, which kind of kept me half-interested. Whereas I don't know if we're ever going to get anything close to redeemingly watchable at Happy Town.
We also have Amy Acker, a terrific actress in Joss Whedon shows Angel and Dollhouse, playing Rachel Conroy. Here, she feels marooned and doesn't have a lot to do thus far. There's also M.C. Gainey (who plays Sheriff Griffin Conroy), who was great and fun as Tom Friendly, one of the chief Others, on Lost (the Lost cast is really starting to redistribute on ABC, have you noticed?).
Come to think of it, Happy Town basically has the same plot as Harper's Island: small town, isolated area. Veneer of rural cheerfulness gives way to slasher flick-violence, homicidal maniac on the loose that many refuse to even acknowledge until the body count begins to soar. Same plot, not as fun. There's other details – a new girl in town, a gruesome killing in the woods, and a bunch of local eccentrics for starters – but does it really matter?
There's a lot of great TV shows on these days. I don't know if I have the time or energy to give Happy Town another chance.
More thoughts on Harper's, er, Happy Town:
When the guy that we'll come to know as The Magic Man (or not?) hammers a dude through the head with a spike, I said to myself, "Really, it went there?"
Steven Weber also shows up, playing John Haplin, father of one of the missing girls. He mostly looks grumpy thus far.
Root Beer is kind of being set up as the David Arquette's Deputy Dewey character in the Scream movies. Too bad you had to off yourself on Mad Men so quickly, Adam Whitman!
"Cuter than a mouse's pocketbook." – lots of gee whiz Minnesota talk early
Sam Neill plays the mysterious Mr. Grieves, who opens a shop selling movie memorabilia. It's classic Twilight Zone stuff gone magnificently cliché. Neill was great on The Tudors, miss that era of the show these days.
The sheriff keeps veering into crazy talk about "Chloe" and doesn't realize it... then gets crazier, talks about the Magic Man, and axes his hand off for some reason. "Now that blood has been spilled, he'll be back." Good times.
What's with the weird symbol with the question mark? That almost makes me want to keep watching. Almost.
Video: Happy Town, "In This Home On Ice"
Catch the happiness in full from Hulu, while available:
Recap: Happy Town, "In This Home On Ice"
Henley moves to a seemingly idyllic town just as a shocking murder occurs.
From Around the Web: Happy Town, "In This Home On Ice"
TV with Alan Sepinwall: At a press conference in January, the producers seemed split over whether they wanted to hang their hat on "Twin Peaks" (the short-lived, but influential early '90s series about murder, demons and damn good coffee in the Pacific Northwest) or Stephen King as their most obvious inspiration. Neither "Peaks" nor King, though, ever felt so labored in their efforts as "Happy Town" does.
Rabid Doll: The second red flag was the show's ability (and almost need) to immediately beat us in the head with the hammer of foreshadowing. As the show reminds us more than once, there's a Romeo and Juliet plot between two high schoolers -- one the son of the most powerful man in town, the other daughter of the town meth dealer.
Isthmus: It's easy to see through Happy Town's heavy-handed attempts to scare us — which is why I hated myself for sleeping with the lights on the night after I watched it.
Hollywood Insider: The debut of ABC's Happy Town — a serialized drama about a small Minnesota town that's haunted by a series of unsolved kidnappings — wasn't worth smiling about: It posted ABC's lowest-rated series premiere of the season, down 43 percent from Eastwick's debut in the time period last fall. The drama only attracted 5.2 million viewers and a 1.7 rating/5 share among adults 18-49; far lower than whatEastwick earned on Sept. 23 (a 3.0/8, 8.5 million viewers).