After its two-hour series premiere on HBO, Vinyl has already been picked up for Season 2. Even though Vinyl didn't see huge ratings in its debut, the move shouldn't be a surprise given the pedigree of talent behind the show and the desire for HBO to roll out a new prestige show with Boardwalk Empire having ended and Game of Thrones being pretty deep in its run.
Nonetheless, Vinyl's pilot episode is exceptional, exciting, and engrossing. After watching it twice, I'm ready to geek out about its many merits and can only hope that the rest of Season 1 lives up to the pace set out from the jump.
Here are 10 reasons to geek out about Vinyl.
It's Scorsese. It's New York. It's the '70s.
Some caveats here. I'm a huge fan of Scorsese and believe that he's been at the top of his game in recent years (The Wolf of Wall Street is a masterpiece and Leonardo DiCaprio's best work, says I). I'm also a sucker for great stories told in NYC/NJ/LI (see: Mad Men, The Sopranos, Goodfellas, Mean Streets).
You can sense that Scorsese (who directed the pilot episode) in addition to collaborators Mick Jagger and Terence Winter had a blast revisiting a decade in which he produced some of the most influential dramatic films put to screen. We see a New York City of the early '70s that's dirty, gritty, drug fueled, sloppy, and at the same time exuberant and bursting with excitement and promise and life. When people talk about the "Disney-fied" New York City of today, this is the NYC that they miss (even if they wouldn't choose to bring it all back for reals).
Some of the most exciting musical scenes ever put to film
The two bookend scenes in the episode involving a New York Dolls show at the Mercer Arts Center (in a grungy '70s version of SoHo) are fantastically exciting, raw, and strange, a delightful freak show rocking with dazzling energy that hits the mark perfectly.
Bobby Cannavale
The New York Dolls scenes are shot from the perspective of coked out record executive Richie Finestra (Bobby Cannavale), who we see transform from drug and alcohol-drenched misery into an a nearly transcendent state at the sight of the show and crowd and energy. After all, he's been railing to his complacent employees that he's seeking "what's next" and, lo and behold, he stumbles right into a show by a band at the height of its powers that will influence punk, glam, and rock bands for many years to come.
Bobby Cannavale is a revelation as Finestra. He feels very much of the era (no mean feat these days as legit New York accents are at a premium) and is totally believable as a powerful, confident, yet troubled record executive at the precipice of losing everything (and indeed part of the reason why is that, like Don Draper on Mad Men, he's in danger of being replaced by "what's next").
It's also a blast to get some of Finestra's backstory, starting out as a bartender in the 1950s with a "golden ear,' his transition into the music industry, and the rather tragic means he takes to cobble together the money and power to start his own record label.
The music
Oh, did I mention the music? Beyond The New York Dolls' scenes, there are a host of other delights throughout the two-hour episode, including some fun bits with The Nasty Bitz (more on that below), but also several great r&b interludes from the '50s and '60s, used almost as interstitial moments with a very Scorsese touch. There's also a great scene where we see the recording of the "Cha Cha Twist," by a "Little Jimmy Little" who was attempting to buy into Finestra's promise that all he had to do was put out a couple of lightweight musical hits so that he could get back to his true passion: singing the blues.
An inside look at the music biz at a very interesting time
While Finestra and his fellow executives at record company American Century aren't flat out evil, they're very much the "bad guys" in the same way that the Sterling Cooper and the advertising industry is often reviled within the context of Mad Men. They're the gatekeepers and middlemen, crassly mercenary and openly corrupt behind closed doors. Finestra learned early on that the musicians are "products," there to be used and to extract all possible profit... for as long as they produce.
Where the show begins in 1973 is also a time when the popular music and social/youth movements of the '60s have largely exhausted themselves and the teenybopper public is waiting for something new. While Vinyl's pilot episode gets things a little too on the nose by having Finestra drop by the apartment building where, allegedly, the birth of hip hop took place, it points to an exciting road ahead in which disco, punk, arena rock, hip hop, and glam rock are all on the horizon.
The Nasty Bitz
Protopunk rock band The Nasty Bitz are fronted by Kip Stevens, a snarling Brit played by Mick's son, James Jagger. Young James has his pop's swagger in droves and plays the role with an ambitious yet nihilistic energy that feels very much of a pact with Iggy Pop, The Buzzcocks, Sex Pistols, and other early British punk icons of its day. A scene where we see The Nasty Bitz play a raw and raucous show feels like what it may have been to see an early Sex Pistols or Ramones or Black Flag show, where no one knew or cared who the band was and were more likely there to get into a fight, spit on people, or both.
Ray Romano
Romano gives a fantastic and credible performance as Zak Yankovich, the head of promotions (read = payola) at American Century. Yankovich clearly represents what everyone in 2016 would consider to be wrong and even horrifying about the music business (pushing bad music on the masses via payoffs and power moves) but Romano still makes him likable. And Romano also gets to show off his comedic chops as well, delivering several of the funniest lines of the episode (including one referencing the fact that while he's never joined the Mile High Club, he once had the opportunity to join the "Four Foot High Club" on a bus trip).
Among the many delights in Vinyl's first episode: a DJ that Zak provides some cash and "Bolivian Dancing Powder" to pours some of the white stuff onto a record that's playing live to his audience and then is forced to stop the record, mid-spin, so that he can take a good snort.
The set design and costumes
I mentioned that Vinyl looks and feels like early '70s New York City (even if it's a somewhat heightened and stylized one in the hazy recollection of Finestra's storytelling), and the set design and costumes are a big part of that. From the Andy Warhol-meets-Rocky Horror Picture Show vibe of the New York Dolls' show to the flamboyantly gaudy garb of the some of the folks at American Century (Scott Leavitt, played by P.J. Byrne as the American Century attorney, looks like an overgrown Hobbit who has taken to the Big Pimpin' life), every scene on Vinyl crackles with life and energy.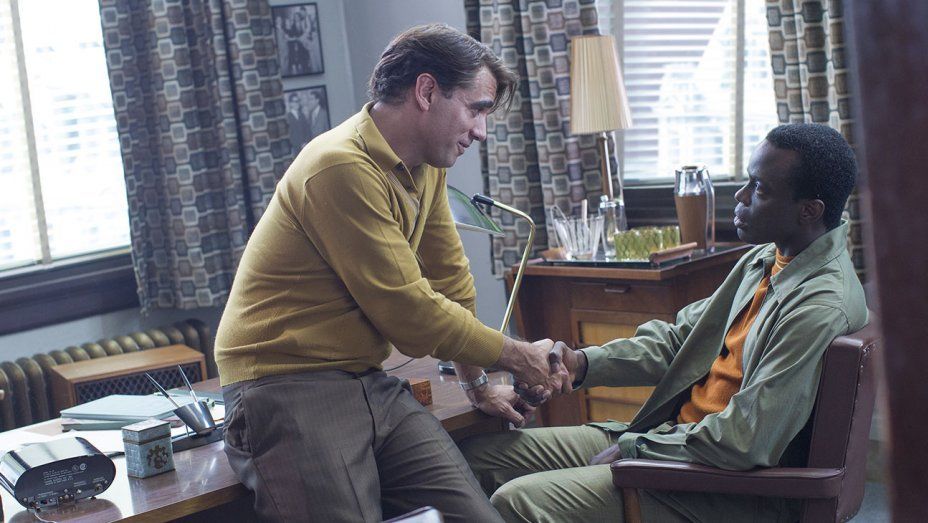 Andrew Dice Clay
The Dice Man as out-of-his gourd radio station owner Frank "Buck" Rogers is an instant classic of Boogie Nights proportions. I already knew that Clay could act, and act well (his appearances on Entourage were terrific) but he takes it to a new level in this episode. My favorite moment: Buck Rogers, in a two day-plus coke fueled stupor, banging on the drums in the middle of his mansion as Black Sabbath's "Iron Man" reverberates all around.
Juno Temple
Juno Temple as "sandwich girl"/drug dealer Jamie Vine steals many of the scenes she's in. Ambitious and smooth -- l loved the way that she calmly lies to Finestra about the way she met and "discovered" Kip Stevens -- Vine is the figure at American Century best poised to capitalize on the coming changes to popular music. Much like Peggy Olson on Mad Men, I can see Vinyl focusing on Vine's character more and more over the coming seasons.