Ah, kids. What with the sleepovers and shenanigans and Truth or Dare's and incantations of Bloody Mary in front of the bathroom mirror. It would all be fun of games, wouldn't it, if not for the hell spawns it brings out of the depths of the nether world. "Welcome to Teledo, Ohio," as our man Dean tells us.
On a more serious note, "awful supernatural death," is what brings Sam and Dean Winchester to town, and "Bloody Mary" (Supernatural S0105) brings its goodly share of it.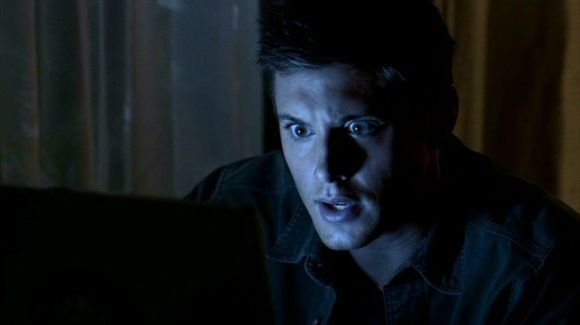 Amongst the urban myths and scare-your-friends-to-halfway-to-death myths and legends, "Bloody Mary" is not one that really afflicted my childhood. Therefore it was faintly odd and amusing to hear the urban (royal?) myth of sorts about chanting "Bloody Mary" in front of the mirror three times, which prompts some kind of ghost-y to pop out and scratch your eyes out. Why anyone would voluntarily do this is beyond me, but prompts memories of Michael Keaton in Beetlejuice for some reason.
It also spawns memories of now classic B horror slasher/satire flick Scream when a teenage girl named Jill jokes around with the "Bloody Mary" legend before a creepy ghost pops out, accusingly saying, "You did it. You killed that boy." Throw in a dash of I Know What You Did Last Summer Last Summer for good measure.
Turns out that Jill was in a car accident that killed someone, and a presence from beyond the vale – and not the Westeros variety – is pissed. We then head into a semi-odd mix of Sam and Dean hitting the road (again) to Indiana to incover the history of one, Mary Worthington, and her perhaps murderer, Trevor Sampson, while meanwhile back in Toledo the teenage girls go into a mode of freaking out when they're not taking a turn freaking each other out (perhaps to make themselves feel better or just because kids can be meanies at times).
Dean eventually gets Jill to reveal that she broke up with a boyfriend who threatened to commit suicide if she left… and he pulled the trigger (so to speak). "Spirits don't really see shades of gray," Sam later explains, in illustrating the motivations and machinations of the supernatural. This point cannot, of course, be scientifically proven, but it's one of the weaker points of Supernatural lore to date I'd say. Sam then comes to the conclusion of: "How we're doing this… you've got to let me do this."
Eventually, Sam gets possessed and afflicted with some kind of stigmata eye bleedy thing, and then The Ring-inspired ghostie comes forth and starts getting Darth Vader-like choky and accusatorial and so on. Then she disappears… why?
"Bloody Mary" is a strange, mish mash-y edition of Supernatural. It brings in the legend of "Bloody Mary" child parlor games, the nascent series arc of who killed Sam's gal Jessica, and Winchester brothers-style procedural, and mixes up an enjoyable but semi-confusing edition of Supernatural.
Notes of funness, interest, intrigue:
If you're a group of young kids and you have the motivation to a) light a bunch of séance-type candles and b) start daring each other to say "Bloody Mary" three times in the mirror, than c) you are really motivated to freak yourselves the [BLEEP] out on a sleepover's Saturday night.
"Dr. Fake-lovich." Dean takes the fake identities to a new level of hilarity.
The Winchester boys would seem to be racking up a healthy chunk of miles on the road, what with previous episodes seeming to take place in the West, fictionally-speaking (but again, I'm sniffing out a mainly Vancouver, Canada-shot show or thereabouts).
Perhaps the most impressive aspect of this episode is the degree to which Sam keeps getting haunted by the dream of his murdered girlfriend. That more than anything else prompts me to keep heading deeper into Season One of Supernatural.
Supernatural Rewind is a series wherein we look back at and examine the superness of Supernatural and the cult TV frenzy that it spawned. Get mobile alert reminders for new episodes of Supernatural and other new/hot/favorite shows for free