Quick Take: How I Met Your Mother, "Architect of Destruction"
"It's going to be legen – wait for it – I'll send you an inter-office memo with the rest cause we freakin' work together!" – Barney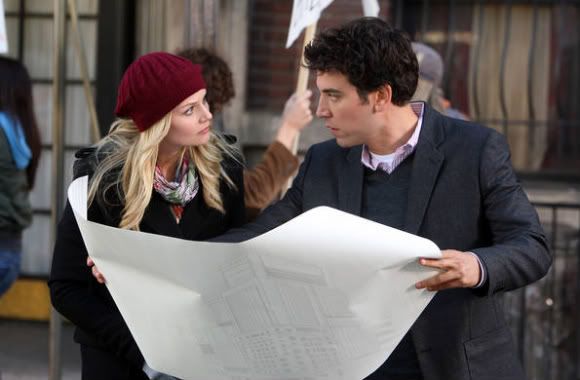 Review: How I Met Your Mother, "Architect of Destruction"
(S0605) Tonight on House, the team continued to be unsuccessful at finding a new female doctor. If only they had turned over to CBS, they would have found their old pal Dr. Cameron hanging out on How I Met Your Mother. Problem solved!
In reality, Jennifer Morrison (best known for her aforementioned role on House) guest stars as Zooey in what will be a recurring role as a love interest/antagonist for Ted. Zooey is an attractive, dorky architecture buff, seemingly a perfect fit for Ted (Josh Radnor). Unfortunately, she is actively protesting the destruction of The Arcadien, a classic New York hotel that Goliath National Bank intends to replace with its new skyscraper. Ted, of course, is designing this building, so this presents a conflict of interest, and shenanigans will ensue.
I like Morrison, and I'm glad she gets to have a little fun after spending so long playing a Debbie Downer on House. Ted spends most of the episode trying to hide the fact that he works for GNB, and attempts to convince Barney that they need to choose a different site. Barney (Neil Patrick Harris) is having none of it, and the ruse is eventually exposed thanks to a billboard he sends (a pretty amusing visual gag). It's probably for the best, given that GNB infested the building with snakes to drive out the residents (Barney's coy allusions to the snakes was a so-so running joke throughout the episode).
So now Ted is Zooey's worst enemy, and the primary target of her protests. It could be a fun story, but the problem, as always with this show, is that we know Zooey is not the mother, which means this relationship will inevitably not work out (assuming there is a relationship at some point. Perhaps I'll be surprised and they'll take a different route). It's tough to be invested in the women Ted pursues, especially now that we know he meets Mommy dearest at a wedding.
Meanwhile, Robin has started dating Max (Geoff Stults), a lawyer friend of Marshall's. Things have gone well so far, except that – wait for it - he has a small penis. As part of their standard girl talk, Robin shares this with Lily, who passes it on to Marshall, who reacts in horror to this information he never wanted to have. He can't stop thinking about it when they double date, and I'll admit the whole thing made me chuckle. It kind of seemed like an excuse for the writers to use the phrase "small penis" over and over again, but at least it worked better than "Where's the poop?" from a couple weeks ago.
This also leads to Marshall becoming paranoid and overwhelmed by the idea of Lily sharing everything about his sexual performance with Robin. There's a fun scene where he imagines them providing martini-sipping color commentary, Sex and the City-style, before he gives up and storms out. Admittedly, it can be stressful to think about girls discussing your bedroom skills and attributes with such detail. Not that I'd ever have anything to worry about, of course. Nothing at all...
It was another solid episode from the Mother crew. Not one that I'll remember as a classic, but it kicked off a larger story arc that will hopefully be worth exploring, and the laughs were fairly frequent. Some other thoughts:
"I'm going to give you four words to live by: new is always better," Barney says to Ted in defense of the new building. Ted counters by ordering him a glass of the bar's newest Scotch, a grape variety, but Barney sticks to his guns like a champ.
Max has appeared briefly in two episodes, and I already like him better than Don. Too bad he'll be stuck as "small penis guy" now.
Ted initially mistakes Zooey for a drag queen – not because she looks like one, but because it's usually drag queens who approach him near the Arcadien. Lord knows why he spends enough time there for this to become a pattern.
"It's going to be legen – wait for it – I'll send you an inter-office memo with the rest 'cause we freakin' work together!" – Barney, of course
Thoughts?