Quick Take: How I Met Your Mother, "Good Crazy"
"Thanks for ruining Cage Night." - Barney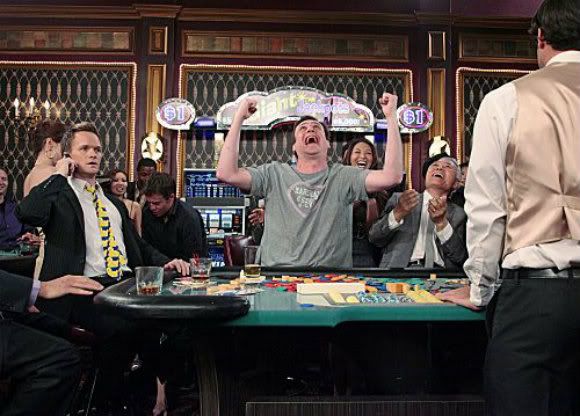 Review: How I Met Your Mother, "Good Crazy"
(S0722) Ted (Josh Radnor) pining for Robin (Cobie Smulders) and Marshall (Jason Segel) obsessing over the impending birth of his first child are hardly inspired plot points. Luckily, "Good Crazy" is an episode that doesn't need to blow us away with its plotting or structure. It's a classic "place setter" episode, positioning the characters for the two-part finale that will begin in two weeks.
Barney's (Neil Patrick Harris) shtick can wear a bit thin at times, but on balance he is one of the most consistently funny characters on the show. "Good Crazy" is helped immensely by the fact that Barney is the catalyst (or at least the enabler) for most of the action. While Barney is a welcome addition to the Ted and Marshall plots, his own story is arguably the episode's weakest link. We get it, it's hard dating a stripper because well, ya know, she's a stripper. I've gone back and forth about Quinn (Becki Newton) over the course of the season and I've held onto hope that she will evolve into something more than "Barney's Stripper Girlfriend." Unfortunately she hasn't, so at this point I'm all for Barney cutting his losses and moving on.
Speaking of moving on, Ted is still struggling to get over Robin's quasi-rejection. To ease his transition into the world of singledom, Barney facilitates a series of "palette cleansers" (rebound chicks) through online dating websites. Unfortunately, Ted can't help seeing Robin's face on every girl he takes out.
Meanwhile, Lily (Alyson Hannigan) is fed up with Marshall's incessant baby preparation. Marshall is getting his body used to waking up every three hours for feedings, changing a watermelon's diaper, and watching breast feeding documentaries, while Lily would prefer to use the remaining weeks of her pregnancy to chill out and relax. She's of the "feed 'em spaghetti and watch 'em be cute" school of parenting.
Desperate for some peace and quiet, Lily enlists Barney's help to get Marshall out of the house. What was originally billed as a "baby boot camp" in Paramus turns into an evening of drunken gambling in A.C. Predictably, as soon as Barney convinces Marshall to turn his phone off and let loose, Lily goes into labor.
So, going into the season finale Lily is about to give birth, Ted and Robin are forced to put their differences aside in order to care for Lily in Marshall's temporary absence, Barney and Quinn are on the outs, and Marshall is hammered in Atlantic City. This might not have been the best episode of the season, but it does a solid job putting the pieces on the chess board.