Quick Take: How I Met Your Mother, "Unfinished"
"You can't delete contacts from your brain, Lily." - Robin Scherbatsky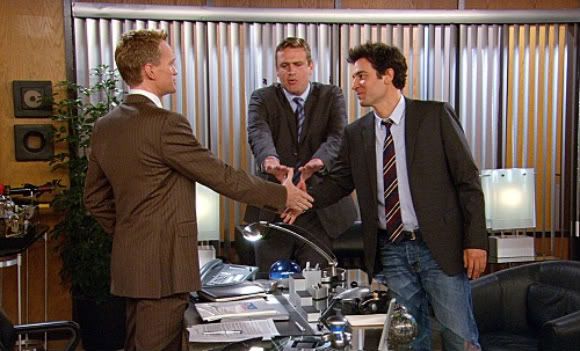 Review: How I Met Your Mother, "Unfinished"
(S0603) Tonight's episode, "Unfinished," is all about moving forward in life. That might mean moving on from a failed relationship, or letting go of a whimsical pastime you once had. It might also mean making a choice between giving up on a dream, or taking a risky step towards achieving it, something that Ted (Josh Radnor) is faced with tonight. For the second week in a row, there were fewer laughs than I would expect from one of my favorite comedies, but the story was fairly strong and relatable to make up for it.
The premise is that Goliath National Bank, which employs both Barney (Neil Patrick Harris) and Marshall (Jason Segel), has reignited its plans to build a skyscraper in New York City, and would like to re-enlist Ted as its architect. You may remember that Ted previously had this gig a couple seasons ago before the project was scrapped (though Barney and Marshall conspired to cover-up Ted's dismissal for some time). Not wanting to risk having the rug pulled out from under him again, and being content with his job as a professor, Ted declines the offer.
Barney isn't ready to give up on being "bro-workers" with Ted, and he begins using the same strategy to change Ted's mind as he does to pick up women. "Barney Stinson always gets the 'yes'!" he declares. This strategy includes, in various stages, ignoring them, excessive eye contact, and backhanded compliments, but never dinner. "I need to have sex with a girl at least three times before I'll even consider having dinner with her," he says. Ted quickly realizes Barney's scheme, but in true Ted fashion, enjoys the attention. The montage of Barney's efforts was amusing, though not as strong as it could have been.
Ted eventually realizes how badly he wants the job while giving a lecture about an architect whose most famous work was left unfinished when he was run over by a bus. He accepts the job, but not before making Barney buy him dinner, circling back nicely to his rule from earlier in the episode.
There was a little more silliness in the B-story, which centered around Robin's (Cobie Smulders) attempts to move on from Don, who left her at the end of last season. She sees him on TV, and has a naturally emotional reaction, drinking a lot and leaving him some threatening voicemails. The problem with this, as with the entire Robin-Don story last season, is that the writers never gave viewers much of a reason to care about the couple. Most of their relationship was off screen, and when we saw Don, he was kind of a buffoon most of the time. So while I appreciate the realism of a person struggling to recover from an abrupt break-up, it's really, really tough to believe it in regard to Robin and Don.
Anyway, Lily (Alyson Hannigan) and Marshall tried to remedy Robin's outbursts by convincing her to delete Don's number from her phone. She countered by challenging them to delete a number of their own that they don't need. They both struggled (resulting in some funny flashbacks to Lily's karate lessons and Marshall's all-lawyer band). Despite never realistically needing those numbers again, it proved very difficult to completely erase those bits of their past. Eliminating a contact means definitively cutting ties and moving on from those parts of your life, and it's tough to go through with such a permanent erasure. This is a surprisingly relatable subplot. I just scrolled through my own contact list, and while there are dozens of people I never talk to, it's tough to bring myself to delete any of them. Because you just never know, right?
Of course, even after taking the leap and deleting Don's number, Robin realizes she has it memorized ("You can't delete contacts from your brain, Lily"). By episode's end, she appears to have successfully forgotten it and moved on. Hopefully this means that the show can forget about Don and move on from the relationship that never really was.
Overall this was an enjoyable half hour, if not particularly hilarious. Some nice threads are being set up for the season, and I look forward to seeing where they take it.
Other thoughts on this week's HIMYM:
Seriously, no more Don, please. Just stop mentioning him. We really don't care.
The worst running gag throughout the episode was Lily asking Robin, "Where's the poop?" She was relating Robin's guilt for calling Don to her dog's face when he had pooped in the house, but it just fell flat. Note to writers: using the word "poop" does not always guarantee a laugh.
I'm excited that the three boys will all be working together again. It's a bit of a retread from Season Four, and it means that the Ted-as-professor story was ultimately pointless, but there's fun potential for workplace shenanigans when they're all there together
"I'm Marshall, Barney's wingman!" says Marshall with boyish enthusiasm when introducing himself to women at a bar in a fun flashback highlighting his shortcomings as a wingman for Barney.
What were your thoughts on tonight's episode? Is there anyone that YOU feel comfortable deleting from your phone? Share your thoughts below, and hit me up on Twitter @ACWatt.