Quick Take: How to Make It in America, "Keep On Truck'n"
This is a show that's finding its sea legs.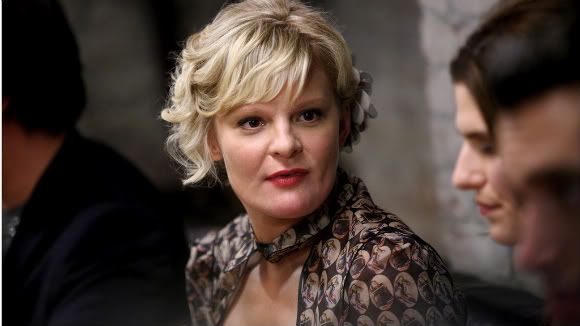 Review: How to Make It in America, "Keep On Truck'n"
(S0107) This was the best dramatic and character-driven episode of How to Make It in America to date. A few of the early episodes tried to swing in this direction, but the show hadn't found its sea legs yet and things didn't hang together very well story-wise or chemistry-wise, which left me not caring all that much.
I'm glad I stuck around. After a few episodes where the main players were more on their own than not, there was nice interplay here, particularly with Rene (Luis Guzman) and the boys (Ben and Cam, played by Bryan Greenberg and Victor Rusak, respectively). I've been really hard on Rene (and not Guzman, who is typically great) as his doings didn't fit in with the vibe of the show and were, overall, much less interesting than the hustling youngstas and Rachel (Lake Bell) and Darren's (Jason Pendergraft) developments. Rene fit in better this week as we got to see his relationship with Cam be something more than a menacing, money-lending cousin. That said, I'd still prefer Rene's appearances to those that directly involve the boys; the scenes involving the parole officer tagging along for the meeting with the Euro-Jamaican head of Rasta Monsta were flat out boring.
Not boring at all is Rachel's increasingly strained relationships with both Darren and her friend/boss Edie (Martha Plimpton, who steals every scene that she's in). It was involving stuff to see both her boyfriend and boss/potential business partner attempt to use her for their own needs, hoping and goading her to go along with the program. And that led to a nice finale with Rachel and Darren, ex-lovers who are now at the point of being able to be more honest than they've ever been with each other without (much) rancor.
On a final personal note of disappointment, where the heck was Kappo (Eddie Kaye Thomas)? We need more Kappo. We just do. Maybe he needs to get together with Edie at some point? Ooohhh, that would be most scandalous.
More thoughts on "Keep On Truck'n":
Julie (Margarita Levieva) is good on this show (and in everything I've seen her in), hope she sticks around for a while as Ben's current love interest
The scene with Ben and Cam driving across a bridge in the Rasta Monsta truck had an amazing New York City flavor to it, and I really latched onto the vibe of the show. Maybe I just love bridge shots: the scene where the gang is crossing the 59th Street bridge in a cab in Almost Famous as Led Zeppelin's Misty Mountain Hop ascends in the background is one of my all time favorites.
The music continues to be eclectic and great.
"It's the Red Bull of the Caribbean." - Rene, on Rasta Monsta energy drink
Video: How to Make It in America, "Keep On Truck'n"
Here's the show recap for your viewing pleasures:
Recap: How to Make It in America, "Keep On Truck'n"
To pay off an overdue debt to Rene, Cam and Ben agree to hand out Rasta Monsta samples.
From Around the Web: How to Make It in America, "Keep On Truck'n"
TV Fanatic: We like Julie for Ben, yet as much as we hate to admit it, there is something there between Ben and Rachel. And it would be a great show twist to have them get back together - even if it is just for a night (maybe something did go on when she went back to his place?!).