Quick Take: How to Make It in America, "Money, Power, Private School"
"Girl, if he ain't in love with you now, he ain't never gonna fall in love with you." – Woman on subway platform to Rachel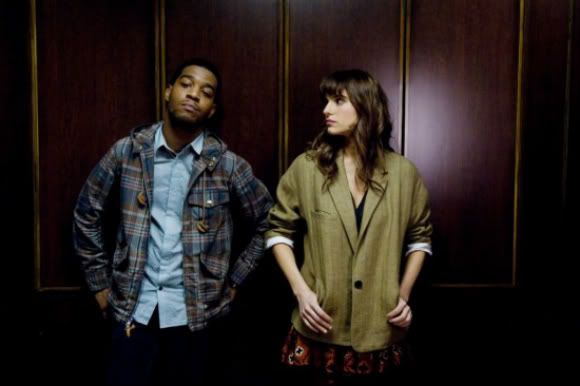 Review: How to Make It in America, "Money, Power, Private School"
(S0203) This edition of How to Make It in America is a great example of a comedy that is engaging television not so much on the strength its comic chops, but because of its characters and setting and atmosphere.
Ben (Bryan Greenberg) and Cam (Victor Rasuk) have made a few inches of progress in that big time designer Nancy Frankenberg (Gina Gershon) has deigned that the boys can design the t-shirt for her son's Middle School graduation. Even though the gig is unpaid and slightly demeaning, the Crisp co-founders get their hustle on and, after a second iteration, win over the kids (who look as though they started watching Project Runway straight out of the womb) with a retro-looking tee that reads RICH KIDS RUN ISH. The middle school girl, who looks as though she's dressed in Hogwarts-as-ironic-commentary garb, likes it because it's not afraid to be obvious. As Cam has learned, art must be honest to be effective.
The relationship-y bits worked particularly well. Julie (Margarita Levieva, though for me she will ever be Lisa P from Adventureland) breaks up with Ben as it's pretty clear that he likes her but isn't ready for something serious. Ex-girlfriend Rachel (Lake Bell) is poised to snatch up Ben once again, even giving him a $1200 vintage steamer trunk, but it's not on as Mike from Swingers might say. Instead, she hooks up with Domingo (Kid Cudi), who I've come to think of as The Coolest Pot Dealer Ever.
Rachel's character hasn't been all that intriguing in the past, but I really like the fact that she was in a place to reengage in some kind of relationship, and when it didn't happen with Ben, she was happy – at least for the moment – to get something going with Domingo.
Meanwhile, Rene (Luis Guzman) marches forward with his plans to get Rasta Monster energy drink to go "viral." A video shoot involving skateboarder Fredo doesn't go the way Rene would like, with the skakeboard ramp and Rasta Monster logo getting engulfed in flames. It all seemed a bit obvious – the story and the viral video shoot set-up both – and I renew my call for Rene's storyline to get shelved in favor of bringing Kappo (Eddie Kaye Thomas) far more into the foreground.
I find any scene involving Kappo to automatically become more intriguing – it's really a pity that the talented Thomas only had about 30 seconds of screen time this week. What deal is he working on? How's his love life going? We all love Luis Guzman, but we need to see a lot more of the Kappo in future.
More thoughts on "Money, Power, Private School":
Nice to see the always amazing Joe Pantoliano make an appearance… his hand gesture toward Cam when he says, "Do you eat pork?" alone is worth the price of admission.
"I know this is a bourgeois indulgence but the stove matters… it's all about the heat." – Joey Pants, in a moment that just might have been a nod and wink to a scene from The Sopranos.
Great music spots throughout, including "Don't Fear the Reaper" (gotta have more…) and "Across 110th Street."
The four boys sitting around a grungy diner have to hearken to a grittier version of Sex and the City