(S1501) The loveable foul-mouthed kids from South Park are back for their 15th season on Comedy Central. And if you think creators Matt Stone and Trey Parker are running out of ideas you would be sadly mistaken. While they come up with a lot of wild and crazy ideas of their own, it inevitably ends up being a commentary on our society mixed with pop culture references.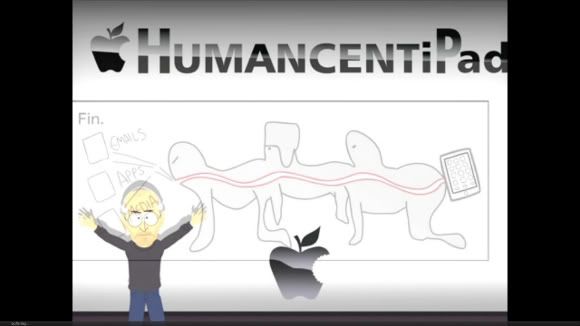 This first episode is no different, and once again the envelope is being pushed. The initial societal commentary is on the ramifications of today's obsession with Apple and their line of technological gadgets; the iPod, iPhone, and iPad. And the twist is that it's combined with the horror film, "The Human Centipede."
The episode starts with Cartman running around with a brand new iPad and tormenting his friends with his new toy. That only lasts so long as the rest of the kids realize it's not real, and when they ask him to turn it on he uses the excuse that the battery is dead. Later that afternoon when he gets home, he begins to berate his mother for not buying him a real iPad and everyone at school making fun of him. "Would you mind loaning me some of your lipstick, mom? Because I want to at least look pretty the next time you decide to f--k me!"
In the meantime, Kyle is playing with his new iPad, when suddenly three men from Apple show up. They are there to enforce the terms of the new iTunes user agreement that he clicked on without reading. Immediately Kyle runs away from the men trying to kidnap him and goes to get help from Stan and the gang. But they don't know what he is talking about. They haven't seen the new user agreement and wonder why Kyle could be so dumb as to not have read it. Everyone reads it before they agree to it.
While Kyle is getting dragged off by the mysterious men, Cartman is at Best Buy trying to get his mom to purchase the new iPad. But when she starts looking at a cheaper non-Apple product he throws a fit in the store, and goes as far as dropping his pants and screaming at her, "If you want to f--k your son so bad, go ahead, mom! F--k me! F--k me!" Needless to say, he doesn't get anything.
Once Kyle reaches the Apple headquarters, he is thrown into a cell with two other people who didn't read the iTunes agreement before clicking the agree button. When Steve Jobs brings them on stage to introduce his new product, Kyle discovers that he plans to sew the three volunteers together mouth to anus and then to an iPad, thus creating the world's first part human, and part centipede, and part web browser, and part emailing device: The HumancentiPad
After finally reading the updated iTunes agreement, Stan suggests going to the highest authority on the planet, The Geniuses. No, it's not a government think tank or anything like that. The Geniuses are the nerdy support staff in the Apple stores. If anyone can get Kyle out of the contract it's them.
As they look for a way to save their friend, the operation has taken place and Kyle finds himself the middle segment in the HumancentiPad. From this point on it's a constant barrage of disgusting humor as the jokes are more about him being subjected to the first segment constantly crapping in his mouth.
Cartman still hasn't given up on his dream of a new iPad, and after a guest appearance on Dr. Phil telling him how he was abused by his mother F-ing him all the time, he is rewarded with a present for all of his suffering. He will become the first person to own the new HumancentiPad.
Eventually the Geniuses find a way for Kyle's father to break his contract. But in order to do so, he must create his own Apple account, change it to a family account and then retroactively deny Kyle's approval of the latest agreement. He can do that or they can get him a new replacement model.
Overall this is the most disgusting and disturbing episode that they have produced. But you can't give the two South Park creators the full credit for that since the idea came from "The Human Centipede" film. But even as crude as the episode was, it was still incredibly funny. Not only do you find yourself being grossed out and laughing at the same time, but you'll probably give a second look the next time there's an iTunes upgrade and you have to deal with the newest user agreement.