(S1502) South Park's funniest handi-capable student, Jimmy Valmer, decides to host the Special Ed Department's First Annual Comedy Awards. While none of the kids want to attend the event, they are horrified to find that Jimmy has talked the school into having the awards during a mandatory school assembly. The show is rather uneventful as Jimmy ends up accepting every award except for one because no celebrities show up. The only one who shows up to receive his award is the winner of the Kathy Griffin award, which is given to the person most likely to show up and receive their award. And that person is Tyler Perry.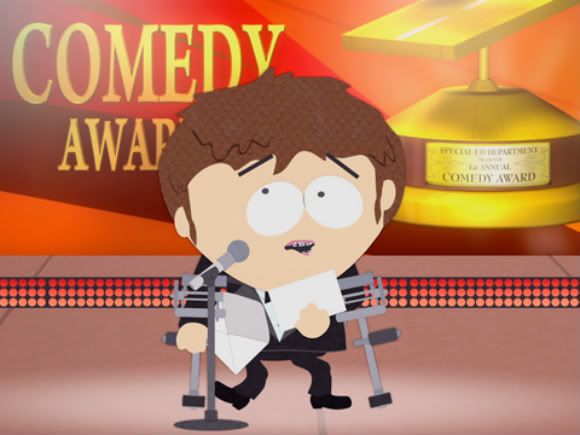 While Jimmy is feeling upset that none of the real celebrities attended his event, he is thrilled to hear that the national news is talking about his awards show. But it's not good news as the country of Germany is outraged after hearing they received The Least Funny People in the World award.
In retaliation, the Germans invade the school. After cornering the children in the gym, the Germans bring out their greatest weapon. It's a robot that looks like a Dalek from Doctor Who. But just as it's about to destroy them all it starts telling jokes. It's not really a weapon at all, it's Funnybot.
Proving that the Germans are not the least funny people in the world, Funnybot is an instant media darling. Not only is it a hit on the standup circuit, but it is taking over the film industry and television. While most people are enjoying the new comedian, Adam Sandler and a group of newly out-of-work comedians take the children hostage in the gymnasium and threaten to kill them if they can't come up with a way to stop Funnybot.
Kyle, Stan, Eric, and Jimmy meet with Funnybot only to find out that it plans to execute the world's last joke ever and take comedy to the next level. It's the ultimate joke. Humans make comedy. Humans build robot. Robot ends all life on Earth. Robot feels awkward.
As Funnybot threatens to exterminate all life on Earth by launching off nuclear missiles from Russia and the U.S. Kyle realizes that they must come up with a logic loop like they do in the movies in order to confuse the robot with a paradox that cannot be answered. So Jimmy gives Funnybot a comedy award. If Funnybot accepts an award then he takes comedy seriously, and if he takes comedy seriously than he's not a comedian. Funnybot's circuits are overwhelmed and the world is saved.
While this episode has several comical moments, it's one of those where the entire story is leading up to a giant punch line at the end. It's an incredibly good joke making fun of Tyler Perry, but it's such a long buildup that it leaves you wanting something more.
Even so, you can still enjoy Cartman offering Kyle up to the Germans in order to save his own life, the only people finding Tyler Perry funny are Token and President Obama, and Jay Leno wanting to kill everyone.