Quick Take: It's Always Sunny in Philadelphia, "The Gang Goes to the Jersey Shore"
"I guess that's just summer love." - Charlie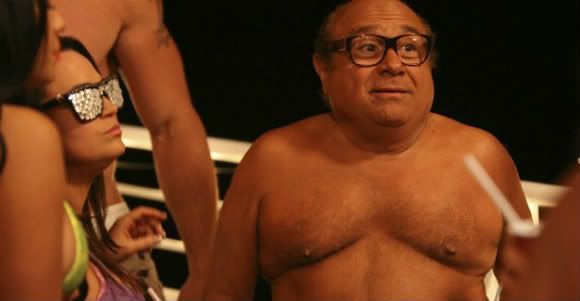 Review: It's Always Sunny in Philadelphia, "The Gang Goes to the Jersey Shore"
(S0702) The easy route the It's Always Sunny in Philadelphia team could have taken with an episode set at the Jersey Shore would be just go after the likes of Snooki and The Situation and their various clones out there pumping fists and date raping and whatever it is else they do.
And while "The Gang Goes to the Jersey Shore" does briefly mock that lifestyle, the majority of the episode takes on the premise in a more unique, interesting way. And even the guido and guidette mocking is done without much malice. Sunny is a show that will often take the easy, malicious route (and usually with great success), so I was pretty impressed with how they made their own take on Joizey.
Nostalgia is what brought the Gang to the Jersey Shore as it turns out. Dennis and Dee fondly remembered their summers spent on the beach and boardwalk and want to take a vacation to relive those cherished memories and bring Frank, Mac, and Charlie along for the ride. Once in town, Dennis and Dee take Charlie to the beach so he can check out the ocean for the first time in his life. The twins are dismayed, though, by how empty the beach is of humans and how crowded it is of feral dogs.
Though Charlie wants to stay and explore the beach, he reluctantly joins Dennis and Dee on the boardwalk, which is also pretty empty, and even the fabled "under the boardwalk" where they find one homeless dude butt-banging another. I was unable to watch the televised version of this episode and only the screener, so I'm curious as to how graphic this scene was when it aired last night.
Because let me tell ya, that screener scene was graphic. With slapping noises. Charlie's had enough of what Dennis and Dee want to do and heads back to the beach to explore and is surprised to find The Waitress. He expects her to again dismiss him, but she actually seems interested in spending time with him. Overnight they spend time picking up treasure, playing with wild puppies, and holding each other as fireworks explode overhead before falling asleep together on the beach. Then the next morning, The Waitress wakes up and reveals that she was on ecstasy the previous evening and didn't remember any of that and leaves Charlie to ponder what summer love really means.
Meanwhile, after a scalp-ripping encounter on a giant-drop-esque ride on the boardwalk, Dennis and Dee meet up with a, let's say, trashy Jersian who invites them to hang out with her and her friends that evening. Those friends turn out to be angel dust-smoking criminals who rob liquor stores, kill doctors and attempt to kill Dennis and Dee when they force them to dig the doctor's grave. A fitting end to a nostalgia-crushing trip for the Reynolds twins. Frank and Mac only want to use their vacation to relax and eat a lot of food and drink a lot of booze. Frank, ever the innovator, soaks a whole ham in rum which he bestows the name Rum Ham.
When the feral dogs get too aggressive in pursuit of the ham, they decide to share a blow-up raft in the ocean but too much Rum Ham causes them to pass-out and drift off to the middle of nowhere. An argument over which one will eat the other first results in an accidental popping of the raft, but luckily a party boat full of Pauly Ds and Sammi Sweethearts appears and brings them on to party, get spray-tans and do steroids. And in an even greater twist of fate, the guidos find Rum Ham which had previously floated away, Cast Away-style.
The next morning the Gang meets up for vacation story-revealing varying levels of success and then drive away as "Under the Boardwalk" plays over the credits. There was a lot of great music in this episode (well, one other song) during a montage that featured the Go-Gos' "Vacation" and I dare you to get that unstuck from your head. All in all, "The Gang Goes to the Jersey Shore" is a great, somewhat brave episode and a nice extension on the vaguely weak season premiere.