Quick Take: Jersey Shore, "Ciao, Italia"
"So they're real? The babies with wings?" - Snooki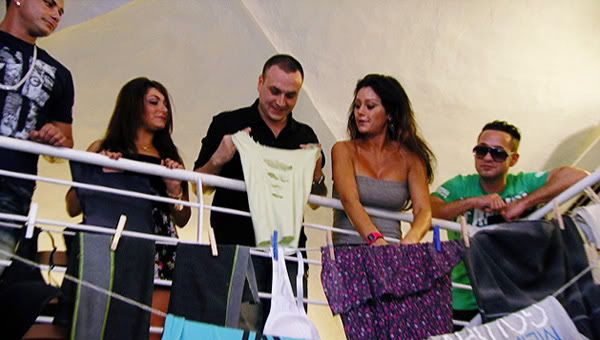 Review: Jersey Shore, "Ciao, Italia"
(S0412) Season finales are as we all know an opportunity for exciting twists and high drama. In Season One, we got Snooki and The Situation's hot tub hook-up. In Season Two, we saw the normally calm Pauly D scream himself hoarse at JWoww. In Season Three, we witnessed some major romantic developments for JWoww, as well as with Ronnie and Sam. Yet Season Four's finale didn't feel like much of a finale. Sure, the gang said their goodbyes and had their obligatory "we're family" montage, but it just seemed to be lacking that extra finale oomph. Mike attemped to grab the big moment by dangling the threat of not returning to Jersey, but c'mon, we all knew that would never happen. Because if Jersey Shore has taught me anything, it's that guidettes always rally, guidos never let you catch them with their hair ungelled, and no one (except Angelina) is ever serious when they say they're leaving the show.
"Ciao Italia" finds Mike still in the midst of his mental breakdown. He's continued talking to himself, and has also kicked a few walls. After he rouses Snooki with his shenanigans, Mike loopily asks her how she is. She ignores him, trying to fall back asleep. The Situation walks away muttering, "Snooki's fucking sleeping." (At this point, I was half-expecting him to come back with a hockey mask and chainsaw. That creepy.)
When the rest of the house returns, Ronnie decides to have a talk with Mike. Ronnie lays it out: The Situation has burned a lot of bridges, and he needs to try to fix them. If he can't, he has to go. Mike maintains his bizarre "strong victim" persona by both complaining about being the bad guy and insisting he only wants a few bridges back anyway, Ron, thanks for asking. Still, Sammi congratulates Ron on his chat, telling him he did the right thing and she loves him. Serious question: How are these two still a stable couple?
Because it's the finale, the gang decides that they all of a sudden love Marco and the pizza shop. See everyone, they made real Italian friends! As a token of their friendship, each house member picks out a piece of their clothing to donate to the pizza shop's clothesline. Pauly picks his star T-shirt, Sammi selects her short shorts, JWoww chooses her slashed "boob shirt," Snooki bequeths her cheetah print bra, Vinny gives his boxers, and Deena contributes her thong. (I can only assume Mike and Ronnie's gifts were generic club shirts, as they got no special mention.) Each article is a pretty dead-on representation of its owner, or at least these people's questionable fashion sense. Yet I can't help worrying about the poor pizza shop patrons who now have to coexist with three of the housemates' unmentionables.
In between all this faux sentiment, Mike calls his sister Melissa and tells her he doesn't think he's returning to Jersey. She thinks he's crazy (fact) and will regret it, but, as Mike so aptly puts it, he's not the type of person to have regreats. Unlike his unfortunate smush buddies. Mike pushes his whole "I might leave" shtick throughout the episode, even flat-out telling Snooki his idea in hopes she'll beg him to stay. She does no such thing, much to Mike's chagrin. Seeing his ploy for attention isn't working, Mike apologizes (JWoww: "same bullshit, different country") to the housemates for causing problems and presents the meatballs with flowers. But he's still ready to be the bad guy, apparently. Ugh. Talk about anti-resolution.
Perhaps the main draw of this episode is the gang's first and only sightseeing venture, on their last full day in Florence. After Vinny establishes that his peers shockingly have no preference in artistic vs. historical sights, they all head out for a multi-hour walking tour. And guys, they have to walk so much. It's super exhausting pretending to be interested in Italian culture for this long, but by the end, the housemates eagerly espouse their views on Michelangelo and cherubs. They all put on their best "I'm so glad we did that!" faces before a final (American barbeque) dinner at the house. They all pack up and head to the airport the next morning.
Snooki mentions at the end how their stay in Italy has been weird, due to Ronnie and Mike's fighting and Vinny and Pauly's failure to bring home girls. While Snooks might think their time in Florence was weird, my main problem with this season is that it wasn't weird enough. The whole draw of flying these drunkards out to Italy was to revel in the hilarity that ensues when fake Italians mix with the real thing. Yet the memorable moments from season four all took place almost exclusively in the house and did not involve any outsiders. It's extremely telling that the group didn't even go sightseeing until the last episode. No one expects Snooki or Mike to get stoked about old Italia, but you would expect the show's producers to force them into more culture-clashing scenarios. Perhaps the mayor's restrictions prevented that, but this wasn't really the brazen experiment MTV hyped. Instead, it was, as JWoww so eloquently put it, "same bullshit, different country." And this time, the same bullshit wasn't even that fun.
More thoughts on "Ciao, Italia":
"Man up, dawg." - Ronnie, giving sage advice to Mike
"The whole house knows it took five minutes for them to get their smush on. No wonder why Sam never smiles." - Pauly D
"I'm sickies again." - JWoww
"There's nothing about this club I like. It's like a basement frat party." - Deena (because in this case, "basement frat party" isn't grimy and depressing enough)
The editors of this show once again prove their genius when Mike tells the confession cam how he's having a blast, getting girls and having a good time. The accompanying footage shows girls passing by Mike and the Sitch dancing with himself.
"I'm having sex with the couch right now." - Snooki
"I was getting boob sweat, I was getting like kuka sweat, ass sweat..." - Deena, oversharing as always
Deena and Snooki encounter a drunk girl dancing by herself at Twice. They talk at length about whether they look like that when they're drunk (don't worry, ladies, you look much worse) and then discover, to their horror, that the girl has been sit-dancing on Deena's clutch. Because, it seems, she isn't wearing underwear. Karma is a cruel mistress, ladies.
"You know, these tress just came here the other day and I didn't say anything...Dee, get off the tree." -Snooki
"I didn't even know Deena wore underwear to be honest with you." - Ronnie
"When you're trying to eat pizza, there's nothing less appetizing than Deena's dirty thong hanging right above you." - Vinny
"As my wife used to say, the best side of those statues is the back." - Tour guide, on the David
"I guess the statue of David is pretty sexy. I would do it." - Deena
"If I could change the statue of David, he would legit look like a guido. He could have a spray tan. And also his wiener just doesn't cut it. But probably 'cause he's soft." - Snooki
Snooki and Deena decide to "do something crazy" on the last night and put all the plants on the kitchen table. Somehow, this is prank Jersey Shore history.
Quote of the season goes to Vinny, for this little gem: "Seeing Nicole cleaning is like seeing Mike with a condom. It just doesn't happen."