I'm a proud and card carrying TV geek (well, if there was a card I'd be carrying it if you can dig), and I make no bones about being an eccentric one at that. I love "high brow" shows like Mad Men and Breaking Bad with all my soul, but I also find clearly ridiculous shows like The Millionaire Matchmaker and Jersey Shore to be ridiculously entertaining.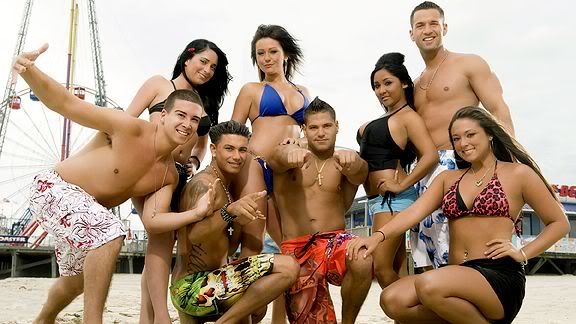 That's why I can't help but be ecstatic – just a little bit like we all were when we were five and just learned that there would be an impending visit to an establishment that sells ice cream products – when news of the new season of Jersey Shore looms. Let's take a look at the promo for Season Three (premieres Thursday, January 6th at 10pm on MTV) and then discuss, shall we?
As the kids return to Seaside Heights, New Jersey for the second time, I think the one thing we can easily say is that we're definitely in for more of the same. Vinnie confirms this by calmly announcing that, "I definitely think there will be a lot of hookups in Seaside. The Jersey girls are a little bit easier." Soon Pauly D chimes in (more loudly) with, "Grenade whistle!" And then there's the nearly obligatory montage of crazy drunken girl fights to take in with joy, or horror, or both, depending on which way(s) you roll.
I've observed before that it's kind of fascinating that the true fame that the cast gained during Season Two (The Situation is reputed to be making $5 million this year through endorsements and product offerings, for example) doesn't really seem to affect them all that much when the cameras are on. They eat, they drink, they fight, they kind of make up, they GTL, they have Sunday dinners, etc. It's a formula with this gang, and let's face it: it kind of works. Well, if you enjoy ridiculous shows, of course.