Quick Take: Jersey Shore, "The Letter "
"If I walked through a church, I'd probably burst into flames to be honest with you." – Ronnie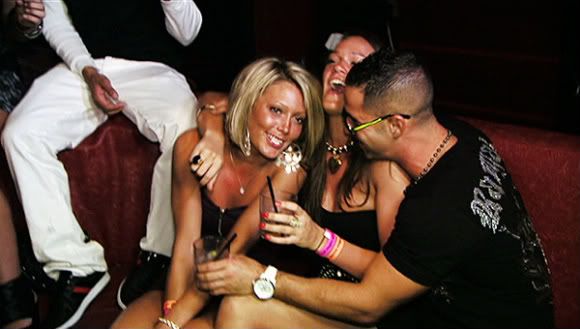 Review: Jersey Shore, "The Letter "
(S0205) I just can't help it. I find almost every line of Jersey Shore week in and week out addictively quotable. This week I'm going to let the tale play itself out via quotes alone…. Enjoy.
"Angelina, we made the letter." – JWoww
"Angelina don't know nothin' about Ron. I don't want to get involved." – Angelina on the Ron / Sammi / letter situation
"We're having fun, we're getting girls. You know, I'm hooking up with this girl, your girl's girl, and her girlfriend's girlfriend's girlfriend. Somebody's gotta do it." – The Situation
Have to dig (read = not at all) Emilio's rampant homophobia when Snooki tells him about her night hanging out with some gay fellows during Gay Pride Week in Miami. Why is Snooki still messing with this fool? No, serious, I'm curious.
My case in point: "And I don't miss you." – Emilio
"In this type of situation, man, you need to separate the two sets of girls and then you have to separate the hippopotamus from her good looking friend." – The Situation, master of Situations involving hippopotamuses and their good looking friends
"We have to pick three for each one of us and the grenade just goes to sleep or something like that." – Vinnie, on the prospect of romantic relations with three attractive prospects brought back to the house and one unattractive "grenade"
"You two go in that room. I'll go in that room. And I will extract the hot one and lead the grenade to blow up in Ronnie's room by herself…. Bada bing, bada boom, we're all good." – The Situation, handling the situation
"I put the hippopotamus to bed." – The Situation (not to be confused with The Hippopotamus, a rather brilliant novel by Stephen Fry)
"I don't know if you want to touch that hand." – Vinnie to JWoww "Eww…" – JWoww to Vinnie
"Where's Angelina 'I do nothing?'" – The Situation
"You need to clean." – Snooki "I can care less…. So…" – Angelina
"Yo, bitch is on the phone. She didn't do the dishes, nothing." – Pauly D, on Angelina's cleaning habits
"Clean the house you dirty mess… Go hit the f---ing treadmill." – The Situation to Angelina
"Whatever it is, give me the Social Security number and I'll have it taken care of." – Pauly D to Snooki with her regard to her Emilio situation
"I need to burn his pictures ASAP." – Snooki on the eve of her bonfire to rid her room of all things that remind her of Emiilo
"I'm worried once this gets out, me and Ronnie are done as friends." – Snooki on the delployment of the letter
"So I get up, and I find this note." – Sammi, upon discovery of the letter
"Sam found a f---ing note, from f--- 'anonymous'." – Ronnie, upon finding out that Sammi found the letter
"If I walked through a church, I'd probably burst into flames to be honest with you." – Ronnie
"Nothing I can talk my way out of, the hole I've dug myself into. I mean, how big's a grave?" – Ronnie
"Do you whatever you gotta do, I'm not getting involved but…" – jWoww
"I should have cut you from Day One." – Sammi. "Then do it bro, do it." – Ronnie
"Ron's a liar, and he keeps lying, and I keep catching him in lies." – Sammi