Quick Take: Jersey Shore, "The Situation vs. The Wall"
"I hit my head against the concrete wall. It hurts." – Mike "The Situation" Sorrentino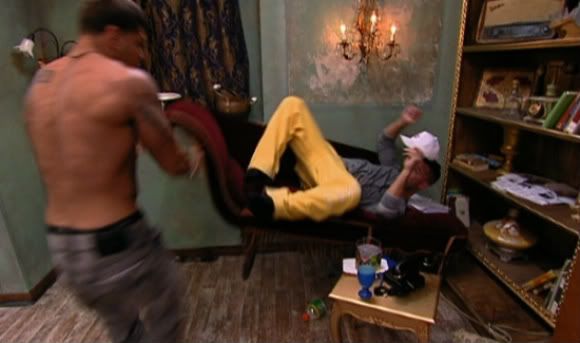 Review: Jersey Shore, "The Situation vs. The Wall"
(S0405) Love/hatebirds Ron and Sammi got back together (again), and it was supposed to be different this time (again).
And yet even the most romantic and optimistic free spirits in the world knew full well that by "different" it would simply mean something like new furniture (The Situation's) getting destroyed in a new land (Italy) with new body parts (Mike's head) getting thrown into new objects (concrete wall) for inexplicable reasons (tragicomic miscommunication, manipulation by multiple parties, tragicomic throwing of one's own head into said concrete wall, and lots of other reasons).
Not that it really matters, but the basis of this current edition of the Ron/Sammi and Friends Steel Cage Match of Doom is that literally five minutes after they got back together, Sammi freaked out because Ron looked at another girl at a club while doing his weird herky jerky fist pump dance. Then Sammi, using her expert means of button pushing, summoned up the Rage Monster in Ron by relating something Mike had said earlier.
Now, what Mike said – that Ron was planning to bring a bunch of women back to the house – was innocent in theory as Ron and Sammi were "just friends" at the time (which essentially equates to "just between apocalyptic-type blow outs). But of course The Situation is a master, er, well let's call him an enthusiast of stirring up troubles in his own right (see: his lower case situation with trying to break up Snooki from boyfriend-back-home Jionni).
But when you throw in several buckets of Italian booze, hormones, "vitamins," and a nightmarish train wreck of a romantic history between Ron and Sam, a conflagration becomes child's play to spark off.
It really is the same old story with these two, with the only relevant difference in this case being that Mike wound up clocking himself in the head while attempting to Out Crazy Ronnie.
So we're left with Ronnie apologetic and break up-y post-rage and talking about leaving the house and such. But even during a bitter chat with Sammi, it's obvious that both of them know that "over" is a highly relative term, and that their toxic connection has a high probability of yielding many more hell rounds yet.
The only other news of note to report is that Snooki seems to have forgiven Mike for the time being for spreading word that the two had slept together after Snooks had begun dating Jionni. This seems like another situation that the punchy Situation will have situate before season's end.
More thoughts on "Crime and Punishment":
"I think Mike tried to commit suicide because of he's sick of the Ron and Sam bullshit." – Pauly D
"I hit my head against the concrete wall. It hurts." – Mike
"Vinnie's like the Dr. Phil in the house." – Ronnie
The post-fight aftermath leaves the once gorgeous and spacious Italian apartment destroyed… now that's tragic.
"Little head trauma, little sprain." – The Situation
"What comes to mind when I think about Ronnie and Sam is me throwing up." – Pauly D
"I'm done, I'm done, I'm done with Sam." – Ronnie
"You don't wear sunglasses with a neck brace." – Pauly D
"I'm the asshole. Just so you know." – Ronnie
[Editors' note: We couldn't find the official title of this episode so decided to go with something appropriately illustrative.]