After a long wait, we're heading into the home stretch.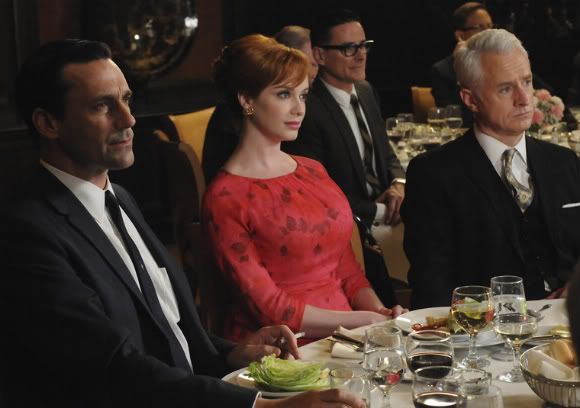 Frequent podcast guest and Mad Men leading man Jon Hamm told comedian Doug Benson (of Super High Me fame) on the latter's podcast, Doug Loves Movies, that Mad Men is set to return to AMC for its fifth season premiere on Sunday, March 25th. As the Hollywood Reporter points out, that would make it 525 days since we witnessed the big surprise in "Tomorrowland," the fourth season finale.
No official confirmation on this date as yet from AMC, but it makes sense based on the resolution of the show's lengthy contract dispute and the current jumble of new and returning AMC shows (The Killing, The Walking Dead, Hell on Wheels, Breaking Bad) that took up Sunday night slots through the fall and winter. It will be interesting to see if AMC pairs Mad Men, critical and popular darling, with The Killing's second season, the latter of which took a beating from critics and all around the webs during the end run of its freshman season.
As we reported back in May, Jon Hamm himself directed the Mad Men Season Five premiere, his directorial debut.
Check out some of our hot stove Mad Men coverage:
A Mad Men Mixer: The Unofficial TV Geek Army Guide (Season One) e-book now available!
Mad Men: what will the end bring (and what might Sterling Cooper Draper Pryce 1970 look like)?
Christina Hendricks feels the Need for Speed during Mad Men's hiatus
Mad Men: how 'bout an 84-year-old Don Draper in 2011?
Mad Men alums land off-season work in L.A. Noire videogame
Mad Men: Pete and Harry go trainspotting