[SPOILER ALERT: this episode premieres Wednesday night on FX.]
Quick Take: Justified, "Brother's Keeper"
"You pick the devil you run with." - Mags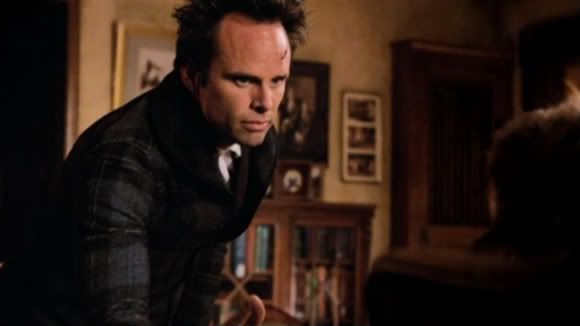 Review: Justified, "Brother's Keeper"
(S0209) "Brother's Keeper" is not only the far-and-away best episode that Justified has ever aired, it also puts the show right up there in the same territory of Breaking Bad and The Wire. I don't say that lightly because those shows are among the greatest pieces of art that has ever been broadcast, but that's just how good "Brother's Keeper" is.
What makes it work so well is that it forces a massive amount of suspense onto the viewer and then just keeps going. Mag's hootenanny is boiling over with tension from various angles. Carol Johnson, the Black Pike Mining Company Representative, shows up with Raylan (Timothy Olyphant) in order to convince Mag's (Margo Martindale) to accept a cash settlement in exchange for handing over her land to the company. What Carol doesn't know and what Mags does is that her land has little to do with the actual mining. In fact, it's downright useless. But it does provide one very important auxillary purpose: roads. Without Mags' land, the company would have no way to get their trucks in and their coal out. So when Carol offers an unspoken sum on a piece of paper (a somewhat annoying narrative device if you ask me), Mags requests three times as much, as well as a 4% stake in Black Pike's parent company.
But throwing a wrench into the equation is Boyd Crowder (Walton Goggins). He eventually realizes what Mags has planned and is able to convince Arlo Givens to sell (or was it lease, I'm not 100% on this) his land directly to Boyd. This leads to an alliance being built between the Bennett clan and Boyd as he turns the tables on Carol and squashes any leverage she might have previously had. Black Pike accepts Mags' offer and Mags gives Boyd permission to run whatever kind of business he wants in Harlan, just as long as it's not the weed business.
It's hard to say what Boyd really has in mind, but he sure seems excited with all his clog dancing. And wouldn't you know it, Ava seems pretty excited for him too.
Meanwhile, Mags' continues to take a shine to Loretta McCready. Maybe it's out of guilt over killing her father. Maybe it's out of disappointment towards her three sons. Coover (Brad William Henke) sure things it's the latter and his weird, somewhat-oedipal relationship with his mother is again tested when he overhears her lamenting that disappointment. Coover not being the smartest knife in the Happy Meal reacts the only way he really knows how, getting high and doing something stupid. The stupid thing in question is wearing the very dead Walt McCready's watch, which Loretta notices.
After the party, she shows up at Coover and Dickie's (Jeremy Davies) "house" and tries to poison Coover with a formaldehyde-tainted joint. After he (seemingly) passes out, she inspects the watch to confirm it was her fathers and calls Raylan for help, following up on the promise he made to her a few episodes ago. But Coover wakes up and grabs the phone away before Loretta can tell Raylan where she is.
Dickie himself had been passed out in his "bedroom" awakes to get in between Coover and his anger and fear towards what Loretta has discovered. Dickie is eventually able to calm Coover down, but when he casually mentions that Mags might care for Loretta more than she cares for Coover, the big man snaps and chokes Dickie seemingly to death.
Loretta runs but Coover is eventually able to catch her in his truck. Raylan, meanwhile, shows up at Coover's and wakes the not-dead-at-all Dickie with a splash of bong water. After slamming his boot into Dickie's already bad knee, Raylan gets Dickie to explain that Coover probably took Loretta to the mine shaft where he and Coover dumped Walt's body. Raylan arrives, but Coover gets the upper hand and a struggle ensues over the open shaft. Loretta is able to distract Coover just enough for Raylan to shoot him and cause Coover to tumble deep into the mine.
The next morning, Coover is dead, Walt's body is found, and Loretta is sent to child services. In maybe the ultimate cruel irony, Mags seems far more concerned about Loretta's well-being than the fact that her son is dead. Regardless of the reason, she's clearly mad and the high she was on after fleecing Black Pike has turned, likely, to thoughts of revenge. And we still have four more episodes to see how that revenge will play out.
Lingering thoughts about "Brother's Keeper":
Why would the Emmy's even bother nominating anyone else for Best Supporting Actress in a Drama Series since Margo Martindale is obviously going to win? (Of course, it'll probably end up being Jennifer Carpenter or something stupid, but a boy can dream).
Speaking of Martindale, she's hardly a great singer, but I could listen to her sing bluegrass all day.