Quick Take: Justified, "Guy Walks Into a Bar"
"I hope you enjoyed your stay, and you never forget who packed your bags" - Boyd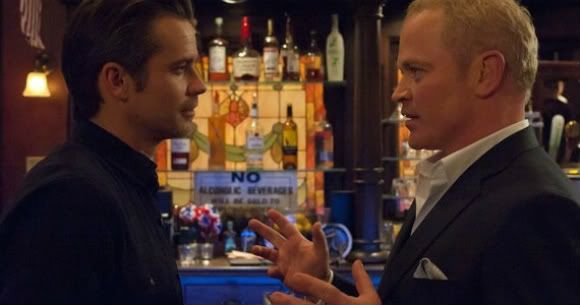 Review: Justified, "Guy Walks Into a Bar"
(S0310) It was going to be pretty damn near impossible for Quarles and Neal McDonough to hold the same weight and gravitas of last year's "big bad," Mags Bennet, but an episode like this one definitely gets him in the running.
After his plan to run a puppet sheriff regime with Napier fails thanks to an even more cunning plan concocted by Boyd (setting up Napier's estranged sister with a job in the county clerk's office, thus putting into effect a Harlan nepotism law), Quarles finds himself completely without hope. He can't go back to Detroit. He has no footing in Harlan. He's a broken man, but he also has nothing to lose.
Case in point: Quarles boldly approaches Raylan at the bar at which he is moonlighting as a bouncer and explicitly threatens to kill him. Raylan offers to let him draw right then and there but the bartender (and new love interest) is able to calm everyone down and get Quarles and the increasingly exasperated Wynn Duffy (how great/hilarious has Jere Burns been this season?) to leave.
But Quarles has made one thing about himself clear: he is off his rocker. Before he had a precise plan of action to take over criminal activities in Harlan in which to focus his psychopathic tendencies, but with Boyd shutting that down, he has nowhere else to release his frustration other than on the people that have wronged him and the various rent boys he can trick into pitying him long enough to get themselves chained to a toilet.
But the fact that Quarles as a character is so unpredictable going forward is kind of interesting in its own right. Here we are with three episodes left and the main villain of the season has basically already been foiled. You can argue that his "scheme" right now is to enact revenge, but it'd be much more common on a show like this to have the missteps Quarles has already endured be a part of a greater, even eviler plan that Raylan has to take down in the finale. And maybe that will be the case, but it sure doesn't seem that way.
As great and unforgettable as Mags was, you could assume you knew how her arc would end. With Quarles, I can't imagine it ends well for him, but I have zero idea how it will go down. Although if Chekhov has taught us anything, I'm going to guess it involves a hidden sleeve gun.
Lingering thoughts:
Please, TV Gods, put Jim Beaver on every show. Though, you have to wonder if his Shelby is going to let Boyd corrupt him as much as Boyd thinks.
Boyd's speech to Quarles outside of Napier's office is another example of how great of an actor Walton Goggins is and makes me especially happy he wasn't killed off in the pilot like originally planned. (See also: Pinkman, Jesse.)
Ava's turn as a prostitution Madame didn't alone give Shelby the election, but her girls sure didn't hurt his chances.
Oh, yeah, Dickie's free.