Quick Take: Justified, "Harlan Roulette"
"There's been plenty of rules I've forgotten or discard over the years. But this one stuck." – Raylan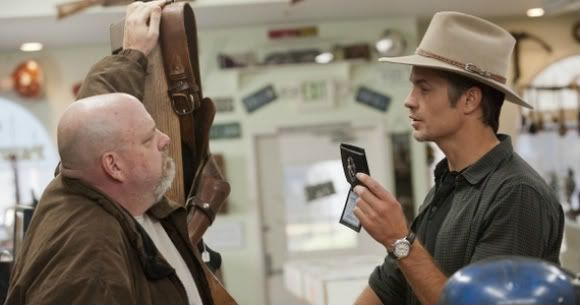 Review: Justified, "Harlan Roulette"
(S0303) Poor Pruitt Taylor Vince just can't catch a break on gritty basic cable dramas these days. A few weeks ago he got his ass eaten by zombies on The Walking Dead. Now he gets his ass shot and killed by his underling just moments before he plans to give himself up to Raylan. (The underling, played by The Killing's Eric Ladin, doesn't catch a break either because he also gets killed and he also has to star in The Killing). Vince's character, Glen Fogel, was about to roll over on Wyn Duffy, but a Mexican standoff went bad and Raylan loses a chance to take down his Dixie Mafia foe. But in the meantime, Raylan confronts Duffy to express his anger with the situations and finally meets Quarles for the first time.
It was quite the tense scene as we just saw Quarles snap his spring-loaded derringer into his shirt sleve and had a pretty ample opportunity to try and outdraw Raylan (not an easy feat), but he stayed his ground. Even smiling for the cell phone photo that Raylan takes to investiage later.
Speaking of tense scenes, the sequence that gave this episode it's namesake was of the hold-your-breath variety as well. Fogel had a recently-arrested-then-sprung lackey play Russian Roulette in exchange for a bottle of oxycontin. It's hard to make a scene involving Russian Roulette not tense, but it turns out there wasn't a bullet in the cylander. But after the lackey loses his nerve and tries to shoot Fogel with what he doesn't know is an empty revolver, Fogel blows the guys brains onto the wall.
In Crowder news, Boyd and his gang meet with Limehouse who isn't ready to give up Mags' fortune, but is willing to buy Boyd's weed off of him. It turns out Devil and Arlo failed to follow orders and didn't burn the stash. Boyd reluctantly sells, but is more concerned with how Devil and Arlo's insubordination could have led to an arrest if any cops came snooping around. Still, Devil and Arlo rightfully want to know what Boyd's big picture plan is and Boyd finally lays it out.
The Crowder gang will be running every criminal operation (except for prostitution, at Ava's behest) in Harlan and not allow outsiders to influence their decisions or money-making ability. They set up a base of operations that Johnny Crowder used to own until his injury sent him to a hospital and later a wheel chair. They re-aquire it by force because that's just how they roll. Devil is somewhat unsure if Boyd is the same person that had previously recruited him with white supremacy rhetoric, but Boyd explains (in a brilliant monologue by Walton Goggins) that he's all of those things he used to be, including a man of God and a man who could betray his own father, because they are in his past. He's something beyond that person now, but those moments are apart of who he currently is.
So far, the interactions between Boyd, Quarles, Limehouse and Raylan have all been only tangentially connected, but the dots are slowly getting connected. We are getting closer and closer to a collision. And all it might need is a catalyst. Like say the last surviving Bennett family member entering the fold.
Lingering thoughts about "Harlan Roulette":
Limehouse's barbecue looked pretty delicious.
I love the creepy, stupid, hilarious way that James LeGros plays Wade Messer. I didn't expect to see him again, but I am sure glad we did.
Quarles has a kid, a detail I think will be important later.
"Some agreements transcend the grave." – Limehouse