Quick Take: Justified, "When the Guns Come Out"
"With you in your boxer shorts? I think I got the drop on you this time, Arlo." – Raylan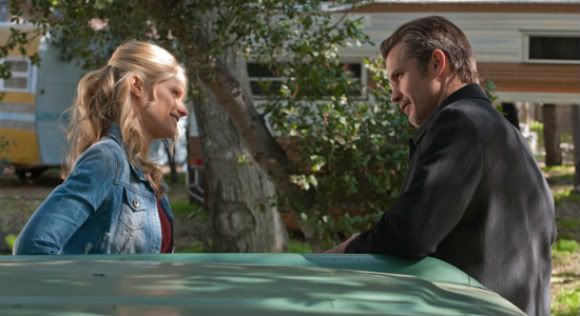 Review: Justified, "When the Guns Come Out"
(S0306) On shows like Mad Men, The Sopranos, or Breaking Bad, it's easy to feel sympathetic towards the long-suffering wives of the anti-hero protagonist. The main characters are either serial cheaters (Don Draper), criminals (Walter White), or both (Tony Soprano). I find myself struggling to sympathize with Winona Hawkins on Justified, though, because the reason she leaves Raylan (for the second time mind you) is that he's too good at his job.
Sure, the troubled wife of a dedicated law enforcement office is a common role in dramas such as this and I can't blame Winona for worrying about how Raylan's long, work-related absences will have a negative effect on their future family. But she calls him selfish, comparing his commitment to a long-standing poker game he refused to miss. Except that analogy doesn't work because Raylan isn't away from home because he's cooking meth or sleeping with his secretary, he's effectively acting as an excellent deputy U.S. marshal. Yeah, he clearly isn't committed to his promise to move to an administrative/instructor role at Glencoe, but the world of Harlan needs Raylan. We need Raylan.
The Raylan-Winona storyline was something of a lowpoint of something of an already lowpoint episode on the Justified spectrum (I'm not even going to get into the foolishness resolution of the missing bank money). Even everything on the criminal side of things seemed…forced. Boyd's Oxy operation (established in Raylan's aunt's house thanks to Arlo presumably owning the deed) is attacked by the Quarles lieutenant who had previously recruited Devil. But it turns out the actual man behind the robbery was (for some reason) Limehouse's lieutenant, against his boss' wishes. But now Limehouse feels that he must continue to perpetuate the war that such acts should/would start between Boyd and Quarles. And that's all well and good for the future of the season because Limehouse is a great character and I can't wait to see him with a more direct connection the goings-on, but it's just a shame he had to be shoe-horned in in such a way.
Still, while some of the overarching storyline issues were problematic, I could still appreciate a lot of the little details found in "When the Guns Come Out." For one, the fight between Raylan and the Oxy-ring running murderer guy in the moving trailer was exciting and brilliantly edited. I also loved the couple minor insights we got into Quarles as well. For one, it's interesting to see how pleased he was to be called "boss" by Wyn Duffy. It makes you wonder how far down the totem pole he is in the Detroit organization he works for. And, obviously, I'm very intrigued/terrified at the story behind the man tied to the bed in the Frankfort house where Quarles has set up shop.
Plus, we got to see Raylan beat the shit out of Ethan Rom. Always entertaining.
So while I'm happy to see Limehouse being a bigger factor and also somewhat pleased that Raylan/Winona should at least be on the back-burner, it also comes with the caveat of hoping the ends justify (hey, look at that!) the means.