Quick Take: Kitchen Nightmares, "La Galleria 33 Part 2"
"I really want to go home. I need a cooler… I'm just gonna have a glass of wine." – Lisa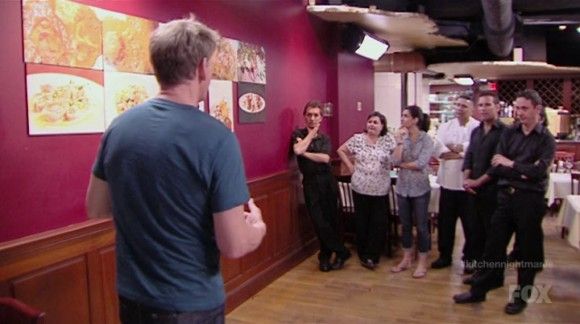 Review: Kitchen Nightmares, "La Galleria 33 Part 2"
(S0602) The second and thankfully final part of the La Galleria 33 saga kicks off with Lisa sulking (and drinking), and Lisa and Rita going at each other in the wake of Chef Gordon Ramsay's typically blunt assessments about the state of the restaurant (i.e. it sucks, wake up and shape up, and so on). When Lisa, crying into her glass of wine (she likes to drink at work, let's remember), says, "This just sucks. It's humiliating," sister Rita blurts back, "This was your idea."
At a staff meeting, general mayhem ensues when Lisa and Rita accuse their employees of being lazy and unresponsive. The part I liked best was when waitress Sara asserts, "Let's talk real," which Lisa and Rita readily agree to. This for some reason reminds me of Making the Band's Day 26, who were always going on about "real talk." Example: "Okay, real talk? Y'all need to [insert concept with which it was necessary to make with the real talk]."
Head Chef Doug displays a hilarious level of obstinacy when Ramsay unfurls a "gallery" of images that he took with his phone during La Galleria 33's food service and compares it to shots of high end Boston Italian restaurant fare. To wit, La Galleria 33's food was described by its own staff as "vomit," a "sick animal," and "disgusting" as contrasted to the obviously beautiful food showcased at other restaurants. Doug however tries to pass it off as Ramsay taking "close ups" of his food as compared to the presumably properly framed competitive photos. Nice try, Doug. Actually, pathetic try, Doug.
La Galleria 33's renovations look terrific – the exposed brick walls, wood floors, and modern upscale décor really do look inviting, and I'm always a fan of a cool chalk board map (in this case, the North End of Boston).
But even with a fresh new menu and restaurant upgrades, relaunch night gets rocky pretty quickly. The communication is terrible, and one of the waiters ends up getting into a fighting spirit with Ramsay himself. Funny that something like this ends up happening about once every 2.5 episodes. But things eventually even out and service goes well.
At the end, it seems that La Galleria 33 will have a fresh start. But I'm still baffled as to why it took us two full episodes to get from here to there.
More thoughts on this edition of Kitchen Nightmares:
Ramsey changes out the menu and then brings in one of his own chefs, Michael, for a month to help train up Doug to the new regime. This is usually a bad sign about the long term prospects for a restaurant.
The gnocchi that's served on relaunch night looks about 1,000% better than that which was served to Ramsay during his first visit to La Galleria 33.
Rita gets creepy-like in her talk about wanting to tie Ramsay up in the basement to make him stay, how he makes her feel as though she has a pistol when he's around, and so on. It reminds me of that classic Saturday Night Skit involving Tom Hanks leading out a sadistic Mr. Belvedere fan club.