Quick Take: Kourtney & Kim Take New York, "Go Get Your Man"
"The Hump is back!" - Kris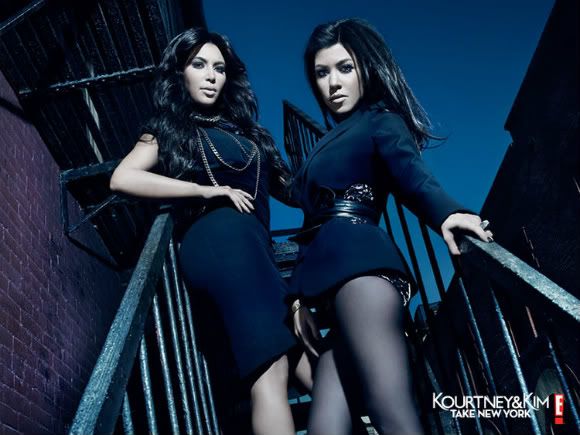 Review: Kourtney and Kim Take New York, "Go Get Your Man"
(S0202) People like to look back at the time period immediately preceding a major event in search of clues and hints at the inevitable event to come. It's human nature to think back to September 10th, 2001 and wonder if there were signs that we simply failed to properly interpret. Kourtney & Kim Take New York is interesting in that it is documented visible proof of the time of national innocence before our world was rocked by the events of October 31st, 2011. Of course, I'm talking about Kim Kardashian's announcement that she was filing for divorce from husband Kris Humphries after a mere 72 days of marriage.
They say hindsight is 20/20, and looking back it's abundantly clear that the star-crossed lovers Kim and Kris were doomed from the get-go. In the second episode of this season's Kourtney and Kim Take New York, Khloe, apparently the sanest of the Kardashian sisters (despite being married to a guy with a tattoo on his skull), shows up to try to help the other girls fix their relationships.
When Khloe discovers that Kim and Kris aren't even living together, despite being legally married and all, she suggests that Kim fly out to Minnesota to spend some time with her hubby. The two awkwardly play house for a weekend. When it comes time for Kim to bounce back to the Big Apple, she decides to have a talk with Kris about their living situation. You know, the kind of talk most couples have before GETTING MARRIED! Kim says she's going to resent Kris. Kris says he doesn't want to move back to New York. Finally, Kris caves and they hope on an eastbound plane, jetting off toward marital bliss. No, wait...
While Kim is in the frozen wasteland also known as Minnesota, Kourtney heads out to the Hamptons to visit her husband Scott's parents. Kourtney has this thing she likes to do when she goes to Scott's parents' house. She likes to clean. And she cleans in a way that suggests that Scott's parents are filthy hoarders living in a FEMA trailer in some far-flung disaster zone. In reality, their house is a mansion. And by "cleaning up", Kourtney really means that she is going to throw away some perfectly good items that could possibly be priceless family heirlooms.
When both couples reconvene in Manhattan, it is decided that the four of them will share an apartment. This makes perfect sense. What's better than one dysfunctional relationship? Two dysfunctional relationships under one roof, of course!
Lingering thoughts on "Go Get Your Man": E! would benefit from a "Countdown to Divorce" ticker in the corner of the screen. It would allow the episodes to maintain a certain level of drama and excitement. Actually, on second thought, no it wouldn't.