Quick Take: Last Man Standing, "Grandparents Day"
How do you really define getting older?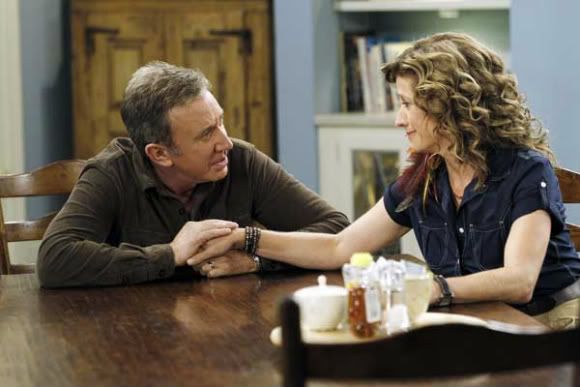 Review: Last Man Standing, "Grandparents Day"
(S0102) This week Mike and Vanessa head to Boyd's pre-school, Happy Happy Rainbow, for Grandparents Day and each one of them walks away with a new project on their hands. Vanessa feels that she must do something to her appearance to look younger while Mike becomes the temporary baby-sitter for Boyd after speaking his mind.
While Vanessa is mingling at Boyd's pre-school, a fellow grandmother makes her self-conscious after commenting on her pants with an elastic waistband and suggesting a back pillow for her since they are both "old broads." Soon after she asks Mike the dangerous question all women ask but never really want a direct answer to, "How old do I look?" Of course Mike is puzzled with an answer and throws out all different ages to cover his bases. It doesn't help. The following day she heads to the mall and to a junior clothing store to find some young clothes to spice up her look. The salesgirl initially asks her if she has a problem with the loud music and then proceeds to ask her who she is shopping for since she cannot fathom that it could be for herself. She goes as far to ask her if it's for her great-granddaughter. After making the mistake of trying on a pair of short shorts as a top her daughter Mandy comes into the store and excitedly takes her for a makeover. They return home with rooster feathers in their hair.
At home Mike doesn't offer up an opinion on her new look but does question her on what's going on. Vanessa expresses her concerns about getting older especially since she is showing attributes of doing so - sensible shoes, candy in her purse and enjoying taking knots out of jewelry. If those are the attributes of getting older I am definitely in trouble. Her solution to the problem is suggesting that they have a baby. Seriously, can't she just feel young by being able to keep up with Boyd? Her thoughts of adding to their brood are squashed once she hears two of her daughters arguing over shampoo though.
Grandparent's Day wasn't as tormenting for Mike. If anything he was trying to take a stand on being able to express himself, but, the teacher at the school felt that his energy didn't mesh well with that of the school's. He ultimately gets Boyd expelled from pre-school which completely freaks Kristen out. Who knew you could get thrown out of pre-school? Mike's solution to the problem is to take Boyd to work with him. At work he feels that he has the whole situation under control until he realizes that it's only 11am and he is completely exhausted. He starts looking for a new pre-school for Boyd but has no luck, which only means that he's going to have to somehow get Boyd back into Happy Happy Rainbow.
Mike heads with Kristen to the pre-school and after apologizing to the teacher he agrees to let Boyd back in. Of course he mentions that he's going to have to somehow wipe out all of the bad things that Mike has taught him. This riles Kristen up since the pre-school is preaching acceptance and having a non-judgmental attitude towards one another but it's obvious that that it not what's going on. Luckily Mike is able to drag her out of there before the teacher changes his mind.