Lennon Naked, "a drama which charts his transition from Beatle John to enduring and enigmatic icon," originally aired on BBC Four on June 24, 2010. It was first shown in the U.S. on PBS on November 21, 2010 as part of their Masterpiece Contemporary series. The title refers to John Lennon baring his wounded soul, rather than some kind of bad BBC porn. There actually are a couple of brief instances of full frontal nudity however, both male and female.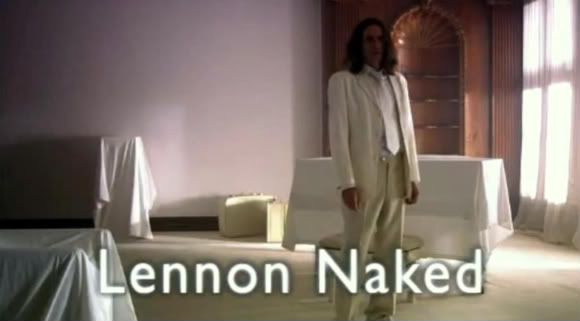 "The following drama is based on real events, although some scenes are the invention of the writer," reads the opening disclaimer. The viewer's opinion of the film will likely turn on their patience for the liberties the story takes. Another crucial aspect of Lennon Naked is that the story presumes a great deal of knowledge about John Lennon's life from the audience.
The movie opens with a brief montage of Beatlemania, then a card reads "1964" and we are in a limo with Lennon and his manager/father figure Brian Epstein. They are on their way to meet John's father, Freddie Lennon. John (played by Doctor Who alum Christopher Eccleston) is 23-years old and one of the biggest superstars the world has ever known. He has not seen his father since he was six. It is a heartbreaking scene because in this instance everything actually happened.
The famous Lennon quote, "The Beatles are bigger than Jesus," is given an interesting spin next. For Lennon, the quote had serious ramifications. The problem is, he actually was deified. According to the film, while he was on acid he actually thought he was Jesus Christ.
Another surrogate father appeared in Lennon's life in the form of the Maharishi Mahesh Yogi. While The Fabs were in India checking him out, Brian Epstein died. We then find Freddie Lennon (Christopher Fairbank) back in the picture, basically squatting at his son's massive mansion. It is another key moment, true or not. As written, Freddie comes across as quite sympathetic -- which is not the way he is generally portrayed. Here, it seems that he is a fish out of water. The house is too big and there is no pub nearby. And all he really wants to do anyway is get to know his son. The old geezer even has himself a 19-year old girlfriend, who he later marries and has a child with.
Thus, the stage is set for the appearance of Yoko Ono (Naoko Mori). Her entrance into Lennon's life is dealt with in an interesting way. Typically it is treated as a monumental event. In Lennon Naked, their initial encounter is more like what actually happens in life. No gigantic fireworks, more like a little spark.
When John's first wife Cynthia pressures him to follow through with his promise of a vacation, he demurs, saying he is too burned out. She decided to take the holiday without her husband, and left with young son Julian. Their lives were never the same again.
Lifelong friend Pete Shotten is dispatched to bring Yoko Ono to the mansion. As the story goes, they spent the evening recording "Two Virgins," then decided to photograph themselves as pre-fall Adam and Eve for the cover. The whole documentary style of filming of the scene makes it seem anything if gratuitous. Yet for those of us so inured to the "shocking" appearance of full-frontal male nudity, it really is surprising. Especially for a TV movie.
There is one more brief Lennon full-frontal shot, and that occurs with an overhead view of Lennon in a bathtub. Again, it is not at all gratuitous. There are two visual themes running through the film. The one the bathtub scene deals with is water.
Freddie Lennon's "excuse" for not seeing John was that he was at sea, as a member of the merchant marines. There are also a number of shots showing John underwater, and at peace. I like the way these are presented. On the one hand, underwater -- everyone is shut out. And there is also the enjoyment of the feeling of floating, not to mention the "back to the womb" connotation.
The other motif is of balloons, which represent two things. There is the sense of freedom again, as we watch them float away, seemingly of their own accord. There is also the sense of loss, such as when the six-year old John loses his grip on one and watches helplessly as it sails off.
The film ends on September 3, 1971 -- the day John Lennon left England and never returned. Talk about the famous "British reserve." As a Lennon fan, I quite enjoyed this film, but you do have to take the invented material with the proverbial grain of salt.