Quick Take: Lights Out, "The Comeback"
"Without this fight, everything this family has worked goes down the drain." - Lights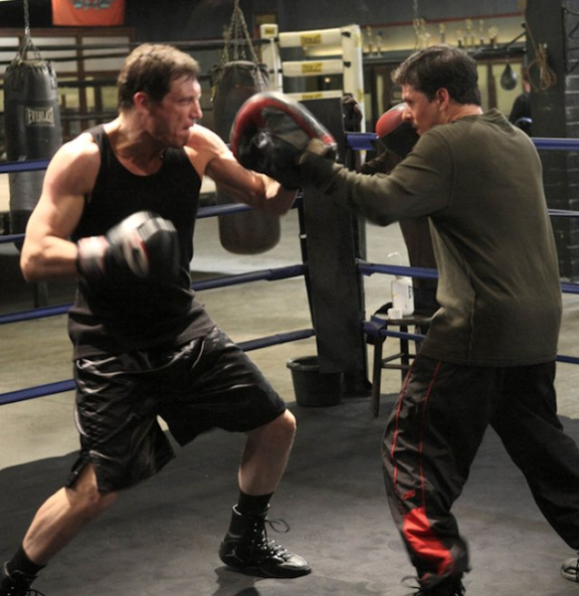 Review: Lights Out, "The Comeback"
(S0105) "The Comeback" is something of a watershed episode for Lights Out. It's set up for the back half of the season and raises the stakes for the Leary family. Last week I suggested that Lights Out is on a collision course with the inevitable. Lights has to fight Death Row, and as soon as that fight happens, most of the conflicts within the show will be resolved. I figured that the rematch would happen sooner rather than later, but "The Comeback" proves that isn't necessarily the case.
In a clever (and probably pretty realistic) fashion, the writers have come up with a way to hold off the inevitable showdown without making it seem like stalling. I assumed that when Lights comes out of retirement, it would be to fight Reynolds (Billy Brown) and Reynolds only. I never even considered that Lights would fight anyone else. But now that I think about it, a couple of warm-up fights before the title shot makes perfect sense.
When Theresa (Katherine McCormack) gets a financial adviser to examine the family's balance sheet, it becomes clear just how big a hole Lights has to dig out of. He owes the IRS nearly seven figures in back taxes and fines. The adviser suggests they declare bankruptcy, but Lights is determined not to become "another dumb boxer (who) loses his fortune". He wants to fight, and nothing, not even Theresa's disapproval or threats, will stop him. By the time he runs into Brennan (Bill Irwin) at the family diner, his mind is pretty much made up. "Boxing, it used to be the sport of kings. It just needs someone to reclaim the throne. A white knight," Brennan says, and it is enough to push Lights over the edge. He's getting back in the ring.
Lights is dumb, but he's not stupid. He knows that he has been away from the sport a while and wants to ease back into things, lest he bite off more than he can chew. His plan is to take down a tomato can or two and collect an quick paycheck. "I want the easiest fight for the biggest money," he tells Johnny. The brothers recruit JoJo Reed, and old friend and Death Row's former sparring partner, to play the role of tomato can. JoJo has "glass hands", so Patrick isn't particularly worried about exacerbating his dementia. Daniella (Ryann Shane), on the other hand, is worried and she threatens to spill the beans about Light's medical condition to her mother.
There is juuuust one teensie-weensie problem with the Leary's plan; JoJo is one of Barry Word's fighters. "Sorry boys, this platter has no sizzle... JoJo's a no-go," Barry says when they pitch him the idea. Instead, Barry suggests that Lights take on Javier "El Diablo" Morales, a bruiser who also happens to be a recently paroled sex offender. Under normal circumstances, Lights would just fight whoever he damn well pleases and tell Barry to pound sand, but unfortunately he can't. Barry has him by the short hairs; Johnny sold Lights out - he gave Barry the rights to Light's next fight - to get Barry to agree to give Omar his title shot. Lights is incredulous (although I can't exactly be sure that was the emotion he was going for because McCalleny's "incredulous face" looks exactly like his "vinegar strokes face" and his "picking up the morning paper face" and most of the other faces the guy makes). He kicks Johnny to the curb and fires him.
Reg E. Cathey gives a stand-out performance as Barry in "The Comeback." Barry dresses like a (classy) pimp and talks like a Reverend. He's calm and collected, yet always looks on the verge of exploding. He toes the line between larger-than-life and over-the-top, but no matter what, his scenes are always memorable. It's clear that basically everything in the boxing world runs through Barry. He always gets a taste. Lights tries to maneuver around Barry and approaches Brennan with an opportunity to finance the promotion of the fight and act as his silent partner. Before the imaginary ink is dry on the silent contract, the deal is off; JoJo's hands are broken in a freak "accident" that doesn't seem like an accident at all.
The climax of the episode is a showdown between Lights and Barry, which kind of felt like the acting equivalent of me challenging that guy Dean to a Ronnie Ortiz-Magro look-alike contest. McCalleny is over-matched to say the least. That doesn't mean this a bad scene, though. It's pretty freakin' good actually, and all the credit goes to Cathey. Lights barges into a restaurant, flips over Barry's table over and accuses him of breaking JoJo's hands (and effectively ending his career). Barry vehemently denies this (but I don't think we are supposed to buy it) and takes offense to the suggestion that he was involved with an act of violence. "You think you know me?!" he bellows, before calling Patrick "another broke, dumb boxer . Patrick feels like he has the moral high ground, standing up for JoJo, but he is quickly put back in his place. He offers to help pay forJoJo's rehabilitation if Light's will pitch in matching funds, knowing full well that Lights is broke. Barry throws out an offer of a million bucks to fight El Diablo and Lights is too desperate to pass it up. He swallows his pride and accepts his fate.