Quick Take: Lost, "Lighthouse"
"Someone's coming to the island. I need you to help them find it." - Jacob to Hurley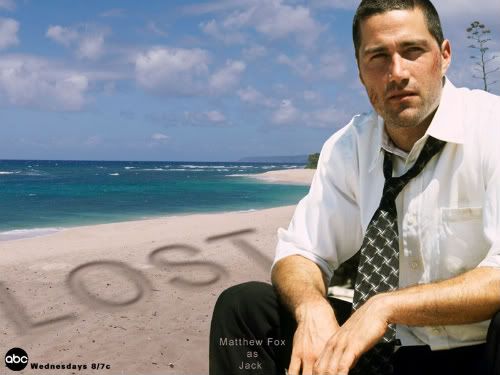 Review: Lost, "Lighthouse"
(S0604) It's fascinating getting into the endgame of Lost, finally and after all these years. It's fun to see Jack (Matthew Fox) in the "real" timeline world weary and somewhat content to see things play out, and to see Hurley with his wildly weird background (lotto numbers, super luck/bad luck, psych wards, I see dead people, and on and on) communing with the now "dead" Jacob, and dead/alive Sayid with his tortured/torturing past now infected with some sort of darkness… the list goes on and on!
Overall, this episode really is "old school" to quote Hurley as it's a brilliant spotlight on both Hurley and Jack (they both get a ton of screen time, which is always a plus) in the best Lost tradition. It's also fast paced, with well known characters darting around and long played out suspense crashing into revelations and new questions.
Where's it all leading? Does it matter when the ride is this much fun?
More random thoughts on "Lighthouse":
It's just flat out weird to see Jack's home life not filled with angst and pill popping and alcoholic rage cycles, right? Of course it's replaced with a piercing sense of regret, but beggars can't be choosers as they say.
Jack has a son named David in alternate reality flash sideways life? Started asking myself what I'm missing here then quickly replied (to myself): oh yeah, this is an alternate reality flash sideways life we're talking about here.
"Is leaving an option?" - Jack
"I could eat." - Hurley
"Mom, when did I have my appendix taken out?" - Jack
Bear trap on Jin's leg… a nasty business. But Claire's back though (again), hooray!
Hurley reading Jacob's instructions in blue ballpoint ink off his forearm… priceless.
Hurley announcing that he is a fan of "Indiana Jones stuff" and then protesting that he had to lie to a Samurai. Even more priceless.
"If there's one thing around here that'll kill you, it's infection." - Claire to Jin. This episode is packed with killer one-liners!
How many countless times have we seen Losties out in the jungle on cross-purposes as to which mission to pursue? Kate's parting words to Jack are lovely though: "I hope you find what you're looking for."
Forgive me, but I had forgotten that Claire was the "sister" referred to by the Samurai dude. And it seems Sister Claire has gone a little bit way off the deep end of Crazy Lake, no?
"This is cool dude, very old school… good times." - Hurley to Jack. This is a tour de force episode for my man Hugo (Jorge Garcia). I wonder where we'll see Garcia turn up in post-Lost life.
Jack revealing to Hurley that he returned to the island as he felt broken and was stupid enough to think that the island could "fix" him was both highly ironic (in that he was long the rationalist to Locke's believer) and nearly heart breaking.
The lighthouse. Never found before as it has never been looked for, according to Hurley. That's some Yoda-speak from the man who referenced Obi Wan earlier in the episode!
Jin tells Crazy Claire that Kate took Aaron… think that's gonna have some consequences down the line (even though he backs off and claims he's lying in attempt to save his own life).
"Does it say anything on your arm about the door being jammed?" I just can't stop quoting this episode, I'm sorry I'm sorry!
Recap: Lost, "Lighthouse"
Hurley tries to persuade Jack to go with him on an unspecified mission.
Video: Lost, "Lighthouse"
Full ep available from our friends at Hulu, don't miss out…
From Around the Web: Lost, "Lighthouse"
What's Alan Watching?: "Lighthouse" mainly reminded me of those pre-"Through the Looking Glass" episodes of the show where characters would wander around aimlessly for most of the running time and fail to ask any good questions when given the opportunity, only for things to be saved by a really good cliffhanger.
Exploring Our Matrix: The lighthouse didn't help ships, but helped draw people to the island. And so the big question is who is at 108 degrees? My guess is the man who pushed a button every 108 minutes.
TV Squad: The character of Jack has always been frustrating to me, and I've realized it's because he's so well written and well-rounded. With many of the characters, you can safely anticipate their behavior, but Jack has thrown in a few surprises along the way.