Quick Take: Louie, "Joan"
"What we do is a calling, my dear. We make people happy." - Joan Rivers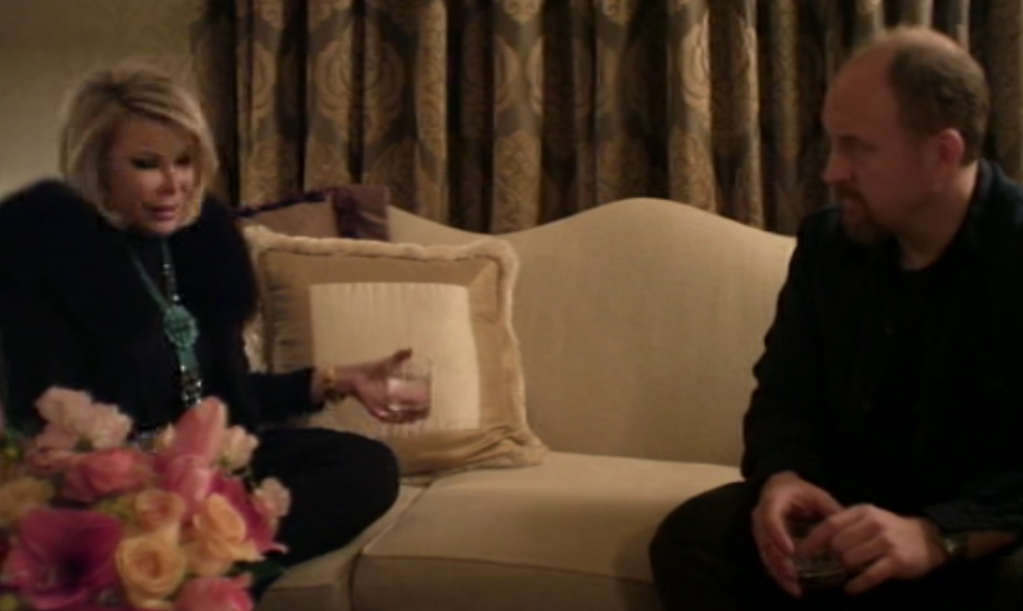 Review: Louie, "Joan"
(S0204) Stand-up comedy is, more than any other art form, a product of the time period in which it was produced. Music isn't typically like this -- bands like The Beatles are as arguably as popular today among both young and old fans as they were in the 1960s. Movies and television, too, comedic or not, can still hold up after decades have gone by. But, while someone in their teens could still conceivably enjoy Abbey Road or laugh out loud at Some Like it Hot, it's rare to find anyone listening to standup comedy that wasn't recorded during their lifetime. That's not to say that comedians like Bill Cosby or Bob Newhart aren't still influential; after all, their generation of comedy was an important step forward in the overall evolution of the discourse. They're simply products of an era in which raunchiness and risky subject matter could lead to being blacklisted by comedy clubs, or even, as in the case of Lenny Bruce, convicted on charges of obscenity. Most comedians of the '50s and '60s (and, to a degree, even the '70s and '80s), towed the line of acceptable subject matter, which heavily dates their material.
There have been, however, those rare comedians whose acts evolved with the times. George Carlin was one, able to remain relevant throughout his fifty-year career by becoming more observational and outspoken as comedic censorship began to loosen its grip on what stand-ups could and couldn't say. Richard Pryor and Bill Hicks were the same way.
One comedienne that doesn't get anywhere near the credit she deserves for her staying power is Joan Rivers. Sure, she's more culturally recognizable these days for her myriad plastic surgeries and her fashion knowledge, but she's been involved in comedy since the early 1960s. She was one of the first female stand-ups to tackle subjects like sex and abortion (referring to them as "appendectomies" in her act), and she wrote for shows like Candid Camera and The Tonight Show, paving the way for women like Tina Fey, Amy Poehler, and Sarah Silverman. In fact, she's still performing regularly and with a fervor that comedians a third her age can't even muster. Yet many have no inkling of her place in the history of comedy.
That's why tonight's episode of Louie, entitled simply "Joan," was such a welcome education, and one that directly recognized Rivers' importance. The final third of the episode, a session of "talking shop" between her and (Emmy nominee!) Louis C.K. was one of the emotionally resonant setpieces that Louie has become famous for, but it was also one of the first times the show has directly tackled life in show business. And who better than Joan Rivers to chronicle the ups and downs?
After Louie bombs at a casino lounge show, disparaging both himself and the audience, he quits the gig because he feels unappreciated performing as a mere sideshow to people's gambling habits. Then he goes to see Rivers' show at the casino's larger venue. She kills. Her stage presence is just as manic and raunchy as it's always been, and C.K. enjoys her set enough that he seeks her out afterwards.
But all of this is just the setup to the scene in Rivers' penthouse hotel room. C.K.'s respect for her is evident, which allows her to act as equal parts mother figure and comedic conscience. She chastises him for quitting, makes a joke at the universally-adored Betty White's expense, and gives him advice on how to make it in the difficult business they've chosen ("You learn their names on the way up, so when you need their help on the way down you have their name."). C.K's acting has received a lot of praise (and an Emmy nomination!), but it's Rivers who carries the emotional bulk of the scene. "I wish I could tell you it gets better, but it doesn't get better; you get better," she tells him, in one of the most poignant moments Louie has ever done. "What we do is not a job... What we do is a calling, my dear. We make people happy."
Earlier in the episode, Louie gets an emotional phone call from his sister, who apologizes for not being better to and for him when they were growing up. He unceremoniously hangs up on her, and the scene is played for laughs. Rivers' advice flies in the face of that action, and, though she's framing what she says in a discussion about comedy, it can be applied to just about any social situation.
Though C.K.'s standup is usually pretty cynical stuff, his show has especially this season been about the ways that people often need each other. It has wrung emotion from comedians talking over a friendly game of poker, from Louie taking his daughters out to a diner after a night out gone wrong, and from learning that neighbors you've never met before can be the first ones to offer a helping hand. Rivers' advice is the perfect encapsulation of Louie's philosophy. Whether you're entertaining a crowd or guiding a relative through an emotional crisis, we need to always be making ourselves better, and making others happy. That's our calling not just as performers or artists, but as human beings.