Quick Take: Love Bites, "Firsts"
"We live in a Twitter world. You have to be able to hook someone in 140 characters or less." - Cassie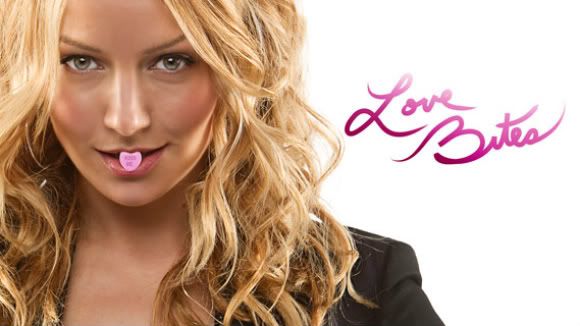 Review: Quick Take: Love Bites, "Firsts"
(S0101) The pilot episode of NBC's new romantic comedy, Love Bites, is called "Firsts" and, if early ratings data can be trusted, next week's second episode might be called "Lasts." Going up against the NBA Finals on ABC, Love Bites garnered a paltry 1.0 share in the valuable 18 to 40-year old demographic, drawing just 2.5 million views according to preliminary ratings. It's no surprise, really, that the show failed to find an audience with its premiere -- NBC did an awful job promoting it. I heard virtually no buzz about the show prior to last night and when I poked around a little bit, I discovered that Love Bites was originally scheduled to air last fall but was bumped in favor of The Apprentice. Not a good sign.
Love Bites actually isn't that awful. I made it through the hour-long pilot without getting the urge to claw my eyes out or hurl an ashtray through my cousin's flat-screen. I don't know that I'm going to be all that psyched about tuning in and doing this all over again next week, but for an hour at least the show is tolerable. The problem with Love Bites is that it seems to think that having an unconventional format is the equivalent of telling interesting stories and developing unique characters. What I mean is this: The set-up of Love Bites is pretty interesting. The hour is made up in three, very loosely connected vignettes. A character from Story A might know a character from Story B, but the plots remain separate. It isn't an episode of Seinfeld or Curb Your Enthusiam, where everything comes together cleverly in the end. Each segment is more or less self-contained.
While this format might feel like something refreshing to viewers, the characters and plots from the pilot are certainly familiar. It's like the creators of the show build a house with a very cool sha2ped foundation and then did a half-assed job with the rest.
In "First Time," the opening vignette of the episode, Krysten Ritter (Jesse's girlfriend from Breaking Bad) lies to a novelist she meets in a bar about being a virgin in order to seem more interesting. It turns out he is a good guy and when she takes him home he wants to go slow and make sure her first time is special. She admits she lied and he admits to lying to her about being a writer and they both have a chuckle about being such big liars. Seen it before.
The middle portion is "First to Go," which concerns Carter (Kyle Howard) and his fiance Liz (Lindsay Price). Carter has just been let go from his job and, to make matter worse, he has just discovered that his wife can only have an orgasm while using her new vibrator. He stews and stews, thinking that if he can't please her sexually, there's no chance she is going to want to stick by him if he is out of work. He finally tells her he has been fired, she says she will support him no matter what. Seen it.
The final mini-sode, "The First on the List," is the best of the bunch. (Or, in other words, the least bad of the bunch.) It follows Jud (Greg Grunberg), a married guy, as he and his buddy (Craig Robinson) fly across country to attend a bachelor party. On the plane with them is Jennifer Love Hewitt (who plays herself), the one and only entry on Judd's "exception list" (a list of celebs that one can have sex with without it being considered cheating). By shear happenstance, Jud is moments away from sealing the deal with his Party of Five dream girl, but at the last second decides that he can't go through with it. Seen it a thousand times.
It sort of feels like Love Bites would like think that is cut from the same cloth as a show like Sex In The City, but it isn't. Just because you mention sex and vibrators and condoms and porn doesn't make you edgy or sexy. Love Bites doesn't push any envelopes, quite the contrary. "Firsts" is extraordinarily tame. In fact, despite all of the references to sex, I don't think anyone on the show actually has any in the episode.
I don't expect Love Bites to be around very much longer, not only because of the ratings issues we discussed earlier, but because many of the actors on the show are already bailing for other projects. Becki Newton is attached to CBS sitcom, Jennifer Love Hewitt is rumored to be taking over for Mariska Hargitay on Law and Order: SVU, Craig Robinson is on The Office, Constance Zimmer has shot a CBS pilot called Home Game, Kyle Howard is set to appear in ABC's Smothered and Krysten Ritter is going to co-star in ABC's new comedy Apt. 23. So if just-average romantic comedies are your thing, get this one while your can.