Quick Take: Mad Men, "A Little Kiss"
"I don't recognize this man. He's kind and patient." - Peggy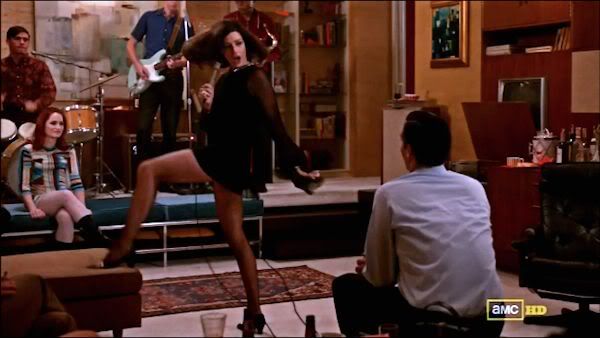 Review: Mad Men, "A Little Kiss"
(S0501) In Andy Greenwald's recent piece on Grantland, he makes the argument that the television's "Golden Age" began with The Sopranos. "During the roughly 10-year period that followed [The Sopranos], the small screen went from being cinema's idiot brother to the last auteur-driven mass medium." He goes on to say, " The Golden Age brought us the taut urbanity of The Wire, the soulful rusticity of Friday Night Lights, and the manic insanity of Arrested Development. It put polar bears in the tropics and profanity in the Old West. And then, without fanfare, it was over."
I tend to slightly disagree with Greenwald's assessment that "The Golden Age" of TV is over. As Greenwald himself points out, we still have one more season of Breaking Bad, and of course, we now have Mad Men back. Since we (well, mainly Greenwald) argues that Breaking Bad and Mad Men are two of the last Golden Geese (Gooses?), let's take a quick look at both shows and compare the changes and trajectories of their (anti?)heroes.
Breaking Bad is easy. Hell, the show was pretty much billed as "Mr. Chips turns into Scarface." Within the first episode, Walter White (Bryan Cranston) transforms from mild-mannered high school teacher (slash car tire scrub-down boy) to meth-cooking killer. Throughout out the rest of the seasons, the question regarding Walter White isn't whether or not he has become evil, but why and to what degree?
Don Draper is a much harder nut to crack. Obviously, there is a thread of change that is ever-present in Mad Men. On the surface, this change is obvious: the clothing styles, the hair-dos, the racial/sexual politics. But on a deeper, more meaningful level, the change in the show resides within its hero himself.
The obvious question is: Who is this Don Draper we met on last night's fifth season premiere? While there is no doubt that Bryan Cranston, the performer, absolutely nails Walter White's nuances and idiosyncrasies, I would argue that Jon Hamm's level of difficulty is a bit higher. Don's nuances are more, well nuanced. We know where Walter White is headed, what his motivations have become. But, Don? Who knows? He's a chameleon wrapped inside a camouflaged enigma. (Did I just invent a new cliché?!)
On Breaking Bad, the duality is quite simple. Depending on the moment, Walter White is either Walt or he's Heisenberg. On Mad Men, Don is simultaneously a million things at once. Is he Don Draper the advertising wunderkind? Dick Whitman the identity stealer (borrower?) Is he a devoted (every other weekend) family man? A philanderer? A depressed divorce? A blissful newlywed? The truth is, Don is all of these (and more) at once.
Because Don takes on so many identities as has juggled them somewhat successfully for so long, it shouldn't come as much of a surprise that I barely recognized the guy I saw last night on "A Little Kiss." But I was surprised. I kept thinking "Who the hell is this guy?" Don doesn't show up late for work. Don doesn't fail to dazzle the Heinz Beans guys with his (well, Peggy's) new campaign. Where is Don's glass of scotch? Does turning 40 really change a man that much?
Perhaps the point is this: Maybe we really never knew Don Draper at all. And maybe we never will. In the book The Tipping Point, Malcolm Gladwell writes about a study involving children and honesty. The study concluded that "honesty is a trait…that is considerably influenced by situation." Isn't it possible that young Dick Whitman, a thoroughly traumatized young man, learned this about this elasticity of the "honesty trait" long ago and has been utilizing it ever since?
It's hard to argue that the Don Draper we met last night is more evolved than the good-old whiskey swilling, finger-popping Don from past seasons. But he's certainly different. I'm just left wondering if the old Don will be making a reappearance anytime soon.