Yeah, we're there. The long and lonely Mad Men offseason has begun already, with many months of quiet contemplation, waiting, longing, and lamentation ahead (I respite in a dark and drafty 12th Century mansion outside of Brussels, for instance).
So it helps just a little to head back and remember some of the things that made the recent season special. And I think we can all agree that four seasons in now, Mad Men is operating on unique levels, challenging its audience as it took the story and characters to places we could scarcely have imagined.
But let's start on some of the lighter notes, or lines, as it were. One of the reasons why Mad Men is great is that it generates a goodly amount of hilarity (or at least levity) out of often tense and dramatic situations.
The Comedy



Some of the comedy comes out of the casual sexism and boys-will-be-boys-ism (is that an "ism"? Well, I just made it an ism) that still flew in the 1960s, though it's fascinating to note that in the 1965 that Season Four takes place in things have shifted a bit from the 1960 of Season One. Still, in private conversations there are very few restrictions, such as:
"So how are your balls, are you enjoying yourself?" – Don's lawyer, to the newly single Don
One of the funniest and most sexist lines of the season came in "The Chrysanthemum and the Sword," where we saw Honda executives from Japan visit Sterling Cooper Draper Pryce. We learn via subtitles that one of the Japanese execs brazenly muses in front of much of the office with regard to the buxom Joan (Christina Hendricks):
"How does she not fall over?"
I likely have more sympathy than I should for Roger Sterling (John Slattery) because he always seems to issue the funniest line of each episode. What's great is that he can go subtle or big with his comedy. For example, he can target the dense and dumb without their realizing it, such as this line, issued during a meeting with someone taking liberties with the office furniture:
"Pretend like it's your living room." – Roger to a Jensen exec
Lucky Strike and cigarette advertising played a large role this season, which allowed Roger to fire up (sorry, pun intended) some great lines:
"What do all the good boys and girls want for Christmas? Lucky Strike!" – Roger, in Santa Claus garb, at the SCDP Christmas party
And, in a bit where we only hear one half of a phone call, Roger says to Lee Garner, Jr.:
"Lee, the jockey smokes the cigarette."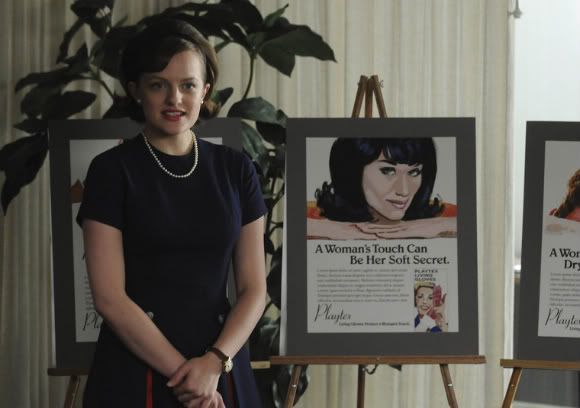 At the end of the season, after Don pulls off his "why I'm quitting tobacco" move in The New York Times, the American Cancer Society ironically shows interest in working with SCDP. Therefore, after Don meets with the non-profit board, Roger says the following with a glimmer in his eyes:
"Did you get cancer?"
Then you get your observational humor:
"I feel like with my hair you can't even see me in here." – Roger, on the stark whiteness of his office.
And one more from Roger, to show his range. He's even funny when he doesn't mean to be, such as here, dictating his banal memoirs (which will be spun into the perhaps self-published Sterling's Gold):
"I always liked chocolate ice cream but my mother made us eat vanilla because it didn't stain anything."
Okay, here's another bonus (we can't get enough Roger!):
"Well, I gotta go learn a bunch of people's names before I fire them." – Roger
Let's stay with the food funny for a moment. Well, and booze, when the normally buttoned down Lane Pryce (Jared Harris) gets tanked with Don, and then decides to brandish a large piece of steak in a restaurant, yelling:
"Look at me, I've got a big Texas belt buckle!" – Lane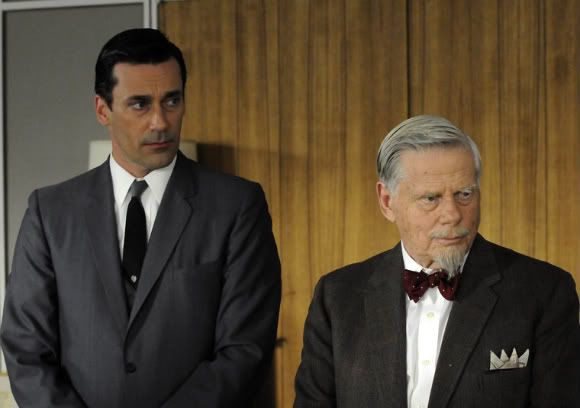 And Freddie Rumsen (Joel Murrary) made a (sober) return this season. He's always great, such as here when he's observing a focus group, but is more focused on other things on the far side of the false mirror:
"I'd like a danish."
Let's close out the comedy with several random lines that struck me during the season:
"You just can't keep your pants on, can you?" – Pattie, to a painting-in-his-boxers Don
"Is it donkey dick?" – Dr. Greg Harris, lamely trying to comfort Joan
"Oh my God, there's some kind of fire." – Don to Lee Garner, Jr. over the phone, in attempt to get off the phone
The Drama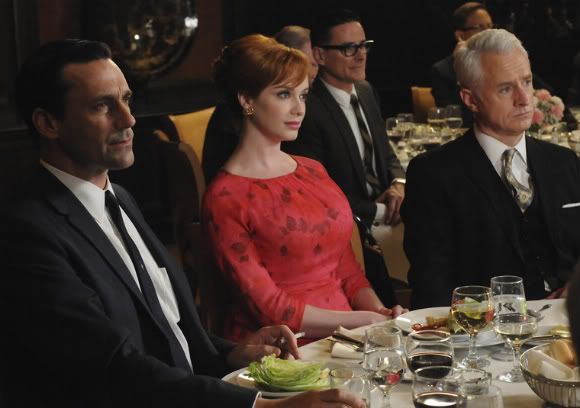 Now, let's cut to the dramatic stuff, which is of course at the heart of what has us addicted to Mad Men and keeps us coming back for more. A clear theme of this season was identity, both with Don Draper (Jon Hamm) and others central to the story. It begins with the first episode of the season, "Public Relations":
"Who is Don Draper?" – Advertising Age reporter Jack Hammond asks of Don
And then on the other end of the season:
"Who's Dick"? – Sally. "Well, that's me. That's my nickname sometimes." – Don/Dick
And throw this one in for good measure:
"Do you have any reason to believe Mr. Draper isn't who he says he is?" – Special Agent Landingham to Betty
Don becomes revealed to those around him more than ever before, but it's nonetheless shocking when freelance copywriter Joey casually tells others in the office the following, with regard to Don's increasingly drunken and sloppy behavior:
"He's pathetic." – Joey
Drinking certainly comes into focus throughout the season (with much less glamour than in the past), with Don having to admit some uncomfortable truths.
"They say as soon as you have to cut down on your drinking, you have a drinking problem." - Don
"Stop me at three. This is one." – Don to Megan
Drugs also get a brief spotlight in the form of Midge's (Rosemarie DeWitt) brief and depressing return:
"It's like drinking a hundred bottles of whiskey while someone licks your tits," – Midge, on heroin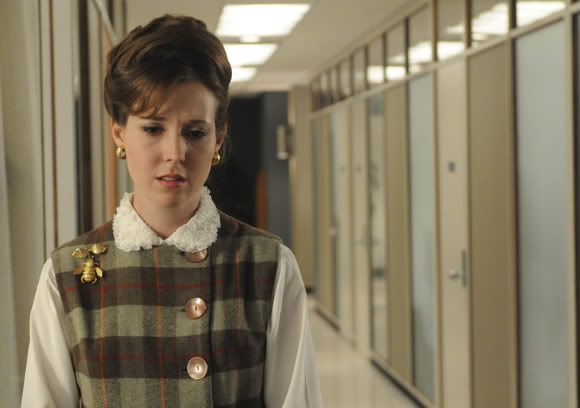 Don was also more open than he ever has been before about who he is, his past, and his relationships. He's most revealing with Faye Miller (Cara Buono), though we know where Don chose to go by season's end. Still, here he is to Faye on his failed marriage with Betty (January Jones):
"I could tell the minute she saw who I really was… she never wanted to look at me again."
Don goes from realist to dreamy dreamer with new fiancé Megan (Jessica Pare):
"I feel like myself when I'm with you, but the way I always wanted to feel."
And I love juxtaposing that line against what he tells her a short time later:
"You don't know anything about me." – Don to Megan
Anna Draper (Melinda Page Hamilton), the woman who became the idealized (and perhaps ideal) mother figure in his life, passes away. Before she does she tells Don:
"I know everything about you, and I still love you."
And go back a little further too for some insight:
"Right now my life is very…" – Don's abandoned copy, writing to Allison
Don of course has quite an impact on the lives around him…
"I don't know how you stand it, the way he turns on the charm one minute and then yanks it away." - Allison to Peggy
"They're all just in between marriages, you know that." – Joan, upon hearing of Don marrying off his secretary of the moment
Peggy Olson (Elisabeth Moss) boils down how most of those in Don's orbit feel about him:
"All we want to do is please you." – Peggy to Don
And yet here's Don at his most vulnerable:
"I'm tired of running."
The Office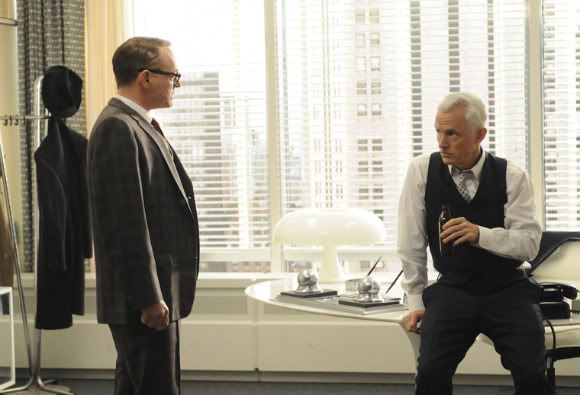 The sadly departed Miss Blankenship (Randee Heller) pins down the ad business perfectly:
"It's a business of sadists and masochists, and you know which one you are." – Miss Blankenship to Peggy
And Roger (selfishly) reflects on his life and career after Miss Blankenship dies at her post:
"Ah damn it, I don't want to die in this office. I almost have, twice." – Roger
More Roger, on hearing from Lee that Lucky Strike is pulling the plug on SCDP:
"Wait, this is not happening. You don't just end business with people after 25 years. 30 years! We're family," Roger says, shocked.
Later, Don allows himself a bit of self-righteous sulking:
"We're gonna sit at our desks and keep typing while the walls fall down around us because we're creative, the least important, most important thing there is."
"We're desperate, they can smell it on us."
Peggy zings Don but good after the "why I'm quitting tobacco" stun0074:
"I thought you didn't go in for those kinds of shenanigans."
Sexist Attitudes
While we saw some comedy stemming from sexist attitudes, it certainly wasn't all played for laughs:
"What do you do around here besides walk around like you're trying to get raped." – Joey (Matt Long) to Joan, channeling Mel Gibson circa 2010?
With that kind of thing going on, it's perhaps understandable that Peggy's new friend Joyce tells Peggy:
"He's a man. He won't be happy 'till he turns you out." – Joyce on Abe
Civil Rights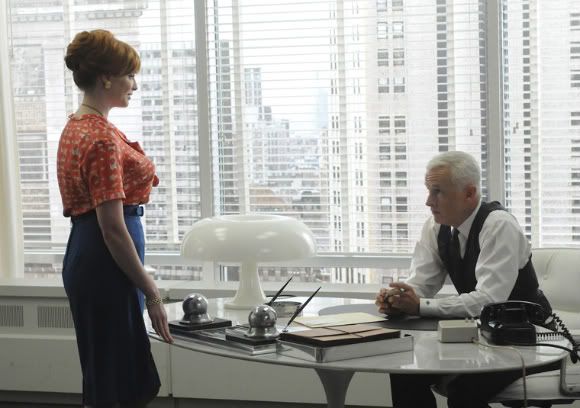 You have to love Pete Campbell (Vincent Kartheiser), who manages to be obnoxious and perceptive at the same time:
"Because Lassie stays at the Waldorf and they can't." – Pete's succinct take on why the Civil Rights movement marches on
Peggy points out the tension between the Civil Rights movement and women's' rights:
"I have to say, most of the things Negroes can't do, I can't do either and nobody seems to care." – Peggy
And Peggy's love interest Abe (Charlie Hofheimer) represents the gathering counterculture movement:
"It's an illusion that America's so organized and that it can never happen over here." – Abe
Vietnam
Vietnam is certainly on everyone's radar by 1965, but it only affects the characters peripherally this season. That is, except for Joan and Greg, the latter of whom gets shipped off to be a surgeon in a place where they will be needed in droves.
"Vietnam. That's not good." – Roger
Don v. Betty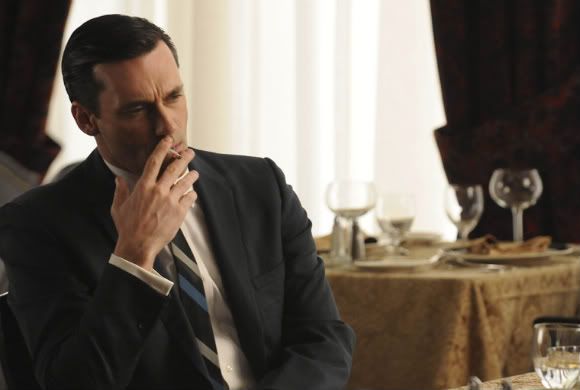 Divorce wasn't the end of the Don/Betty relationship of course, and we even see an odd détente come about by the end of the season. In between though it got pretty ugly.
"Do you know the river of shit I'm going to get from her mother?" – Don Draper, upon learning of Sally's hair cutting inciden
"I want him dead!" – Betty on Don
"Hate's a strong word, Betty. I hate Nazis," Henry (Christopher Stanley) replies
And one final bit from Glen Bishop (Marten Holden Weiner), who oddly seems to know Betty better than anyone:
"Just because you're sad, it doesn't mean everybody else has to be." – Glen to Betty
Don v. Roger
Don and Roger are mostly simpatico this season after the major rift of Season Three. Roger can't help himself though after he gallantly congratulates Don after learning of his engagement… to his much younger secretary:
"See Don, this is the way to behave." – Roger to Don
Roger v. Joan
Major developments on the Roger and Joan front are boiled down beautifully in one line:
"I'm not sorry. But I'm married, and so are you." – Joan to Roger