Quick Take: Mad Men, "Chinese Wall"
"I need a drink." – Bertram Cooper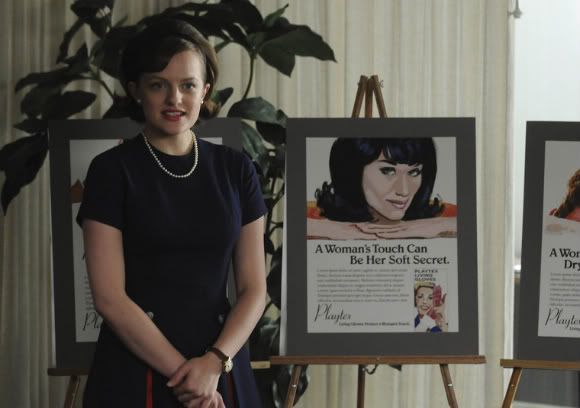 Review: Mad Men, "Chinese Wall"
(S0411) While "Beautiful Girls" focused on the women of Sterling Cooper Draper Pryce, "Chinese Wall" is all about the men. And, well, it has much to do with how they're making quite a mess of things, and about the blurry line between personal and professional relationships. But life and work can be messy, can't they? At least they can be at times, and so it is for Don Draper, Pete Campbell, and Roger Sterling amidst a significant professional crisis for their advertising firm in 1965.
The news about Lucky Strike leaving SCDP and moving to larger firm BBDO along with the rest of American Tobacco's brands is like a bomb that keeps going off over and over again. Ken Cosgrove (Aaron Staton) finds out when BBDO account man John Fleury makes an offhand remark when stopping by Ken's table at a restaurant (he's there with finance Cynthia and his in-laws to be, which includes Ed Baxter, played by Ray Wise, who was stellar as the devil himself in the cancelled-too-soon Reaper).
As the bomb, I mean news, starts to spread amongst the SCDP execs, I was reminded a little bit of Season Three's thrilling finale, "Shut the Door. Have a Seat." But instead of that episode's repetition of the phrase "shut the door, have a seat" throughout the episode, which helps to set up an exhilarating end run (the former Sterling Cooper management breas off to form a new and renegade agency), this episode's string of, "Have you heard Lucky's leaving?" "What?" has a far more chilling and anxiety-ridden edge to it.
And when the news gets back to Roger (John Slattery), lightning-quick, at a late night emergency meeting at the office (with a stunned Bert Cooper slumped behind Roger's Jetsons-like desk), Roger denies what he knows all too well to be true. And then he has the audacity of hopelessness to pull the old finger-on-the-receiver maneuver in pretending to call Lee Garner, Jr. To his partial credit, he relays the information via his fake conversation that everything is true, though of course he holds back the part about the 30-day grace period that Garner had reluctantly granted (and then subsequently ignored, as it turned out).
Roger's true nature is slowly being revealed over the course of the series, and especially this season. He was long portrayed as a dashing and flippant character, a rich man who had inherited everything, seen it all, and looked at the world through the comfortable (and distant) lens of a half-full martini glass. But really he's sad, he's lonely, and the real achievements and relationships that he believes make him feel happy and valued are being ripped away. Essentially with Lucky Strike out of the picture, Roger has no place at all with the firm. "One damn account, and you ignored it!" as Don (Jon Hamm) singes him with. And then the true devastating blow from Bert: "Lee Garner, Jr. never took you seriously because you never took yourself seriously."
Joan (Christina Hendricks) has closed off their extracurricular relationship as well, which may well mean the closeness the two have shared for some time is over too. So it's the perfect pitch black comedic note that his storyline ends with his arrival home to his second wife Jane (who he arguably loves far less than Mona, his first wife) to discover that a box of his memoir, Sterling's Gold, has arrived. He signs it, "To my loving wife," and Jane swoons. "I'm so proud of you," she says, as Roger looks off, miserable.
Don's pretty miserable himself throughout the episode, though perhaps he's not quite at the stage where he has (yet) mangled everything up as Roger has. But he's working on it, as we can see. Faye Miller (Cara Buono) is potentially the ideal partner for him – strong, intelligent, and independent, yet caring and forgiving (thus far) of Don's excesses and secrets both. That is, unless or until Don screws things up permanently. But he's certainly open with her in a way that he has been with no one else, save Anna Draper, perhaps.
Sure enough, Don's expectation that Faye will breech professional ethics by telling him about what's going on with her other clients comes back up, putting a potentially lethal dagger into the back of their relationship. And it seems as though the deal is sealed when Faye tells him: "You want a shoulder to cry on? Fine. You want to throw me to the wolves so you can save your neck? Forget it."
And then almost as fast you can say, "This is my fourth" glass of rye, Don is hooking up with Megan, or Megan is hooking up with Don. But don't worry, it has nothing to do with business, says Megan. And even adds that she won't run out of his office screaming like Allison did.
The final scene of the episode involving Don and Faye back at Don's apartment is storytelling at its finest. It's the opposite of what we expect, but makes perfect sense: Faye gives into her own ethical code and sets up a meeting with Heinz because she loves Don. In a way we've seen her compromise (and lower her standards, perhaps) a number of times already, and saw flat out that she saw him as trouble (and troubled) well before their relationship began.
Still, I expected her visit to be a classic breakup scene. And in fact, based on the shenanigans that Don had just been up to with Megan (Jessica Pare) back at the office, we almost want to see a clean break, or as clean as possible, between Don and Faye simply from the perspective of simplifying Don's cluttered life.
However, now that Faye is still in the picture and providing a potential life line to the firm at that, it is cause for immense tension and conflict in the final two episodes of the season.
Meanwhile, what should be a joyous time in Pete's (Vincent Kartheiser) life is turning out to be not so much. Trudy is off screen going through a marathon labor session throughout the episode while Pete is mainly dealing with the Lucky Strike crisis. Pete's father-in-law seems bullish on moving him to Ted Chaough's (Kevin Rahm) firm right away (CGC took over Clearasil earlier this season when SCDP dumped it to go after Ponds), reminding him that he now has a family to think about. And then Ted himself shows up at the hospital later as Trudy's labor enters its second day. "You'll have a full voting third. I'm not Don," Ted tells him, making the hard sell with velvet gloves. "It's not the wild west."
The more I think about it, I think Roger, Don, and Pete represent points on a continuum. Not that they are the same people and not that the endpoint is failure (or death), but I think they represent choices made – many of which are either selfish or geared toward professional life at the neglect of personal relationships (or both) – and what the consequences of those choices can lead to over a period of years. It's been noted by many, for example, that Pete and Trudy (Allison Brie) have one of the "happiest" marriages on the show. Perhaps the intent by Matthew Weiner and company is to say something to the effect of, "Just you wait – these kids are young as yet."
As a final note, the forever boorish Stan (Jay R. Ferguson) references "the last days of Rome," which hearkens in a way to Grandpa Gene having Sally read to him from The Rise and Fall of the Roman Empire in Season Three. He also seems content that "things are in hand" at the firm (little does he know how critical SCDP's billings are and that Glo-coat may only be the first of many other clients to hit the eject button) and is even persuaded by Peggy's good mood (post-rendezvous with suddenly boyfriend Abe) that "the energy is good" as women get "sex-crazed" in the midst of an agency going down. Based on what we know about Stan and how terrible his intuition tends to be (including a creepy and ill fated attempt to have sex with Peggy to "relax" her before the Playtex meeting this week), I'd say those are horrific omens with regard to the near term prospects for Sterling Cooper Draper Pryce.
More thoughts on "Chinese Wall":
"Wake Cooper, meet me in the office." – Don to Pete
"I need a drink." – Bert
"I think I should go to a meeting. – Freddie
"Hey, watch it. You need to keep a clear head." – Faye to Don, after the latter pounds a few after returning from the office and learning about Lucky Strike's move.
"You're the most hirable man on Madison Avenue." – Faye. "I'm not at that point yet." – Don
"I'm not letting you leave." – Peggy to Abe
I think the movement on the Lucky Strike storyline is a good example of how the pace of the show has picked up from earlier seasons. I feel like circa Seasons One or Two we would have had two or three episodes in between Roger finding out the news and the rest of the staff.
Hilarious moment: when Joe, SCDP's head of accounting, asks the assembled employees if they have any questions, he does not see Danny's (Danny Strong) not-so-long arm being raised in the back of the crowd.
I like the story choice to not have Roger make a last ditch effort to save Lucky Strike from going to BBDO. Not only would it seem like a desperate move based on what Lee Garner, Jr. has told him, it's far more interesting to look at (and watch the characters look at) a post-Lucky SCDP world. I'm feeling like it's going to be less… lucky, for lack of a better word.
"Stop me at three. This is one." – Don to Megan
By the way, I'm guessing Don's sobriety journal is looking a little bit unattended to these days.
"I'm not a solution to your problems. I'm another problem." – Joan to Roger
"Why do you keep making me reject you?" – Peggy to Stan
With everyone else going, it shouldn't go unnoted that Pete misses out on the birth of his daughter to deal with the Lucky Strike-induced crisis. Something tells me this isn't going to be the only major event he misses out on in her life.
"You're in my head all day…. You judge people on their work. I'm the same way. Everything else is sentimental. " – Megan to Don
"I can't make any mistakes right now." – Don to Megan
"I got you a meeting with Heinz." – Faye to Don
Video: Mad Men, "Chinese Wall"
Head inside the episode, from AMC: