Quick Take: Mad Men, "Christmas Comes But Once a Year"
"What do all the good boys and girls want for Christmas? Lucky Strike!" – Roger Sterling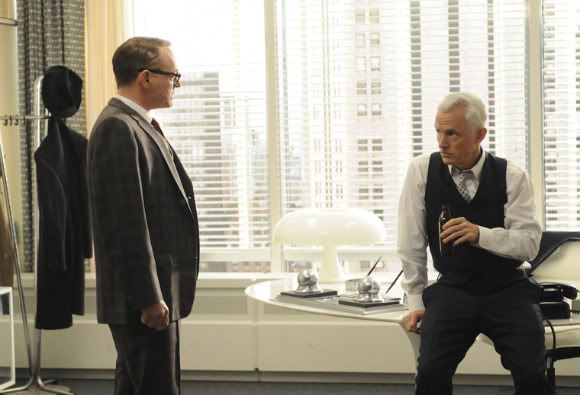 Review: Mad Men, "Christmas Comes But Once a Year"
(S0402) Now that last week's season premiere, "Public Relations," set the stage for where Don, Betty, and the office crew stand in this brave new world of late 1964, "Christmas Comes But Once a Year" is able to pull back the storytelling camera a little, bringing in a number of characters that we haven't seen yet this season and, in some cases, for quite a long time.
I'm sure I'm not the only one, for example, who yelled "Glen Bishop is back!" when he pops into the seemingly idyllic picture of Betty (January Jones), new husband Henry Francis (Christopher Stanley) and family shopping for a Christmas tree. Glen (Marten Holden Weiner , son to Mad Men creator and executive producer Matthew Weiner) seems to have solidly shifted his semi-creepy attentions from Betty to daughter Sally (Kiernan Shipka). It's hard to say whether Glen is playing out some long range revenge on Betty or if he sincerely has placed his focus on Sally for other reasons, but when he breaks into the Draper residence (oh, sorry, the "Frances residence," as Carla, played by Deborah Lacey, reminds us) with the goal of smashing some eggs and pouring food on the countertops, it's as though he's calling out the unsettled emotional mess that lingers just underneath the pristine surface.
We didn't see much of Betty at all this week otherwise, and even Don Draper (Jon Hamm) played something of a peripheral role for much of the episode. The biggest surprise return came in the form of Freddie Rumson (Joel Murray, brother to Bill Murray), who we last saw wash out of Sterling Cooper in Season Two after pissing himself and passing out before a client presentation. He's back at Sterling Cooper Draper Pryce now, at least conditionally, on the back of 16 months of sobriety and a $2 million Pond's Cold Cream account. Freddie and Peggy Olson (Elisabeth Moss) get a nice amount of screen time together, and it's striking how the power dynamic has shifted between the two over the course of the series. Let's remember that Freddie helped to raise Peggy out of the ranks of the secretarial pool (sincerely if condescendingly complimenting her reference to Belle Jolie lipstick as a "basket full of kisses" in Season One), which helped to launch her copywriting career. Peggy for her part ends up needing to check herself, apologizing for dismissively (if correctly) calling Freddie old fashioned for how he wanted to handle the creative pitch for the Pond's account.
Meanwhile, much of the momentum for the episode is built around the return of Lee Garner, Jr. (Darren Pettie), the main connection to the Lucky Strike account (along with poppa Sr.) that is responsible for a precarious percent (don't say that word around Roger with a British accent, mind) of SCDP's receipts. Lee's power was on destructive display the last time we saw him in Season Three, when his rejected pass at Sal Romano (Bryan Batt) and the subsequent fumbling of the situation by Harry Crane (Rich Sommer) caused the firm to hit the immediate eject button on Sal's longstanding tenure.
When a post-three martini lunch Roger Sterling (John Slattery) is caught off-guard by a Lee phone call, he mentions SCDP's Christmas party. Garner invites himself, which forces the fledgling ad firm to vastly ramp up the song and dance and hoopla and circumstance for what was supposed to have been a Lane Pryce (Jared Harris) produced modest affair. The "production" of the Christmas party – both in terms of how Joan Harris (Christina Hendricks) and team really put it on for an audience of one, and simply in how gorgeous SCDP's office set looks in full party tilt, mid-'60s style – is worth the price of admission alone. There's also a lot of hilarity that ensues in the planning and execution of the party. I particularly liked Roger lines such as: "We need to change its rating from convalescent home to Roman orgy." And Don and Roger's "Did you enjoy ze Fuhrer's birthday?" "May he live for a thousand years" shtick is priceless. But on a more serious note, we see Roger being forced to work like we've never seen him before, even being intimidated by Lee into putting on the Santa outfit for the party.
Speaking of more serious notes, we see Don struggling with being newly single during the holidays, and letting his self-discipline on multiple fronts slide to a disturbing new level. His excessive drinking is being noted (and we're talking about a culture where there's a mini-bar in every office), with Joey even referring to him as "pathetic" when he's forced to call his secretary, Allison (Alexa Alemanni), after forgetting his keys at the office. Allison's visit to Don's apartment to let him in turns into the world's quickest one night stand, and I couldn't help but think about Don's line to Peggy on her first day as his secretary in the pilot episode: "I'm your boss, not your boyfriend." That is, the Don Draper of 1960 would never in a million years consider letting his personal life collides so closely to his professional one. Allison served as an odd sort of proxy girlfriend (or perhaps proxy for a real human connection) throughout the episode, opening the card from Sally early on and reading out loud to Don the children's Christmas wish list. Finally, of course, we get the heartbreaking line about how he can't be with his family on Christmas morning. And we can see that Don is not overly anxious to do any kind of self-analysis overall, as symbolized by his walking out on the Motivational Research Group presentation and quiz.
What's so exciting about this season is that we're seeing a whole different story play out now. We know about Don't past and so do the people around him for the most part, Don and Betty are broken up with everyone in the family dealing with the fallout, and the playing field for the ad agency is entirely different. I have no idea what will happen next week, and I can't wait to find out what happens next.
More thoughts on this week's Mad Men:
"We're leaving as soon as we find you." – Bobby Draper (Jared Gilmore) to Sally
We get to see a bit more of Joan this week, but no Greg Harris (Sam Page). He's off "saving lives" and can't make the Christmas party.
Also making their first appearances of the season this week: Jane Sterling (Peyton List) and Trudy Campbell (Alison Brie)
Freddie Rumson tells Roger that he wants no part of working with Pete Campbell (Vincent Kartheiser). I have a feeling there will be more to this storyline in the weeks ahead.
"I feel like with my hair you can't even see me in here." – Roger, on the stark whiteness of his office. Freddie also references that he feels like he's going to fall into the bizarro wall art that is reminiscent of both The Twilight Zone credits and Austin Powers flicks.
"Look where we are." – Don to next door neighbor and nurse Phoebe as she kindly helps him get to (drunken) bed
"I can't believe that's his job." – Peggy on Roger's booze-soaked lunches
"I hate it here. I really really do." – Sally Draper
"He's pathetic." – Joey, on Don forgetting his keys
I find Peggy's new boyfriend Mark to be annoying, and get the feeling that Peggy's not too far off from thinking the same. She seems to be in the midst of trying out the role of being a professional woman in a stable relationship, no easy feat in that era.
"Civil rights is the beginning of a slippery slope." – Ayn Rand-worshipping Bert Cooper (Robert Morse)
"Nobody wants to think they're a type." – Motivational Research Group's Faye Miller, to Don
Am I the only one who got a kick out of Harry grabbing three or four cookies out of the cookie jar during the Motivational Research Group pitch?
"What do all the good boys and girls want this Christmas? Lucky Strike!" – Roger Sterling
Some great New York City drinking institutions mentioned this week, including the White Horse Tavern and Chumley's.
Video: Mad Men, "Christmas Comes But Once a Year"
Inside the episode, from AMC:
From Around the Web: Mad Men, "Christmas Comes But Once a Year"
Alison Sepinwall: But bad as I expected things to go, I never expected anything quite as horrible as Don's behavior the next morning, when he shocks Allison with how much their encounter didn't happen, as far as he was concerned, then hands her the envelope with her holiday bonus. Dick Whitman, who grew up with the nickname "whore-son," is so fixated on keeping his personal life walled off from his professional life that he makes Allison feel like his whore. He doesn't close the door and apologetically suggest their night together was nice but a bad idea in hindsight; he just acts like it never happened and gives her a hundred bucks, cash.
The Watcher: "He's pathetic," Joey says of Don. How shocking those words would have been to our ears a few seasons ago. Remember how much Ken Cosgrove, Harry Crane and Paul Kinsey worshipped Don in earlier seasons? They idolized him. To them, he was the epitome of cool. They reverently compared him to Batman. Don's taciturn, secretive nature was something to emulate, not ridicule.
Vanity Fair: Don is an uncrackable code, a nicotined oracle, a man whose tracks are impossible to trace and whose presence carries a bold outline yet is inchoate and churning at the core, a capped volcano. But to Dr. Fay, Mad Men's James Bond of Creative Advertising and Dashing Cufflinks is just another sub-genus--easy to spot, sort, and file. At its most radical extreme hers is a message that might as just as easily been delivered by Alan Watts or any Zen master: Our precious subjective impressionistic inner life is a vanity of ego that can be vanguished by a single finger-snap, like a hypnotist bringing us out of a lifelong trance.