Quick Take: Mad Men, "Far Away Places"
"Well Dr. Leary, I find your product boring." - Roger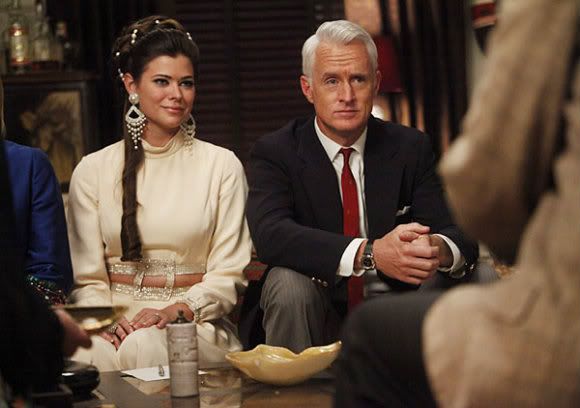 Review: Mad Men, "Far Away Places"
(S0506) So much of the fifth season of Mad Men has been focused on developing a dense fog of dread that is slowly but steadily seeping into the SCDP offices from the outside world. There is a palpable sense of danger lurking around every corner. Has the world passed me by? What is wrong with teenagers these days? When will the riots end? Is there a killer waiting for me in my room? What's that man doing in the clock tower?
The dread has been so pervasive that fans of Mad Men are flooding message boards and comment threads to predict which beloved character will bite the dust before the season finale. (By the way, my money's on Pete). With all of this fear in the air, it's no wonder folks are looking for an escape, a getaway. And get away is precisely what three of our heroes -- Don (Jon Hamm), Peggy (Elizabeth Olson), and Roger (John Slattery) -- do in "Far Away Places."
Structurally, the episode is disjointed. The three main stories are presented non-chronologically. Time jumps around, expands and contracts -- kind of like an acid trip. Yet despite the lack of a linear narrative, the stories are thematically linked. The common thread weaved throughout "Far Away Places" deals with relationships, specifically strained relationships.
"Far Away Places" opens with a spat between Peggy and her boyfriend Abe (Charlie Hofheimer). Abe is unhappy with Peggy's commitment to her job and her lack of commitment to her relationship. "I'm your boyfriend, not a focus group. Have a shitty day," he barks as Peggy leaves the apartment for work.
Abe's words ring prophetic, as Peggy does indeed have a shitty day at work. Don bails on her right before a big meeting with Heinz and, predictably, the meeting goes disastrously. As great a copywriter as Peggy is, she will never have Don's flair for salesmanship. Raymond (John Sloman),the Heinz big-wig, isn't particularly impressed with Peggy's ideas for their campaign, despite Peggy's attempts to give them exactly what they asked for. "Stop writing down what I asked for and start figuring out what I want," Raymond says. Frustrated and at her wit's end, Peggy stands up for herself and her work. Raymond is having none of it and demands Peggy be taken "off the business."
In a huff, Peggy storms out of SCDP and finds herself alone in a movie theater. Enter my all-time favorite character on Mad Men: Pothead Peggy. Double P celebrates 4/20 a few days late with a stranger in the theater. Although I guess in the Mad Men timeline, it's a couple of months too late for 4/20. Or is it decades too early? 4/20 wasn't invented until like the seventies or eighties, right?? My mind is spinning, am I high right now?
After a quick smoke shesh, Peggy really gets down to business. A covert handy in the dark confines of the theater puts her back life's drivers seat. Things with the men at the office might be spiraling out of control, but at least she is able to find a place where she can do whatever the hell she pleases. The power is back in her hands. Literally.
Roger's little getaway also involves the use of mind-altering substances -- in his case, LSD. At a dinner party with Jane (Peyton List) and her friends (which include the famed LSD aficionado Timothy Leary), Roger ingests an acid-laced sugar cube and embarks on an eye-opening psychedelic journey with his wife (or rather his soon-to-be ex-wife). Jane and Roger's "trip" takes them to an unexpected place: the end of the road in regard to their marriage.
Don and Megan's (Jessica Pare) marriage almost comes to an equally abrupt end. After an extended honeymoon period, a trip upstate reveals their relationship to be a lot more troubled than either would care to admit.
Don jumps at the chance to skip out of the big Heinz sit down and drags Megan off to a far flung Howard Johnson for a little "R&R" disguised a business trip. A marital meltdown, precipitated by Megan's dislike of orange sherbet, ensues at the hotel restaurant. Don might be a crappy husband a lot of the time, but I think he has a point here. I mean, who doesn't like orange sherbet? Come on!
Okay, okay, at it's core, the blow up isn't really about sherbet. It's about Don and Megan's married life versus their work life. Don might be an enlightened guy in comparison to someone like, say, Roger, but he still harbors some of those old-school notions about women in the workplace. To Don, Megan is his wife first and foremost, whether they're at home or at the office. Megan -- a modern, mostly-liberated woman -- just wants the opportunity to sink or swim at work on her own.
After the sherbet incident, Don bolts out of the restaurant and strands Megan. By the time he comes to his senses and returns for his bride, she's nowhere to be found. He searches for her all day and night, becoming increasingly panicked. Eventually he returns to Manhattan empty handed, only to find an angry and hurt Megan holed up in their apartment.
The trip to HoJo's underscores an important difference between Don's first and second marriages. Betty (January Jones) is a child in an adult's body. She needed Don to be in control because she was incapable of doing things herself. Perhaps this is why their marriage lasted as long as it did; Don is a massive control freak most of the time. Megan, on the other hand, isn't looking for a father figure. She wants a husband; one that will complement her, not control her.
Don and Megan are able to put on happy faces for work the next day, but the smiles look superficial. Cracks are beginning to show, and something tells me they are poised to grow into gaping fissures. The sense of impending doom grows.