"Indian Summer" features Don and Peggy making strides in their respective careers – Don is made partner in the wake of Roger's second heart attack, while Peggy gets a raise and more responsibilities thanks to her adeptness with copy for a "weight loss" product for women – while their personal lives begin to unravel. Meanwhile, Betty finds herself increasingly lonely and distant from Don out in Ossining.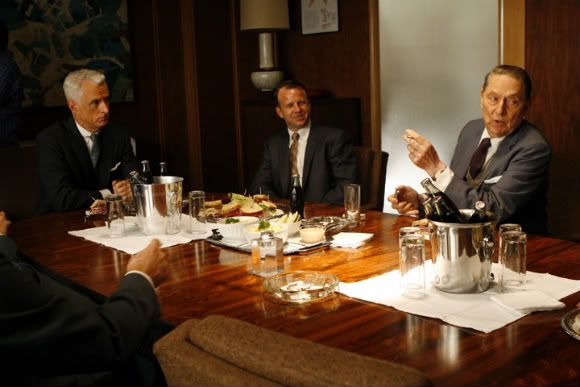 When the fellows (and that's literal – the all boys creative meeting includs Don, Pete, Freddy, Harry, and Kenny) can't figure out what to do with "a new product for women" that is called the PER (Passive Exercise Regime), Don declares that the "big guns have been silent" and calls in Peggy to help out. "Maybe lightning will strike twice," Freddy notes, referring to Peggy's previous copywriting work with the Belle Jolie account. Peggy is wary that she has been put on this assignment as she has been putting on weight over a period of months, but is obviously pleased and proud to be called in to produce another round of creative work.
Of course, when Peggy goes home and tries out the PER for the first time… she realizes that it has a different intended purpose entirely (and proceeds to promptly take it off and kick it to the floor). Back at the office, she squirms when explaining to Don what the product is actually intended for. "It vibrates…" she says hesitantly. "And that coincides with how you wear it?" Don cuts to the chase: "We now have a benefit."
Don also imparts his own creative process (think of something deeply, then forget about it, and a thought will "pop" into your head) to Peggy, and we see the first strong indication of the robust Don-Peggy creative partnership to come.
Later, Peggy gives her first formal creative presentation to the team, and turns in a modest hit. Don still doesn't like the name (she dubs it The Rejuvenator – it eventually becomes The Relaxacisor) and wants her to be more explicit about what it does, but Peggy has successfully crafted an appeal for women to feel "youthful" and "energized," ending on the tag line, "You'll love the way it makes you feel."
Peggy – like many bright and brave women of the period – is just starting to broach into a working culture dominated by men, and it's a brave new world indeed. The boys openly joke around about the product and who they'd like to see in it, caring nothing for the fact that a woman and colleague is in the room. However, all the men seem genuinely supportive of her efforts, and the typically sun shiny Kenny even gives her a playful punch on the shoulder and says, "Good job, Pegs," after the meeting.
As we wait for the arrival of Season Five, currently scheduled to premiere in early 2012, stay tuned to TV Geek Army all summer long to get your Mad Men fix. Here we take a look at a key series moment from Season One, Episode Eleven: "Indian Summer."