Quick Take: Mad Men, "Public Relations"
"Believe me, Henry, everybody thinks this is temporary." – Don Draper to Henry Francis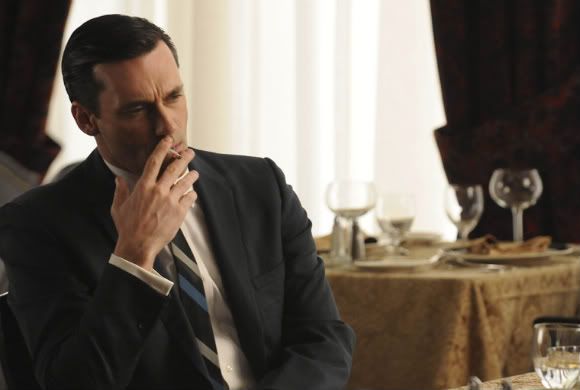 Review: Mad Men, "Public Relations"
(S0401) One episode into Mad Men's Season Four, we can safely say that master craftsman Mathew Weiner is having a ball in showing off more of his storytelling bag of tricks.
Because show creator and executive producer Weiner and crew wiped the slate clean at the end of Mad Men's third season in many ways (Don and Betty headed for splitsville, while Don and his professional pals cried mutiny to form the new Sterling Cooper Draper Pryce), there has been tremendous speculation about what would happen next – always the mark of a compelling story.
The time jump between seasons this time around is just under a year, meaning we begin in November, 1964. We see Don Draper (Jon Hamm), Roger Sterling (John Slattery), and Pete Campbell (Vincent Kartheiser) hustling to pitch potential clients at an advertising "cattle call" event. It's a deliberate move to show these warriors of the ad game outside of the comfortable confines on their own office, and sweating to compete with agencies that have better name recognition and more resources (Draper cautions Campbell early to never tell clients that they are the "scrappy upstart").
When we eventually do see the new SCDP offices (we last saw the gang working out of the Pierre Hotel), it's a visually dazzling experience, even if Bert Cooper (Robert Morse) is embarrassed by the fact that they only occupy one measly floor of the Time-Life building (though it's an ongoing debate whether to name drop a phantom additional floor to clients). And I must stop right here and report how gorgeous the sets, the costumes, the brilliant white and glass modernism of the new office and overall color palette show off throughout the episode. Mad Men is already legendary for this kind of thing, but particularly here at the beginning of a new season and a brand new chapter and time period in the overall story, I'm struck that this is an hour of television that can be enjoyed for the visuals alone. Very few shows on television are remarkable in this way – only AMC's Breaking Bad comes to mind as an alternative example in fact.
Don Draper is still Don Draper, but he's being forced to adapt to different circumstances and surroundings. At the office, he projects maximum confidence, which often spills over into arrogance and rude behavior. Peggy Olson (Elisabeth Olson) as always absorbs the worst of it, and yet seems to be thriving at the new agency, bustling about with her own confidence and aggressiveness in spinning "creative" creative concepts for her clients (paying two actresses to have a publicized fight over a Sugarberry ham at a supermarket). Don pitches one of the worst ideas we've seen him deliver yet in terms of the chances that the client will approve (a sexy and mysterious ad for bikinis for the self-described "modest" Jantzen execs) and then revs up the testosterone in aggressively booting them out of the office after they reject it.
Don is also not doing well in the PR department early on when he clearly flubs an interview with a reporter from Advertising Age, angering his other partners who see him as a critical public relations asset to bring the new firm into prominence. Don of course is never one to feel comfortable talking about his own background and origins, and the reporter sniffs out this act as false modesty and writes up a scathing story about an ad man "with no name" that reads almost like a satiric piece out of The Onion.
At the end of the episode, after Don's impetuous booting of Jantzen out of SCDP's office (a move that anyone who has ever worked for an agency desperately wishes they could emulate from time to time, by the way), he rectifies himself by taking another interview with a Wall Street Journal reporter. Draper goes on to give a much more engaging performance in selling himself as "the man" behind Sterling Cooper Draper Pryce, recounting the tale of how he asked Lane Pryce (Jared Harris) to fire him and his partners to form the new agency. It's easily one of the classic Mad Men scenes and a rousing bookend to the episode, as Draper has the look of a born salesman who has found his groove in delivering a pitch that he knows will sell. The implication is that Don finally sees that he himself is a product that must be sold alongside those that are advertised on behalf of his clients. And it opens up possibilities for how he will go on to reconcile his past – growing up in deep poverty, assuming a false identity, rising to the heights of his profession, enduring a failed marriage, and so on – with his new circumstances.
On the personal front, Don is in a vastly different place than we've seen him before. He's alone in his new apartment for one, save for a Puerto Rican maid and weekend privileges with the kids. Roger sets him up with a friend of Jane's, a blind date with Bethany (Anna Camp) at Jimmy's La Grange. It's obvious that Don is only half-interested in his date, though he would head up to her apartment if the opportunity is there (and it isn't). Don seems to feel his age a bit when Bethany refers to breaking her "rule" in dating a divorced man. And meanwhile, he finds some solace (punishment?) in sleeping with a prostitute who knows that Don likes to be slapped repeatedly in the face during the act.
Meanwhile, we see that Betty Draper/Francis (January Jones) will continue to play an important role, even as she is now divorced from Don and remarried to Henry Francis (Christopher Stanley). She seems to be something of "the Jane" in her new family, the younger woman who has been scooped up by an older man, to the disapproval of his family (and even Don echoes his dismissive words to Roger from last season in saying, "Believe me, Henry, everybody thinks this is temporary"). Henry's mother especially has obvious distaste for this "silly woman," and baldly implies that he should have had the milk without buying the cow, so to speak. Sally (Kiernan Shipka) has the look of a stranger in a strange land, while brother Bobby (Jared Gilmore) seems more oblivious and happy-go-lucky to the new circumstances. Betty still seems well suited for a Worst Mother of the Year award herself, something that Henry seems aware of at least on some level, and make that double on the "silly woman" label. And his amorous advance on Betty only when the kids have safely left the house seem to indicate a strange dynamic in their relationship that will be further explored this season.
Overall, this episode really blew me away. It's a brave new world for Don, Betty, the family, and the gang at the office. There's so much going on that's new and fresh and odd and interesting going on with this cast of characters. And we have yet to have seen much from the likes of Joan Holloway (Christina Hendricks) and what's going on with her ill fated marriage to Greg Harris (Sam Page), Lane, and a number of other supporting characters thus far.
More thoughts on "Public Relations":
"Who is Don Draper?" – Advertising Age reporter Jack Hammond to Don
"So how are your balls, are you enjoying yourself?" Don's lawyer, to the newly single Don
"John!" "Marsha!" – Peggy and "new guy" Joey's (Matt Long) back-and-forth shtick, playing off the John and Marsha soap opera parody of the period
"No, I know that trick." – Bethany to Don on her offer to walk her up to her apartment at the Barbizon
Don's apartment is on Waverly and 6th Avenue, a great area in New York's Greenwich Village
"Chop chop, Joey." – Peggy
Don's anger at Peggy when she visits his apartment to get bail money stemming from the Sugarberry ham snafu seems to be as much about her seeing him alone on Thanksgiving as about work.
"All we want to do is please you." – Peggy to Don
"Pretend like it's your living room." – Roger to a Jensen exec (easily the funniest line of the episode)
"Tobacco Road," by the Nashville Teens, works fabulously to back Don's closing interview with The Wall Street Journal reporter
Video: Mad Men, "Public Relations"
Check out the video recap, from AMC:
Recap: Mad Men, "Public Relations"
"Who is Don Draper?" a reporter from Advertising Age asks Don over lunch. Don evades the question; Midwesterners don't like talking about themselves, he maintains. He does, however, explain the movielike scenario behind his acclaimed Glo-Coat Floor Wax commercial. More from AMC.
From Around the Web: Mad Men, "Public Relations"
Alan Sepinwall - It's Thanksgiving 1964, and Don has seemingly gotten everything he ever wanted professionally, and lost nearly everything he ever thought he wanted personally.
Salon: "Who is Don Draper?" This is the question posed by a reporter at the start of Season 4 of "Mad Men," and it's the one question that Don (Jon Hamm) can't answer. Having grown up in an abusive working-class family, then reinvented himself as a man of means decades later, he's struggled with his identity for years.
NPR: Like every good episode of Mad Men, the season premiere is both sad and witty, and as rare as it is to see a show at the very top of its game in the fourth season, that seems to be where this one finds itself.