Now that we've had a little time to absorb the end of Mad Men (and as the tag line of Season 7's second half relays, it was truly the "end of an era") at the dawn of the 1970s, let's dial back a decade to Mad Men Season 1.
And where the series begins in 1960, it feels strikingly different in terms of how people act, dress, relate to one another at the office and at home than where Mad Men leaves off, with Don Draper getting his zen on and (maybe) teaching the world to sing, Roger Sterling sporting a groovy/tacky mustache, and all the rest of it. Which, really, shows us how much changed overall in the United States over the course of a single decade.
But before we go there, let's head back to the very beginning and revisit what went down in all 13 episodes of Mad Men Season 1.
And for a much deeper dive into Mad Men Season 1, check out A Mad Men Mixer: The Unofficial TV Geek Army Guide (Season 1).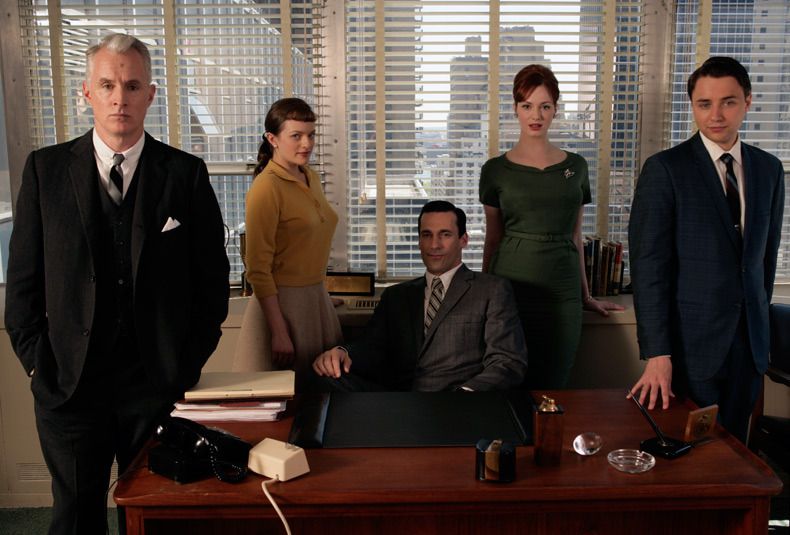 Episode 1: Smoke Gets In Your Eyes
"Smoke Gets In Your Eyes," Mad Men's pilot episode, is a masterfully entertaining and exquisitely executed introduction to a new world. Even as an enormous amount of information and detail are thrown at us, it all goes down smooth as silk (or as a properly prepared Old Fashioned, depending) as we dive into the marvelously original and painstakingly detailed world of Don Draper, Sterling Cooper, and New York City circa 1960.
Don is a Master of the Universe, the super hero Creative Director of the Sterling Cooper advertising firm that can and will save the day using his moxie and towering ego and craftiness. Yet by the time we arrive home with him at the end of the hour (and find him to have a beautiful wife and two kids only then!), there's sufficient mystery and unanswered questions about this mad man that we can't wait to find out what happens next.
Read more from TV Geek Army's Mad Men Season 1 Key Series Moments series.
And check out Mad Men Season 1 trailer:
Episode 2: Ladies Room
While "Smoke Gets In Your Eyes" focuses tightly on Don Draper and introduces to the world of Mad Men through his (smoky) eyes, we spend a relatively large chunk of time away from him during "Ladies Room" as the story lens widens to focus on Betty Draper and her domestic life in Ossining and Peggy Olson as she attempts to adjust to office life at Sterling Cooper. These story decisions pay off grandly over the course of the season as we get to further invest ourselves in characters from the large cast.
While Don and his creative team at Sterling Cooper try to figure out "what women want" in order to better sell products to them, we see Betty and Peggy struggle to figure out how they are supposed to act and what they are supposed to say while consistently being forced away from articulating what they want at home and at work and in relationships.
Read more from TV Geek Army's Mad Men Season 1 Key Series Moments series.
Episode 3: Marriage of Figaro
Matthew Weiner and company have an uncanny knack for creating mini-masterpieces out of the third episode of Mad Men seasons. "My Old Kentucky Home" from Season Three and "The Good News" from Season Four immediately spring to mind, yet "Marriage of Figaro," just the third episode of Mad Men to ever air, has so much going on it that one could easily write a book to cover it all.
The episode breaks out into two major sections (as does "The Good News," as an aside). With "The Marriage of Figaro," we begin with a major reveal when a man on a train recognizes Don Draper as an old army buddy, but refers to him as Dick Whitman, and Don/Dick doesn't move to correct him. Then we have lots of action going on at Sterling Cooper involving Pete Campbell, Rachel Menken, and the people and situations that tie to Don's office life. The second broad section focuses on the preparation and production of Sally Draper's birthday party and allows us to get our first deep sense of who Don Draper is on the home front in addition to the people and attitudes that surround him there.
Read more from TV Geek Army's Mad Men Season 1 Key Series Moments series.
Episode 4: New Amsterdam
"New Amsterdam" is a departure in focus from the first three episodes of Mad Men's first season in that for the first time the focus is largely on other characters besides Don Draper. We spend a lot of time with Pete Campbell and get to meet his new wife Trudy for the first time as well as both Pete and Trudy's parents (who could not be more different from one another). And we also see Betty getting more involved with the (hair) affairs of Helen Bishop and her son, Glen. It's an episode that further fleshes out the culture, society, power dynamics, and unwritten rules that govern life in a particular slice of society in New York City in 1960.
The building tension between Don and Pete throughout the early going of the first season comes to a head in a major way during this episode. The boiling point comes in the wake of a follow-up meeting with Walter Veith of Bethlehem Steel. Pete had broken the rules by pitching Walter on a campaign while wining and dining him (and more) the night before on the concept of Bethlehem Steel as "The Backbone of America." Walter loved it and subsequently dismissed Don's pitch for American cities to be portrayed as "Oh Little Town of Bethlehem" back in the office at Sterling Cooper.
Read more from TV Geek Army's Mad Men Season 1 Key Series Moments series.
Episode 5: 5G
Mad Men's tag line is "where the truth lies." After four episodes of being gradually and even luxuriously introduced to the world of Don and Betty Draper and the advertising industry in New York City circa 1960, "5G" jolts us with a deep dive into Don's back story while examining issues of identity and what people do to maintain a version of themselves that they want themselves and others to see.
We've had a few hints up until this point in the series that the character we've come to know as Donald Draper – Korean war veteran and husband and father and Creative Director at the Sterling Cooper advertising agency – is not precisely who he says he is, most notably coming in the form of an old war buddy recognizing him as Dick Whitman on a train in "Marriage of Figaro."
Read more from TV Geek Army's Mad Men Season 1 Key Series Moments series.
Episode 6: Babylon
Nearly halfway into Mad Men's first season, we know the main players pretty well by now. "Babylon" delves into their desires for what they wish the world to be and how they rearrange their lives and suffer the consequences in trying to make it so.
Don and Betty act out their roles in a stage play called Ideal Household and Family while Don and Midge meanwhile star in the off-Broadway play, Company Man and His Greenwich Village Mistress. Roger and Joan know that what they have won't last – she'll find someone "more suitable" while he'll move onto the "'61 model." And Peggy expresses the desire of all women to not be one lipstick in a box of 100, unknowingly kick starting her rise up the ranks in the advertising industry.
Read more from TV Geek Army's Mad Men Season 1 Key Series Moments series.
Episode 7: Red in the Face
Two men in expensive gray suits trek up many flights of stairs. They have been out having a liquid lunch replete with a bottomless fountain of martinis and platters of oysters besides. One, Roger Sterling, is a little bit older and slows down during the ascent. The younger one, Don Draper, feigns concern but is internally plotting the endgame of an exquisitely plotted revenge against his boss and friend.
Read more from TV Geek Army's Mad Men Season 1 Key Series Moments series.
Episode 8: The Hobo Code
"The Hobo Code" refers to the symbols that hobos, or "gentlemen of the rails," used during The Great Depression to alert fellow travelers of the circumstances (good food, tell a sad story, dishonest man lives here) at homes where men are taken on as day laborers. This episode takes on a somewhat unusual structure – Don Draper is largely absent in the first half save for a "super hero" moment during the Belle Jolie campaign pitch, while we see lots of Pete and Peggy and Sal and Lois Sadler, the new switchboard operator.
Later, Don heads to Midge's apartment in Greenwich Village which allows us to flashback to his Depression-era childhood on the farm, while meanwhile the office gang heads to P.J. Clarke's to celebrate the Belle Jolie account pitch win.
Read more from TV Geek Army's Mad Men Season 1 Key Series Moments series.
Episode 9: Shoot
"Shoot" is a Betty Draper-centric episode, and one that humanizes her and allows us to sympathize with her perhaps more than at many other points in the series.
A series of incidents lead up to the moment when Don and Betty share a dinner of casserole and red wine. It's a quiet scene where if you're not careful you miss a lot, and maybe even everything: each and every line of dialog is imbued with complexity – truths, half-truths, lies told to oneself or to the other. It's the kind of conversation that happens between people who have had an intimate relationship over some long period of time. There's a degree of maintaining the status quo, there's that part where one and perhaps both are selling themselves on what they're saying as much as they're selling it to the other, and there's the part of playing the role you feel you're "supposed" to play.
Read more from TV Geek Army's Mad Men Season 1 Key Series Moments series.
Episode 10: Long Weekend
As Sterling Cooper shuts down for Labor Day weekend, 1960, Roger Sterling engineers a get together with Don Draper and the new models of Cartwright double-sided aluminum (and suffers life threatening results) while Joan and her roommate make their own time on a hot night in the big (and lonely) city.
Read more from TV Geek Army's Mad Men Season 1 Key Series Moments series.
Epsode 11: Indian Summer
"Indian Summer" features Don and Peggy making strides in their respective careers – Don is made partner in the wake of Roger's second heart attack, while Peggy gets a raise and more responsibilities thanks to her adeptness with copy for a "weight loss" product for women – while their personal lives begin to unravel. Meanwhile, Betty finds herself increasingly lonely and distant from Don out in Ossining.
Read more from TV Geek Army's Mad Men Season 1 Key Series Moments series.
Episode 12: Nixon vs. Kennedy
"Nixon vs. Kennedy" breaks out into two main stories: the first involves the presidential election of 1960 and more specifically the wild and crème de menthe-soaked office party at Sterling Cooper that takes place to celebrate the event, and the second showcases Pete's dramatic confrontation with Don over the discovery of the latter's true identity.
The Korean War, which posed communist North Korea against a democratic South Korea, was emblematic of an era in which the United States and Soviet Union engaged in an ideological struggle that took many forms. For a young Dick Whitman, however, going off to war allowed him to escape the hell of poverty and an unloving family that he was orphaned into (and, as a matter of fact, Don/Dick only seems peripherally interested in politics at all: like religion and sex, "…why talk about it?" he tells Betty earlier in Season 1).
War is its own hell, of course, and one that can only be truly appreciated when experienced firsthand. We get but a glimpse as a flashback takes us to the Korean War, where a young Private named Dick Whitman is assigned to a Lieutenant Donald Draper. Somehow, Private Whitman is the only member of a workforce that is supposed to dig fighting positions around a field hospital. An "accident" occurs as Don/Dick (as we come to know him) will later tell a few select people, leaving the real Draper dead and Whitman injured.
Read more from TV Geek Army's Mad Men Season 1 Key Series Moments series.
Episode 13: The Wheel
The Kodak pitch meeting, the purpose of which is to rebrand its famous slide projector, is a Don Draper tour de force. It's Don Draper – Master of the Universe, Creative Director for an influential Madison Avenue advertising firm at the dawn of a new era – at the very pinnacle of his powers.
Don uses the slide projector to show family photos of Betty and the kids, which display times and events far happier than anything we've seen of the Draper household in the time we've come to know them in 1960. Don conjures a magical tale of nostalgia, that place "where we ache to go again," and meshes the concept into the "wheel"-like nature of the slide projector to create the Carousel, a device that transcends its status as a mere mechanical device for showing slides to become a "time machine" that can reconnect us to those we love in times and places that, once captured, can be accessed once again.
Read more from TV Geek Army's Mad Men Season 1 Key Series Moments series.