Much and more has been written about Mad Men's glorious and supersized Season Five premiere, "A Little Kiss."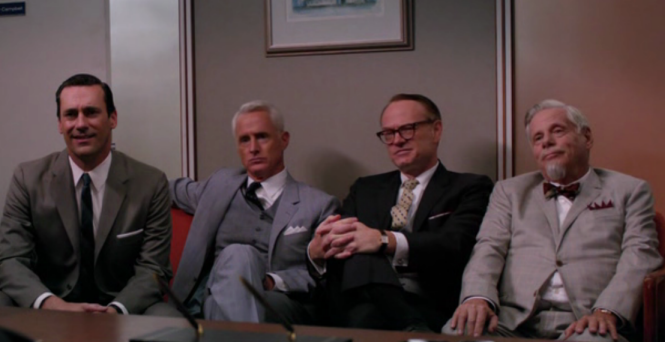 Instead of rehashing and recapping the episode, I thought I'd simply recount the 28 things that especially delighted and/or tripped me out.
Outside the pristine walls of Sterling Cooper Draper Pryce, the New York City of 1966 is clearly getting more unsettled, more chaotic… and even dirty. It's a million miles away now from the well ordered landscape we luxuriated in back in Season One (even down in the beatnik-drenched Village).
"And they call us savages."
An adolescent Sally walking down a very modern-looking hallway. I assumed at first that this was the new Francis residence in Rye, but instead of course it is the abode of newlyweds Don and Megan.
Pete Campbell's life – commuting, a wife and child out in the suburbs, rising status at the firm, great ambition and general dissatisfaction – put him on a very similar path as his comrade/rival Don was on in earlier seasons.
Bert Cooper's back to have more underlings fetch his shoes! (Or perhaps he should fetch them himself… he doesn't seem to have much else of import to do these days.)
Roger Sterling is drifting steadily into pathetic territory. Thankfully, we have the brilliant acting chops of John Slattery, which make the drift as entertaining and compelling as ever.
SCDP is "stable" if not swimming in it nearly a year out from losing anchor client Lucky Strike.
Don "really doesn't like" Harry.
"And how did that work out for you?"
What's trippier: that Peggy and SCDP are more conservative in their approach to selling Heinz beans than the client, or that Don is easy breezy cool with having the team roll up their sleeves to take another crack at the campaign?
Don Draper's 40th surprise party is downright groovy to the mod… and formerly hip corporate cats such as Don and Roger are relative old geezers in this world.
Don's accountant gets downright sloppy at the party – another sign of what could be down the road for our hard drinking heroes?
Bert Cooper and Peggy's (still!) boyfriend Abe arguing about the Domino Theory is alone worth the price of admission.
Also worth the price: just getting to see Don and Roger hang out (though they would likely simply use the word "drink") together. "You're wondering what they're laughing at. Not you."
"Marry early and often."
"I'm thinking about smoking some tea out there," says our man Kenny Cosgrove in what may have been the most hilarious aside of the episode.
"Zou Bisou Bisou." As we used to say back in my college days: 'nuff said.
Megan knows about the whole (or at least the important bullet points) "Dick Whitman thing."
Harry Crane: more interesting and more creepy with each passing season. And dig his shaggy scarf.
And along those lines: I'd pay a goodly sum to see a spin-off show called Lane Pryce's Goes Rogue.
"Why don't you sing like that?" "Why don't you look like him?"
Pete Campbell's meeting in his office gambit is classic Pete: he makes a strong argument while exuding a slimy cunning all at once.
And Roger pulling rank on Harry about the office situation is classic Roger. Fascinating and telling that his power over Crane is substantially reduced from the Sterling Cooper days.
"Well well well, there's my baby."
"You're all so cynical. You don't smile, you smirk." Something tells me that there's plenty more of where that came from…
A close second to the joy of watching Don and Roger together again: Joan and Lane. They are an odd couple with a surprising amount in common, it would seem. And hilarious – if not quite "I've got a big Texas belt buckle" hilarious – to see Lane reenact "Mrs. Draper's" "burlesque."
Don and Megan's round of… make up sex is a master class in "show, don't tell."
Don tells Megan that he doesn't really care about work, and we believe him. A dynamic that we've seen develop since Season Two or so, but this is the first time we've heard him say it.
Above all else, I'm thrilled to be able to check in and spend some time with some friends and frenemies in and around Don Draper/Dick Whitman and Sterling Cooper Draper Pryce.
The world is changing in 1966, and we are equal opportunity travelers along for the ride.