Mad Men fanatics are already installed in front of their DVRs (rocking slightly, perhaps talking to themselves a bit, akin to the unshaven lunatic waiting for the phone to ring throughout One Crazy Summer, really) awaiting the coming of Season Four, Sunday, July 25th at 10pm on AMC.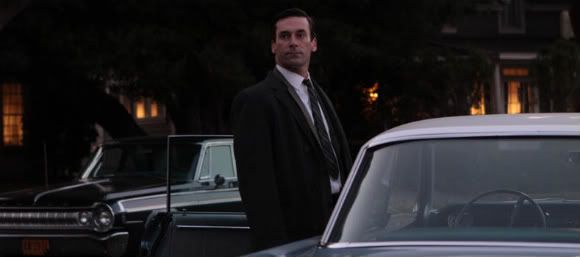 I rewatched Season Three recently and, as always, got so much out of taking in the details the second time around. I also started thinking ahead to what no doubt will be a very different Season Four. It has to be, of course, based on the fact that Betty has run off with Henry Francis (Christopher Stanley) to Reno to get a divorce while the brilliant season finale, "Shut the Door. Have a Seat," brought about a mutiny at the "old" Sterling Cooper and the creation of the new and renegade Sterling Cooper Draper Pryce.
So like any devoted Mad Men freaky geek, I started thinking, "what's going to happen next, then?"
What kind of show will it be?
That's a broad and kind of vague question, but it's worth remembering that Mad Men can bring so many different "levels" at you on any given week, from intense and gripping drama to mystery and intrigue, from slapstick comedy to melancholy character study. The third season "picked up the pace" in many ways, raising the stakes on multiple fronts (Don and Betty, Sterling Cooper, Sal's heartbreaking sacking, Guy's foot getting chomped, and on and on). My guess is that the fourth season will keep up this rate of change, not so much to confront critics who claim that "nothing happens" (to which I reply: really, what show are you watching?) but to coincide with the chaotic world of the sixties that these characters – some of whom are increasingly out-of-step with the times (Roger Sterling-in-blackface, do we need to say any more?) – are wading deeper into.
Perhaps the more important question is which characters Mad Men will choose to spend more or less time on. As shocking as it may seem, we may not see much of Betty Draper and the kids at all, or at the least they may be out of the picture for a spell. More realistically, and as much as it hurts to write, we may have seen the last of beloved characters such as Ken Cosgrove (Aaron Staton), Paul Kinsey (Michael Gladis), Hildy (Julie McNiven), Smitty (Patrick Cavanaugh), and the rest of the "old" Sterling Cooper gang now stuck to the "hull" of McCann.
I'd like to think that there will be room for both Don's family and his old office mates in the episodes to come. Mad Men is a show that plays out consequences of actions as realistically as any I've seen. So while Don's life may be changing in many ways, he'll still have to contend with everything that's happened before. "No matter where I go, I end up in the same place," he tells Sal (Bryan Batt) and his new airline employee friends in Baltimore last season. Let's see if that's still true.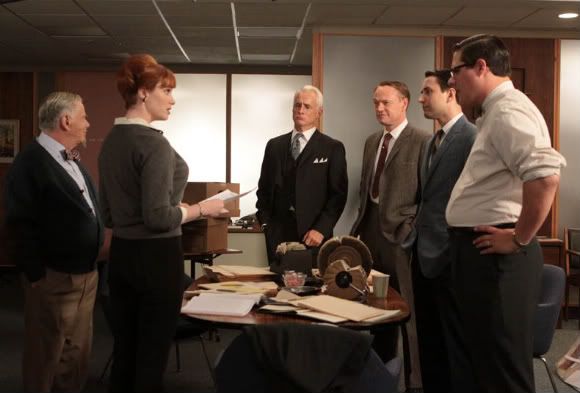 When will it take place?
This is by now a heralded parlor game. I don't know the answer of course so I'll say when I'd like it to take place: as soon after the conclusion of the third season as possible. Late winter or very early spring of 1964 would be perfect. We need to see the impact of Betty's departure to Reno still having its effect on Don, we need to see the final throes of the divorce play out (or not?), and we need to see the early struggles and hijinks at the new SCDP.
Season Three played out over a good long stretch of 1963 and I'm fine with the same thing happening again in '64. One challenge the writers don't have to contend with this season is dealing with the "foreshadow," event, and aftermath of John F. Kennedy's assassination. That said, 1964 is edging closer to "the '60s" that are held in the popular imagination so look for more civil rights activism (probably not from Carla, played by Deborah Lacey, but that would be fun), more Vietnam, and more general shakeup of the old social order. Keep in mind too that Matthew Weiner sees the 1960s as a decade of decline for New York City and its old institutions.
The Drapers: Don and Betty and the kids
While a lot of the action takes place at the office, the emotional center of the show has long been the Draper home front. The principal female characters on the show – Betty (January Jones), Peggy (Elisabeth Moss), Joan (Christina Hendricks) – have gone through tremendous changes over the course of the show thus far. What's so fascinating about Betty's separation and move to divorce, one that feels very real to the character, is that it is both a bold and courageous move while also being an impetuous and immature one. While Betty is fully justified in wanting to leave Don (when she tells him she doesn't love him anymore, it's an incredibly honest and raw moment), a man who essentially has lied and cheated and treated her like a pretty object throughout their marriage, she's doing it by aligning herself with a man she barely knows. Betty's journey is really just beginning, so again I'd be amazed if we were not able to stay with her to see what happens in the new season.
It's the kids of course who are really in the middle of this mess of a family. The shot of poor Carla at the end of last season, the lone adult left at the Draper residence, sitting in front of the television with Sally and Bobby (and the dog!) is a perfect family picture in every way, making it all the more subversive.
Meanwhile, we've never seen a Don who is "allowed" to mess around with the ladies to his womanizing heart's delight. Will his newfound freedom ironically lower his libido? I have a feeling that the fling with Suzanne Farrell (Abigail Spencer), Sally's old teacher, is over with but beyond that Don's romantic future is an utter mystery.
Peggy Olsen
Peggy more than anyone else on Mad Men represents the future of women in the workforce, and already carries a bevy of emotional bumps and bruises for the effort. That said, she admirably forced Don to recognize her for the equal partner she's become in many ways and has established herself as a creative force in the fledgling new advertising firm.
There have been periods where we've gone deep into Peggy's home life – and to be honest the stretches with Peggy putting up with her mother and sister out in Brooklyn are not my favorite – while at other times she's been a bit more in the background. I sense that Peggy has moved past her issues with home and family to some extent and is now very much the "Manhattan girl" that she used to dream of. Whether it's with Duck Phillips (Mark Moses, who I hope gets to stick around in some way) or someone else, I think we'll see Peggy deal with relationships and the consequences of the new status that she's achieved.
Roger and Jane and Joan and Greg
Of all the characters on Mad Men, some of the best heat and chemistry is generated whenever Roger Sterling (John Slattery) and Joan Holloway are on screen. Both of them are involved in disastrous marriages now (to Jane, played by Peyton Siegel, and Greg Harris, played by Sam Page, respectively) and we saw hints that Roger at the least wouldn't mind "roaming those hillsides" once again. In very much a "band is back together" reunion, Joan has rejoined the new SCDP, which seals the deal on a lot of future intrigue going on with this gang.
What's your bet on who will go crazier on the crazy meter if/when Jane/Greg find out that Roger/Joan have gotten/together?
Pete and Trudy Campbell
At some point it was either explained to me or I figured out that Pete Campbell (Vincent Kartheiser) and wife Trudy (Alison Brie, who also plays Annie on Community) are something of a younger version of Don and Betty. Pete works too hard and obsesses, Trudy patiently placates and does her best to forget about his affairs, and they put on a good show at company events.
Except that things did seem to change for them both in the wake of Pete's being "passed over" for the head of accounts job and JFK's assassination, didn't it? It seemed to be an awakening of sorts that the tried and true way of doing things didn't have to be the way for them: maybe they didn't have to have kids, maybe they didn't have to play the same corporate game as everyone else. And now this young power couple is installed in SCDP as well.
Will this change be a passing sensation or will there more to it than that? I'd bet on the latter.
And here's a nice little screwball: what If Trudy finds out about Pete and Peggy's past?
SCDP and the "old" Sterling Cooper
Matthew Weiner and crew seemed to be very conscious of the fact that they didn't want workplace stories and machinations to become repetitive and played out. While Don Draper swooping in to save the day with a spellbinding and wizard-like presentation is exciting the first few times, it runs the risk of going into parody land if gone to once too often. Now that the new Sterling Cooper Draper Pryce is working out of a hotel suite, at least for the time being, the opportunities are once again limitless. It will be great fun to watch Don, Roger, Bert, and crew have to work far harder than they have in years to drum up new business, won't it?
Meanwhile, as mentioned above, it would be truly sad indeed to see the last of the "old" Sterling Cooper characters who were left out of the mutiny. "Damnit!" as Paul said after opening Peggy's office door. But how can the show legitimately have space for these characters, short of bringing more personnel over to the new firm? I can't think of any, which makes me think we may need to sadly say goodbye to the old gang. Curt and Smitty, we hardly knew ye.
Don Draper and Dick Whitman
In each season, we've learned more about who Don Draper/Dick Whitman is and how he came to be the guarded and deeply complex character we met back in "Smoke Gets in Your Eyes." We now know enough that it seems unlikely that we're going to get many new huge/salacious revelations (Don's a Russian spy! doesn't seem likely), which was why Betty's finding out so much near the end of Season Three made so much sense from a story perspective.
Where do we go from here? In Lost, when the story seemed to run out of natural flashback material, they went the flash forward and finally the flash sideways route. I still think there's plenty to learn about Don/Dick's past, though it may not be in the form of deep secrets that he's necessarily hiding from others any longer. It would be an exciting if challenging ploy to see Don attempt to confront his past and reconcile the gap between the "real" Dick Whitman and the Don Draper war hero/super hero/Master of the Universe suit of armor that he constructed out of the misery of his Depression Era childhood.
So, to sum up, I'd say that we have a huge amount to look forward to in the coming season of Mad Men.
What do you think?